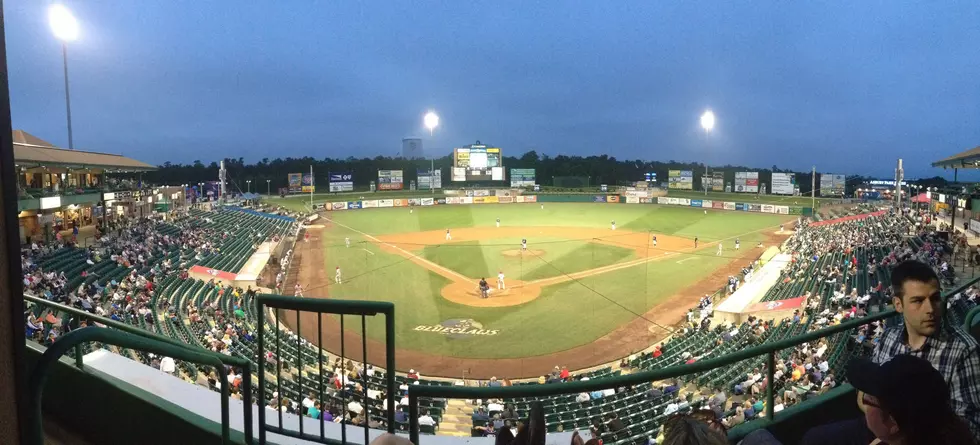 How Awesome Would It Be To Rent FirstEnergy Park?
Photo by Justin Louis
How awesome would it be if the BlueClaws used FirstEnergy Park like this?
For just $1,500 per night, you and 9 of your best friends can rent the stadium, and get access to the Clubhouse, the batting cages, the field, and a special bedroom.
The Clubhouse: The spacious and newly-renovated clubhouse at Blue Wahoos Stadium includes four leather couches, two flat screen TVs, a ping pong table, padded chairs, and two large tables. Two bathrooms with showers are connected directly to the clubhouse.

Th

e Batting Cage: Guests will be given access to Blue Wahoos Stadium's batting tunnel, allowing them to hit just like the players do! Bats, balls, and helmets will be provided.

The Field: Guests will have full and exclusive access to the baseball field at Blue Wahoos Stadium during their stay. A full batting practice set-up is included on the field. Guests are welcome to hit from home plate, play catch in the outfield, run the bases, enjoy a picnic in the outfield, or find other creative uses for the field!

The Bedroom: The large bedroom is connected directly to the clubhouse and has four bunk beds and two queen-sized beds, allowing 10 to sleep comfortably. It also includes two flat screen televisions and a kitchenette with a fridge, freezer, coffee-maker, and microwave.
Stadiums all across the country are sitting empty right now, so this is a great idea for a minor league team. How great would it be if the BlueClaws did the same? Honestly, if I could get 9 other friends to chip in $150, it's not a bad deal. I would spend the whole night in the batting cages, or playing catch in the outfield, or just running the bases like a little kid.
Enter your number to get our free mobile app
The Nine Best Baseball Players From New Jersey