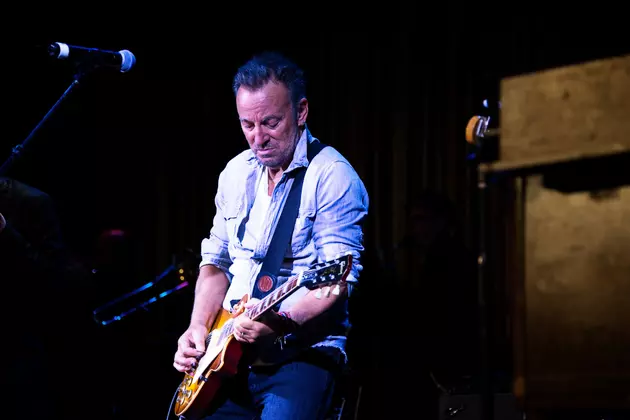 Springsteen was a 'stone-cold draft-dodger' … and felt guilty about it
(Toniann Antonelli/Townsquare Media)
NEW YORK — Bruce Springsteen admitted in a Friday interview with Tom Hanks at the TriBeca film festival he was a "stone-cold draft-dodger" and wrote one of his biggest songs to work through his guilt.
UPI reported that Springsteen admitted to Hanks that he pretended to be high on LSD and used other "tricks" to avoid going to Vietnam after close friends came home in wheelchairs, but later felt guilty about what he did.
He said "Born In The USA" helped him reconcile his mixed feelings over his actions.
"It was something that I felt I had to come to terms with myself and I needed to sing about," Springsteen told Hanks.
Springsteen is credited with bringing attention to the issues of Vietnam era after meeting "Born On The Fourth of July" author Ron Kovic in 1978. Together, they visited the Venice Vet Center in Los Angeles, an experience Springsteen called "unforgettable" in an intro written by Springsteen for the 40th anniversary release of Kovic's book.
"I love the karmic symmetry of the way these paths crossed," said Tom Cunningham, who hosts "The Bruce Brunch" on New Jersey 101.5 sister station 105.7 The Hawk. "That those who stopped to help Bruce were on their way back from the Vietnam Veterans Memorial on Veterans Day is perfect, as it was Bruce & The E Street Band's benefit show in Los Angeles in 1981 that jump-started the Vietnam Vets organization. Springsteen's $100,000 donation that night was a game changer."
He continued: "Last fall, Bruce was back on stage at the 10th Annual Stand Up For Heroes fundraiser for injured vets, which he's played every year, helping to raise millions of dollars for that cause. His poignant song 'The Wall' from his most recent album really personalizes his thoughts."
Vietnam vets Dan Barkalow and Bob Grigs, members of Freehold American Legion Monmouth Post 54, came to Springsteen's rescue last fall when his motorcycle broke down on a Monmouth County road. They offered Springsteen a ride and went to Mulligan's in Farmingdale and had a beer while waiting for help to arrive.
"Bruce was a very down to earth regular guy who fit right in with his fellow, not-so-famous Freehold boys," Barkalow said at the time.