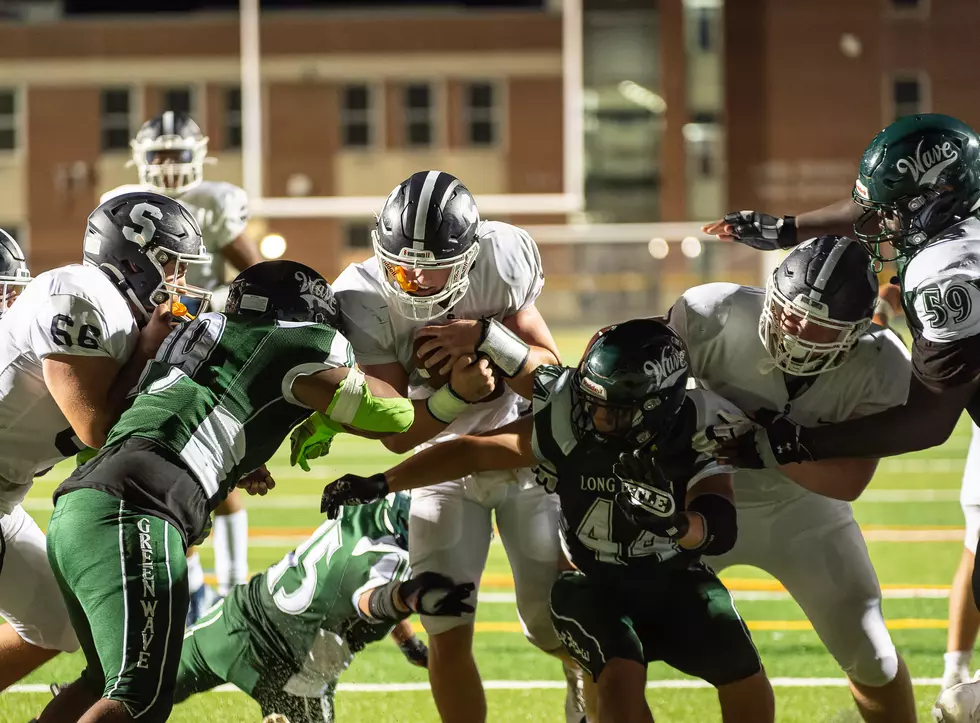 PHOTOS: No. 3 Middletown South Rallies Past No. 9 Long Branch
Photo credit: Tom Smith | tspsportsimages.com
Colin Gallagher ran for a pair of second-half touchdowns and the defense pitched a second-half shutout as the Middletown South, ranked No. 3 in the Jeep Store Shore Sports Network Top 10, overcame a two-touchdown halftime deficit to rally past No. 9 Long Branch on Friday night at Bresett Stadium.
Trailing by two scores at the half, the visiting Eagles got on the board via a 2-yard touchdown run by junior quarterback Jake Czwakiel. After a safety on Long Branch because of a snap that went over the punter's head and out of the end zone made it 13-9, Middletown South took a 16-13 lead on Gallagher's 2-yard touchdown run. Gallagher then iced the game when he broke off a 44-yard touchdown run for a 23-13 lead.
Gallagher ran for 90 yards on nine carries, junior running back Donovan Summey ran for 90 yards on 16 carries, and Cwakiel ran for 45 yards on eight carries. Cwakiel also went 3-for-5 for 65 yards passing. Owen Richter caught two passes for 61 yards.
Gallagher, a junior running back/linebacker, also had a huge game on defense with 14 tackles, 1.5 sacks, and 3.5 tackles for loss. Czwakiel recorded eight tackles, Luke Wafle had six tackles, half a sack, 2.5 tackles for loss, and a pass deflection, Richter made seven tackles, and Kyle Smith made eight tackles and was in on a hit behind the line of scrimmage.
For Long Branch, quarterback Earnest Reevey ran for 107 yards and a touchdown (20 yards)  on 13 carries and also completed 11 of 15 passes for 81 yards. Zaheem Brown also had a 20-yard touchdown run while Sekou Kamau ran for 83 yards on 12 carries.
Middletown South vs. Long Branch Football
Latest Look at Lifetime Fitness Complex in Middletown, NJ
Look at the Lifetime Fitness Center Coming to Monmouth County in 2024