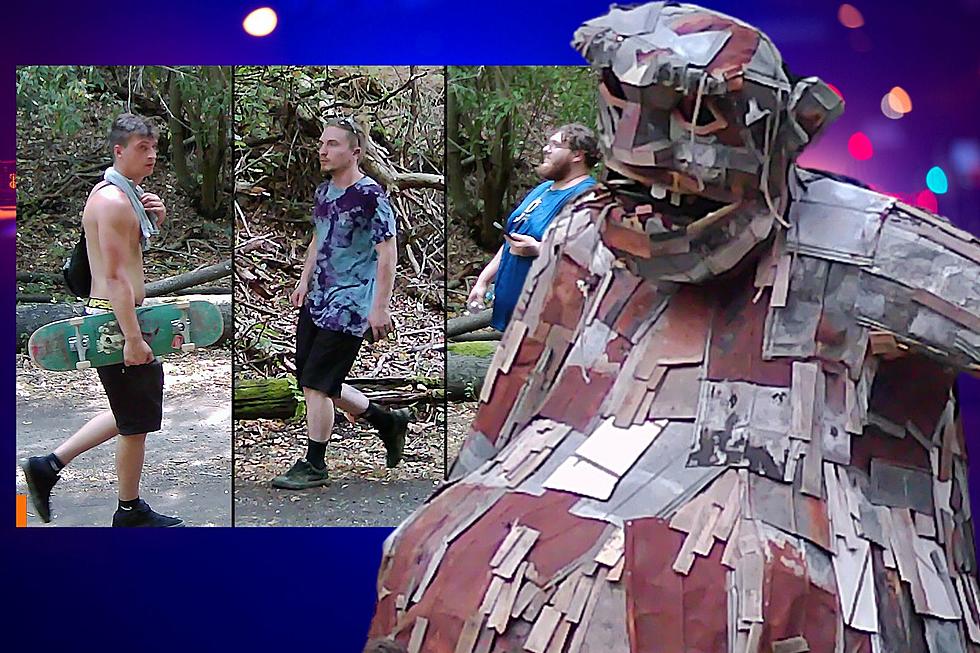 NJ police look for 3 after giant 20-foot troll sculpture vandalized
(NJ State Police/Townsquare Media illustration)
🔴 Big Rusty was created by a Danish 'recycle artist'
🔴 It quickly became an attraction in this quiet part of the state
🔴 State Police are looking for 3 people after the art was vandalized
---
HAINESPORT — State Police are looking for three young men after a 20-foot roadside artwork was vandalized in this Burlington County township.
State Police responded to a criminal mischief report Aug. 9 after graffiti was sprayed on "Big Rusty."
The troll was created this year by Danish artist and activist Thomas Dambo, who used thousands of pieces of debris from the abandoned pottery factory for his creation on Route 38 near South Branch Rancocas Creek. A team of volunteers helped put it together, NJ.com reported.
The report said he is creating more of these works across the state and country.
Dambo is a world-renowned "recycle artist" whose background with street art might be ironic considering the damage to his Garden State installation. He has created more than a hundred "larger-than-life" recycle sculptures that "have begun to have a life of their own," the National Nordic Museum in Seattle says.
State Police ask anyone with information about this incident to contact Trooper Joseph Couzo at 609-298-1171 ext. 5174. State Police also welcome anonymous tips.
Report a correction 👈 | 👉 Contact our newsroom
Pictures of a $16.5M private island home being sold by NJ doctor