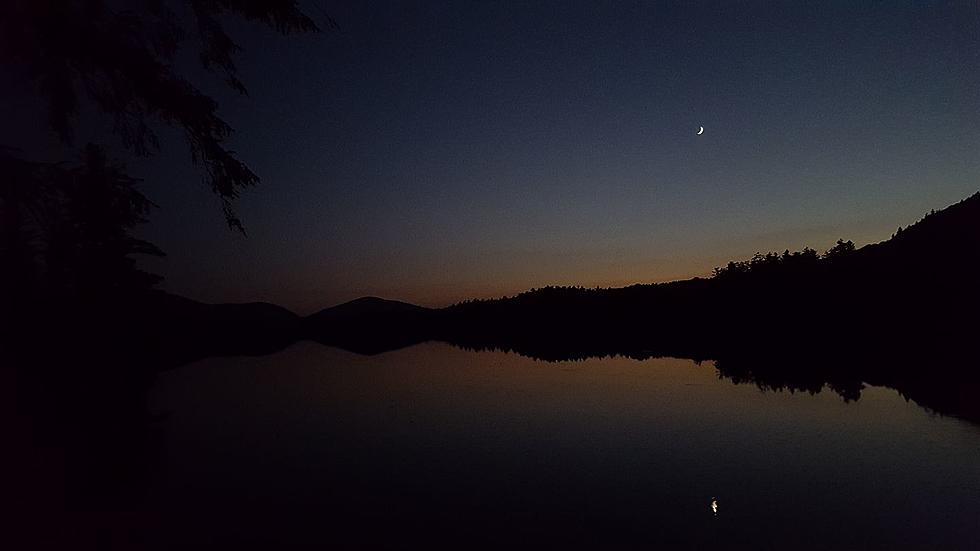 MUST SEE: Don't Miss The Next Full Moon Tonight
Rich DeSisto
If you noticed the sun looking a bit more orange this week and the sky a little hazy you are not alone.
The smoke being generated from the wildfires burning out west is the cause.  That means this smoke has traveled about 2,500 miles across America.  It's not just giving the sky a weird look; the air quality is also being affected.
Listen to Rich DeSisto weekdays from 3 p.m. - 7 p.m. on 105.7 The Hawk and download our free 105.7 The Hawk app.
The Los Angeles Times reported California wildfires in 2020 not only reached the East Coast but England as well.  Here's what the forecast map looked like from the National Weather Service in September of 2020 from their Twitter page.
Hopefully, the haze won't hamper your view of what's to come tonight.  The next full moon is on the 2021 calendar.  According to The Farmer's Almanac, these evenings rising is called the Buck Moon.  You should start to see it about 10:37 PM ET.  Its name comes from the season when Bucks begin to grow their new antlers.
The Native American tribes would look at the moon for their guidance.  Each full moon helped them record the different seasons.  They gave each month's full moon a name.
This moon rising is right on time.  July 20 is National Moon Day.  A celebration commemorating the first moon landing Apollo 11, July 20, 1969
Here is a list of the Full Moon Calendar for 2021, complete with their Native American name, and the time they appear.  You'll notice sometimes the moon rises during the day.
JANUARY 28, 2021
FEBRUARY 27, 2021
MARCH 28, 2021
APRIL 26, 2021
MAY 26, 2021
JUNE 24, 2021
JULY 23, 2021
AUGUST 22, 2021
STURGEON MOON 8:02 AM
SEPTEMBER 20, 2021
HARVEST MOON 7:55 PM
OCTOBER 20, 2021
BLOOD MOON/HUNTERS MOON 10:57 AM
NOVEMBER, 19, 2021
FROST MOON/BEAVER MOON 3:57 AM
DECEMBER 18, 2021
COLD MOON 11:35 PM
The sight of a bright moon always stops me in my tracks.  Everyone had a little fun with the "Great American Eclipse" in August of 2017.  What contraption did you make to view that full solar eclipse?
Here are a few photos of my adventure...
22 Additional Moon Shots That Will Wow You
The Full Buck Moon Is In Aquarius. Do You Know Your Jersey Shore Zodiac Sign?
Are you a Pizza, a Wawa, a Jughandle, or another NJ favorite? Find out your Jersey Shore Zodiac Sign here!