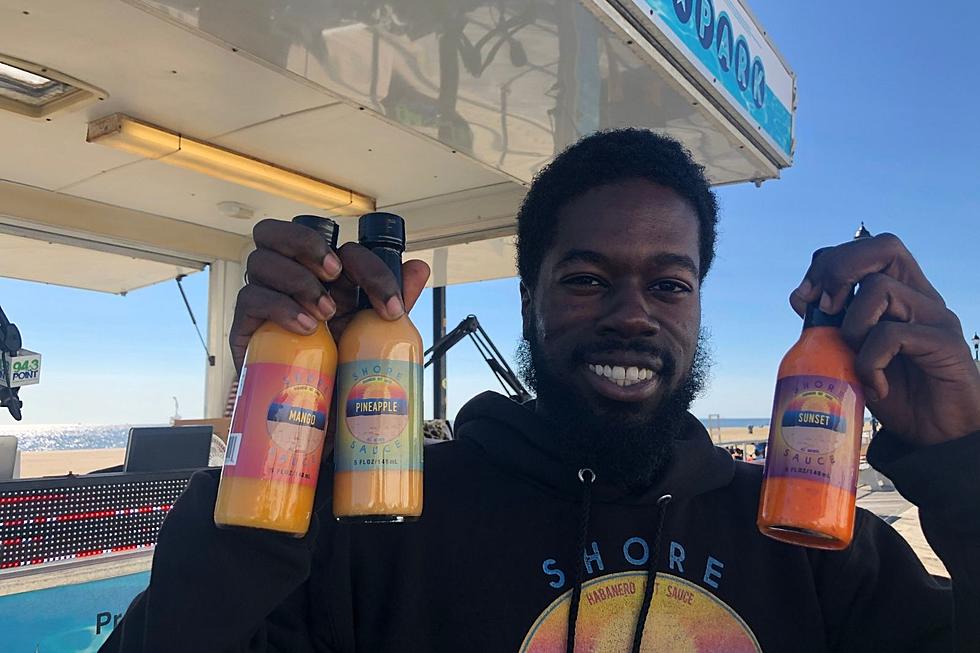 Local Jersey Shore Entrepreneur Creates Your New Favorite Hot Sauce
Asbury Park Shore Sauce creator Neil Narcisse
Anyone who knows me knows that I carry around hot sauce in my purse in case of a "hot sauce emergency"  (as in someone may not have some).  As of this past Friday, I may have to switch my brand.
Listen to Shannon Holly mornings on 94.3 The Point and download our free 94.3 The Point app.
I love it when someone has a vision and takes action to go after their dream!  This local Asbury Park entrepreneur is no exception.  Meet Neil Narcisse, an impromptu, self-made chef and the creator of the new local favorite hot sauce known as Shore Sauce!  Look out Frank's because we already want to put this all natural hot sauce on EVERYTHING!
Neil stopped by our Friday live broadcast on the legendary Asbury Park boardwalk to show us his creation. I've talked about the fact that if food doesn't hurt I don't want to eat it...in other words, the spicer the better!  Well, Neil developed an all natural hot sauce that has big flavor and just the right amount of heat.  It all happened because Neil was hungry one night and as luck or fate would have it, he ran out of hot sauce.
The sandwich was made...now it was time for the finishing touch...and not a drop of hot sauce in the house.  Desperate times call for desperate measures so Neil thought fast...he went in the back of the house and picked some of his mom's hot peppers. Next, he googled the main ingredients of hot sauces and started mixing it up a combination of ingredients. Drawing from his Haitian backgroud, Neil started tinkering with recipes until he found just the right combinations for his flavor profile.
Available Flavors on www.Shoresauce.com
Mango and raw honey and habanero
Pineapple and habanero apple cider vinegar
Sunset with fresno and habanero
They even sell all three in a nice gift box set.
You know that wise proverb, "necessity is the mother of invention".  I'm super glad Neil ran out of hot sauce that night because now he's onto something great!  He placed second in an international hot sauce competition!  Lots of local places are behind his stellar product you can find it online or in local stores in Asbury Park like Salt Water Market, Cookman Creamery, Wacky Tobaccy, Talking Heads Barber Shop, Dutch Hill Farm Market, and From The Garden Gift Shop in Freehold.
Neil says he feels grateful and with all this hard work starting to pay off he is proud and excited for the future. Love your local and try Shore Sauce to spice up your life!
LOOK: Here are copycat recipes from 20 of the most popular fast food restaurants in America
What Are the Signature Drinks From Every State?