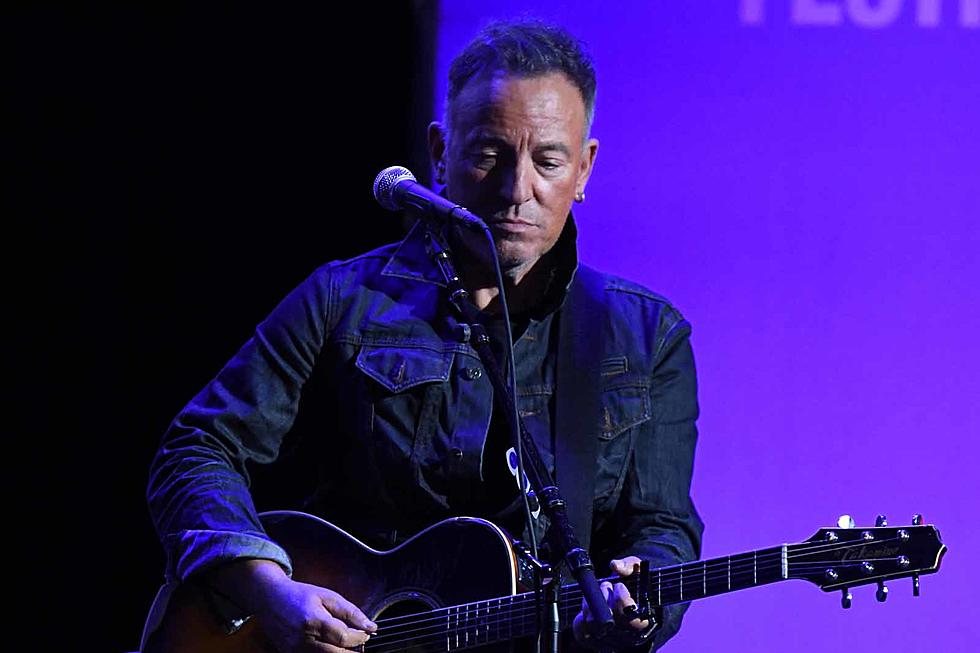 Is It In Your Heart? Is It In Your Eyes?: The Complicated Legacy of Bruce Springsteen's "American Skin (41 Shots)"
Mike Coppola, Getty Images
On June 12, 2000, Bruce Springsteen and the E Street Band kicked off a 10 night run at the Garden. The shows, sold out moments after they went on sale, were the culmination of a reunion tour that had spanned 123 shows in 61 different cities in 15 different countries over 15 months. It was the long-awaited reunion of Bruce and *the* band. Since they had last been together, Bruce had married Julianne Phillips, "gone Hollywood", divorced Julianne Phillips, and rapidly transformed into a West Virginia coal miner with no warning. The return to the World's Most Famous Arena should have been (and ultimately was) a slam-dunk triumph. But on this date 20 years ago, no one was talking about what classics he'd be dusting off for the occasion, but rather a brand new song that had debuted a few days earlier in Atlanta.
The song was written in response to the 1999 shooting of Bronx resident Amadou Diallo outside of his Soundview apartment. Diallo, a 23-year-old Haitian immigrant, was "mistaken for a rape suspect" from a year-old case by NYPD Officers Sean Carroll, Richard Murphy, Edward McMellon, and Kenneth Boss: all four members of the controversial, soon-to-be-defunct Street Crimes Unit. The officers mistook Diallo's wallet for a firearm and fired 41 shots, 19 of which struck Diallo, killing him on the scene. Controversy exploded as it often does and the entire NYPD came under fire for their enforcement practices. Ultimately, an internal investigation found that the officers had acted within their rights and adhered to policy and a grand jury found the 4 not guilty of all charges. However, the court of public opinion remained divided and flames that had been burning for years before and would continue to burn for years after were stoked across the nation. Roughly one year later, Bruce Springsteen and the legendary E Street Band took the stage at the Phillips Arena. Tucked in-between "Point Blank'' and "Youngstown", a never-before-heard song was played for the first time: "American Skin (41 Shots)". The song was surprising: the subject of police brutality against people of color in the USA was not one that the "nostalgia rock" crowd was accustomed to. Hip hop and punk music had tackled the subject, but the overlap on a "hip hop, punk, year 2000 Bruce Springsteen" Venn diagram wasn't a particularly large one.
This is not to say the song mirrored the radical and often shocking tone of other genres' takes on the subject. It was an aching, tragic ode to Diallo and others who had been victimized by police violence. It included no direct reference to any particular case and did not mention any officer (or department for that matter.) It was something we had heard from Bruce 100 times before: a devastatingly sad, frustrated ballad about the plight of the common man. It just so happened that the common men and women in question didn't look like Springsteen or the majority of his audience. These weren't common men and women working at a factory or struggling through confused romances...these were people who could "get killed just for livin' in their American Skin." However, when it became clear that this song would be on the setlist for the Garden run, the NYPD and their city responded. The President of the PBA wrote a letter condemning the song as an attempt to "fatten (Springsteen's) wallet" and "an outrage", urging officers to boycott the show. Mayor Rudolph Giuliani said he understood why the NYPD would take offense to "people trying to create the impression the officers were guilty." Commissioner Howard Safir made sure to tell the world that he never liked Bruce Springsteen or his music. Bob Lucente, president of the New York chapter of the Fraternal Order of the Police called the legendary musician words I probably can't write on the website. But I wonder...did they listen to the song? Did they know it contained no call to arms? That it never directly condemned any officer, any precinct, or even the broad concept of law enforcement? Did they realize that there is a verse in the song from the perspective of an African-American mother imploring her son Charles to "understand the rules." "If an officer stops you/promise me you'll always be polite/And that you'll never ever run away/Promise Mama you'll keep your hands in sight." Of course, there was a morose tone to the verse and the song as a whole, but the news stories themselves were more morose than the song could ever hope to be. 41 shots were fired at Amadou Diallo, an innocent man. 19 shots struck Amadou Diallo, an innocent man. Amadou Diallo, an innocent man, was indeed killed just for living in his American skin.
On June 12th, 2000, despite the rebukes, the protests, and the threats, Bruce Springsteen and the E Street Band played "American Skin" for the first time for an NYC crowd. On June 15th, he played it for the second time for an NYC crowd. Just as he played it on June 17th, on June 20th, and on every other June night in Madison Square Garden. Some people booed, police officers in attendance turned their back to the stage, and on the live album released from those shows, the E Street frontman can still be heard informing a rhythmically clapping crowd that "we're gonna need some quiet here." The song still makes the occasional tour appearance: at a 2012 show in Tampa, Bruce dedicated the song to the recently deceased Trayvon Martin and it even received a long overdue "album version" on 2014's "High Hopes."
This is the part of the article where I'd say "recent events have made the song relevant again" but the truth is the song never stopped being relevant. Injustice is always relevant. However, recent events have inspired me to write this. Not as a defense of the song, not as a condemnation of American policing, but merely as a plea. A plea to all who wrote the song off as "anti-cop" or " more political BS" to give it a listen without prejudgement, be it a commendation or a condemnation. Many of you may not have made it this far in the article. Many may not have clicked on it at all once they saw the headline. It may get negative comments and pushback. People might stop listening to my show because of it. Such is the nature of such a sensitive issue I suppose. But just like those who boycotted the MSG shows 20 years ago, I wonder if perhaps an honest look at the subject wouldn't change those people's opinions. No one stands in support of unjust killing. The constant stream of opinion dressed up as news and news dressed up as opinion has made us all weary, angry, and on guard. But at what point do we say "enough is enough?" We owe it to future generations to understand the plight of our fellow citizens, no matter what color our face or their face may be, without caveats or conditions. All deserve to feel safe, all deserve to feel protected, all deserve to feel included.
20 years ago, Bruce Springsteen debuted his "anti-cop" song. Now 20 years later, it is my hope that people give it a second (or perhaps first) chance. Bruce Springsteen doesn't know the answer to the world's problems. Neither do I. Neither do you. But he does know how to capture heartache and pain in words and set it to music. We know how to listen to it. Perhaps we should.
Enter your number to get our free mobile app
PHOTOS: Protests around the world in the wake of George Floyd's death