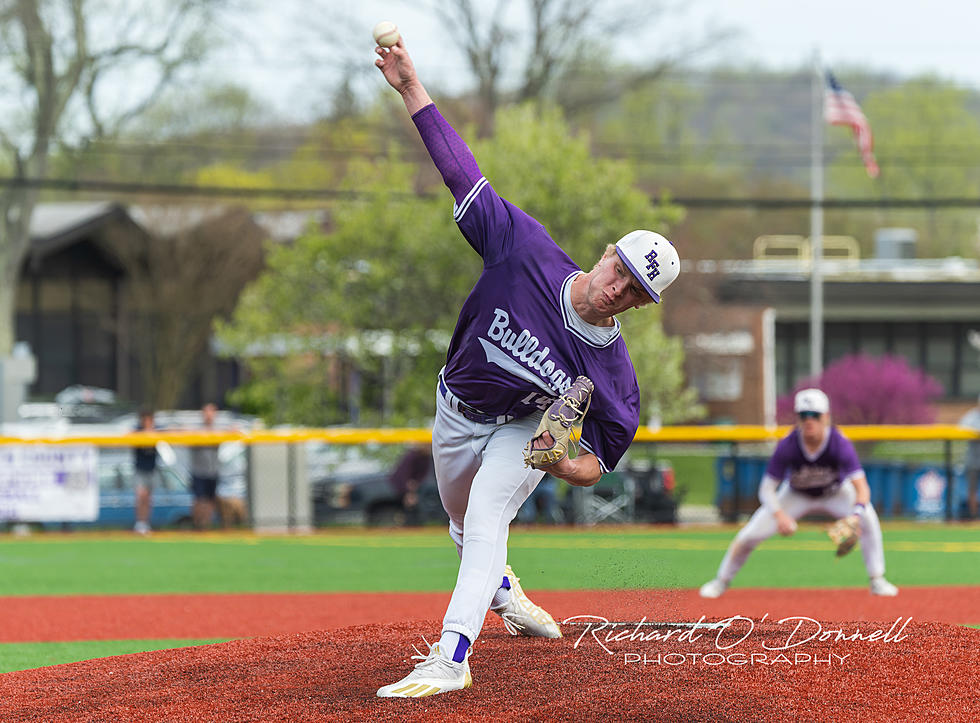 Baseball – Charlie Jones, Rumson Win April Showdown With Ranney
Rumson-Fair Haven senior Charlie Jones. (Photo: Richard O'Donnell Photography)
RUMSON -- The Rumson-Fair Haven and Ranney baseball teams are off to unprecedented starts in the history of their programs and yet, both found themselves looking at uncomfortable headlines this past week.
For Rumson, it was the No. 1 team in the Shore Sports Network Top 10 and the defending tournament champions opting not to enter the Monmouth County Tournament, which was seeded on Wednesday.
On the other side, Ranney drew the ire of coaches past and present for its 46-0 win over Asbury Park on Tuesday in which the Panthers put up 35 runs in the first inning and sent two of its Division I hitters to the plate seven times each.
On Friday, both were looking for a last-minute opponent for Saturday and a chance to move on with their very promising seasons and decided their could help one another by relentlessly trying to beat the other on Saturday morning.
Rumson and Ranney put behind them the competitive games they were not playing by playing one that will go down as one of the best of the 2022 season, with Bulldogs senior and 6-foot-6 Wake Forest commit Charlie Jones spinning a three-hit gem in Rumson's 3-2 win over Ranney on Saturday morning at Hal Lorme Field.
"I loved it," Jones said. "As soon as we heard it was Ranney, we were fired up. We know so many guys over there from playing with them in the summer and the fall, so it's something special to be able to compete against somebody like that this early in the season in a very competitive atmosphere."
Jones struck out six, walked three and after a bases-loaded walk gave Ranney a 2-1 lead in the top of the fourth inning, he retired the last 10 batters of the game to shut down the Panthers.
"I have played with a lot of great players around New Jersey and there is no one I have more faith in than that kid," Rumson senior first baseman Matt Rigby said. "I watch that kid last year go out and battle number one seeds, number two seeds, number three seeds, guys who are playing in college and pro ball now and that kid has more fight than anyone. Any time I step on the field and Charlie Jones is pitching, I'm 100-percent confident."
Jones was one of three pitchers to throw a pitch on Saturday at Rumson and all three are at least verbally committed to playing Division I baseball in the future. While Jones is signed with Wake Forest, Ranney started Northeastern commit and junior right-hander Nick Coniglio and followed him with left-handed junior Duke commit A.J. Gracia.
"We know they had a great staff so we expected a few different looks," Rigby said. "Whether it was lefty-righty, whatever the case may be, most teams want to get into a team's bullpen but we knew we were going to be facing a top competitor either way."
Both teams rode their pitching into the late innings and dodged some potentially larger rallies on the way there. For Jones, the top of the fourth had the makings of a big scoring inning against him, but if not for a two-out, bases-loaded walk to Ranney No. 9 hitter and designated hitter Logan Semevolos, it would have been a scoreless one.
Ranney loaded the bases with none out on back-to-back singles by juniors Jack Tallent and Diego Tavarez and a throwing error on a sacrifice bunt by junior Glen Cantalupo. Jones came back to induce a pop-up and a lineout to shortstop Charlie Tallman, but then walked Semevolos on five pitches.
Jones then struck out leadoff hitter Brett Wehringer and carved through the Ranney lineup on only 28 pitches over the final three innings. Four of Jones's six strikeouts came after the bases-loaded walk and his efficiency helped him finish the game after he needed 75 pitches to complete the first four innings.
"I feel like that's just something I have been able to do my whole life," Jones said. "I might have a slow first inning, but I'm usually able to build up that confidence throughout the game. By the time I got to the fifth inning, I started rolling a little bit and the anger of letting up those two runs fueled that fire."
With Jones finding his rhythm over the last three innings, the Bulldogs lineup just needed to find theirs enough to muster two runs. Rumson collected eight hits in the first four innings, but had only one run to show for it.
In the bottom of the sixth, the Bulldogs found what they needed. Rigby led off the inning with a single through the middle and Gracia put a second runner on when he plunked senior designated hitter Brian Doherty. Senior Liam Murphy then hit a fly ball to right field that was dropped, setting the Rumson up with a bases-loaded, no-out situation.
Gracia responded with a strikeout for the first out of the inning, but sophomore second baseman Aaron Del Tin made sure the Bulldogs would get out of the inning with at least a 2-2 when he lifted a sacrifice fly to right field, which also advanced Doherty to third base.
Facing No. 9 hitter Griffin Shenman, Gracia uncorked a wild pitch that sailed over the reach of catcher Lou Spadafora and got caught in the space between the brick backstop and the netting just above it. Doherty saw the ball hit the net rather than the solid wall and made his break for the plate, scoring the go-ahead run. Gracia went on to finish off the strikeout to end the threat.
Jones followed up the winning rally with an eight-pitch seventh, including a game-ending ground out to Del Tin at shortstop.
Rumson jumped on the board first with an RBI single to left by senior left fielder Johnny Bruno that scored Rigby from second in the bottom of the second. Rigby and Doherty led that rally off as well, with both ripping singles into left.
Ranney pulled even in the top of the third with the first of two unearned runs against Jones. Spadafora reached on an error to lead it off and Semevolos followed with a line-drive single into left. A ground out to short by Wehringer moved both runners up a base and courtesy runner Kris Bhatnager scored the tying run on a wild pitch.
Even in losing, Ranney is hoping to springboard off a game played at this level while putting behind it the 46-0 win over Asbury Park on Tuesday. In that game, Gracia and Delaware commit Charlie Chropuvka went a combined 9-for-9 with two home runs and five walks, although Geroni said that had to do with having only seven available substitutes and his trust that those two players would handle themselves if emotions boiled over.
"I think people have to understand that kids just want to play in competitive games," Geroni said. "The kids who are on the losing side don't want to be in that situation and the team that's winning doesn't want to be in that situation. I would rather lose a game, 3-2, like today than beat somebody by 40, 30, 20, 15, whatever the score may be. It's games like the one today that make you better and as a coach, that's what you want. You want to challenge your team and I just hope we can find a way to get every team as many competitive games as possible."
Ranney has overmatched its Class B Central opponents by a combined score of 97-4 in four games, but has also played three quality opponents and did not lose a game until Saturday. The Panthers traveled to Delbarton and came away with a 7-5 win and last weekend beat Ferris, 9-2, at home.
"We take every team seriously, no matter who they beat or haven't beat or by how much," Rumson senior Matt Rigby said. "We know they are good and we came here trying to beat them."
Rumson, meanwhile, will not have a chance to assert its No. 1 spot in the rankings via the Monmouth County Tournament but showed Saturday it could beat a team that will be one of the favorites in the MCT.
"We're disappointed to not be playing in the Monmouth County Tournament, but the schedule is what it is and to come out and play one of those top teams that could win that and show what we're about on our home field was awesome," Rigby said.
The Bulldogs were initially scheduled to play at Brick Memorial on Saturday, but when Brick Memorial had to play a rescheduled game vs. Toms River South on Saturday, the Bulldogs were left with an opening.
"We heard the Brick Memorial game gets canceled and immediately our coach and athletic direction started reaching out to all their contacts," Rigby said. "To be honest, we didn't have a lot of luck. It's a far drive for a lot of teams, so credit to Ranney. They stepped up right away and said, 'We want this game.' This is a playoff-type game, something you see in June. They're a great team and pretty much right down the street. Crazy 24 hours but great to be able to play in a game like that."
Prior to Saturday, Rumson had also been dominating the competition, with all but two off its first seven games ending before the seventh inning. The Bulldogs did survive a close call in a 1-0 win over Red Bank last weekend, but coasted in the other six.
With two divisional games against Red Bank Catholic and a scheduled game against current Class A North division leader Howell on April 29, Rumson will have more chances to solidify its No. 1 ranking before the Shore Conference and NJSIAA Tournaments.
Box Score
Rumson-Fair Haven 3, Ranney 2
| | | | | | | | | | | |
| --- | --- | --- | --- | --- | --- | --- | --- | --- | --- | --- |
| | 1 | 2 | 3 | 4 | 5 | 6 | 7 | R | H | E |
| Ranney (6-1) | 0 | 0 | 1 | 1 | 0 | 0 | 0 | 2 | 3 | 4 |
| Rumson-FH (8-0) | 0 | 1 | 0 | 0 | 0 | 2 | X | 3 | 9 | 2 |
Pitching
| | | | | | | | |
| --- | --- | --- | --- | --- | --- | --- | --- |
| Ranney | IP | H | R | ER | BB | SO | PC |
| Nick Coniglio | 2.1 | 6 | 1 | 1 | 0 | 1 | 41 |
| A.J. Gracia (L, 1-1) | 3.2 | 3 | 2 | 0 | 0 | 5 | 49 |
| | | | | | | | |
| --- | --- | --- | --- | --- | --- | --- | --- |
| Rumson-Fair Haven | IP | H | R | ER | BB | SO | PC |
| Charlie Jones (W, 3-0) | 7 | 3 | 2 | 0 | 3 | 6 | 103 |
Top Hitters
| | |
| --- | --- |
| Ranney | Game Stats |
| Logan Semevolos | 1-2, BB, RBI |
| Jack Tallent | 1-3, R |
| Diego Tavarez | 1-3 |
| | |
| --- | --- |
| Rumson-Fair Haven | Game Stats |
| Matt Rigby | 2-3, 2 R |
| Owen Kenney | 2-3 |
| Johnny Bruno | 1-3, RBI |
| Aaron Del Tin | 1-2, RBI |
| Brian Doherty | 1-2, HBP, R |