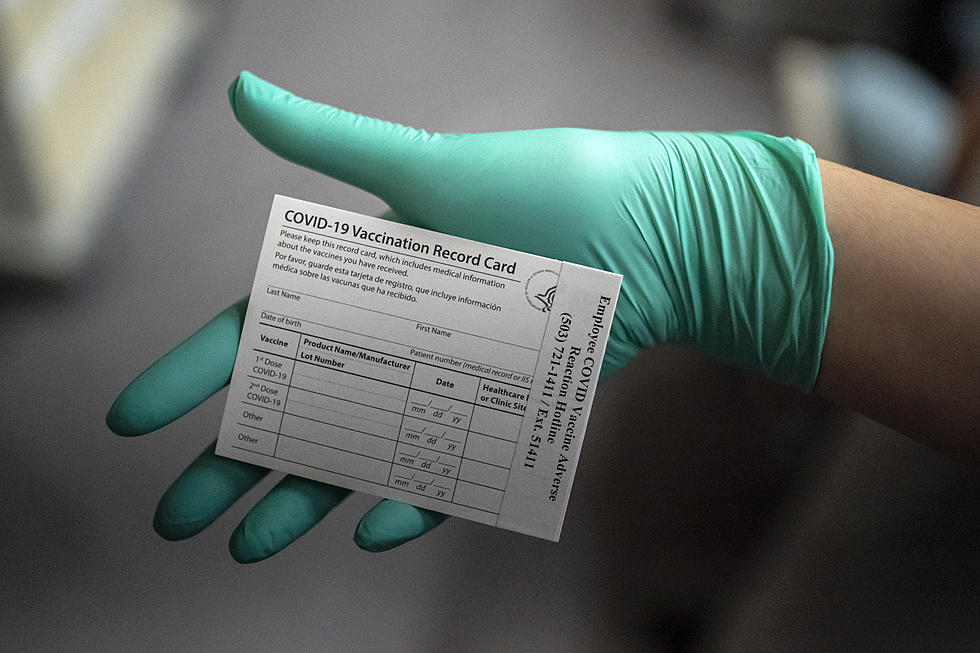 Ocean County Legislators look to prevent Covid/Health Passports from being mandated
Getty Images
Whether or not you've had your vaccine yet, how would you feel about being mandated to carry it around to get to wherever you need to go, like the beach, park, graduations, stores, restaurants, etc.?
It's something being contemplated by Governor Phil Murphy who hasn't leaned in either direction as of yet.
"I've been open minded to it. But I worry about the inequities that brings, frankly,"
Murphy told News12NewJersey
. "I think you've got to be careful about this. So I'm open-minded…It's not a dead letter for me, but I think we have to be very careful in terms of how we think about it."
To stop the idea in its tracks, Ocean County 10th District Legislators, Senator Jim Holzapfel (R) and Assemblymen Greg McGuckin (R) and John Catalano (R), are crafting companion bills to prevent the government or any businesses from asking you for your Covid vaccine information to gain entry into a number of places.
"This would prohibit the government or any private entity from inquiring into your health records to determine if you have a right to go to a public park or a private place of business," McGuckin tells Townsquare Media News. "We've come to a very dangerous time in our history where the government or even a private business can mandate that you give them some of your health information just to exercise a right you already have, So, if I want to go into a WalMart store, I'm not showing or telling anybody what my health history is nor should they have any right to ask for it, it's none of their business."
Their bill heading into the Assembly and Senate would prevent the government or any private entity from requiring you to bring a health related, in this case Covid, passport with you to be allowed inside the store or other venue.
"If I want to go to a hotel or a restaurant...they're not entitled to know what my health history is or what I've had shots for or not," McGuckin said. "I think it's a tremendous imposition on peoples personal liberties to somehow permit that to occur in our country in this day and age."
The legislation from the 10th District Ocean County Legislators would make it unlawful to ask you if you've being vaccinated or require you to display proof of vaccination in order to enter any of these places.
the exercise of any privilege or right granted under State or federal law;
conducting any business or commerce;
travelling to, outside, or within the State;
obtaining or maintaining an internship, obtaining or maintaining employment, or receiving a promotion from an employer;
participation in any governmental or political activity;
admission or enrollment into any child or adult day care program;
admission to, enrollment in, or graduation from a preschool program, elementary or secondary school, college, university, or any other institution of education;
participation in any activity, internship, opportunity, program, or sport offered by a preschool program, elementary or secondary school, college, university, or any other institution of education;
receiving adequate dental care or health care;
maintaining, receiving, or renewing a professional certification or license;
obtaining or renewing membership in any professional organization;
entrance into or service from any place of business, including, but not limited to, any market, restaurant, or store;
entrance into and service from any public building, office, or structure;
entrance into and use of any public park or beach; or
admission into or service from any amusement park, concert venue, theater, or sporting event.
So if you don't want to share your personal health information with people at a store, restaurant, a park or beach, etc. you wouldn't have to under this piece of legislation being introduced.
"This is scary stuff and I hope that people understand what the government or some private businesses would be doing to take away individual liberties," McGuckin said. "I understand the reason why, it sounds like a good reason for public health, but this is the United States and we don't ask people for papers to go somewhere, into a store or into a park or onto a beach. Rue the day that that ever happens."
McGuckin explains that if Vaccine Passports were created and became mandated, it would create a dangerous slippery slope for a similar requirement for any other health condition.
"What's the next thing a business can do? 'We want to see your tetanus shots? We want to see whether you've had cancer or have Aids?'...It's ludicrous, absolutely ludicrous," McGuckin said. "This is a real time for us to stand up and say 'wait, no more, enough is enough'."
The 10th District Legislators encourage everyone to get vaccinated, but they're asking that you don't have to disclose that information to be able to get onto the beach, or into a store and so forth.
"We encourage people to get the vaccination if that's what they would like to do and I think it's a good thing to do for public health reasons but to stop you from going to a park because you can't produce to them or want to show them your immunization status...that's not a good thing," McGuckin said.
Senator Jim Holzpafel said, in a statement, that the choice to let people know should be up to you not mandated for you.
"We're extremely concerned by Governor Murphy's willingness to consider the use of vaccine passports that could prevent people from working, going to school, or visiting public places," Holzapfel said in a statement. "In a free society that respects individual rights, we believe health decisions should be a personal, private choice that a patient doesn't have to discuss with anyone but their doctor. Our new legislation would prevent vaccine passports from being employed here in New Jersey."
"After a year of watching Governor Murphy take extreme actions by executive orders, people don't want their rights to be further eroded," Assemblyman John Catalano said in a statement. "Just like shutting down businesses and closing houses or worship, forcing people to show their documents to go out in public seems completely un-American. We have to fight back."
South Jersey Senator Michael Testa (R) is introducing a similar piece of legislation to Senator Holzapfel in the senate.
In a seperate statement, Senator Testa echoed a similar red flag on the idea of forcing people to disclose personal health information just to get onto the beach or into a store or restaurant.
"No Government entity should require their residents to carry a 'Vaccine Passport' around to gain access to schools, businesses, and their daily life," Senator Testa said in a statement."These types of passports completely violate an individual's right to personal freedoms, and they are a direct violation of HIPPA laws. The rapid erosion of individual privacy rights threatens the liberties and freedoms of every New Jersey resident. There is a balance between protecting public health without violating American Constitutional Rights. Time and time Governor Murphy has crossed the line and we must ensure he is barred from enacting 'Vaccine Passports.'"
You can follow Vin Ebenau on Twitter and Instagram and email news tips to vin.ebenau@townsquaremedia.com.
Have You Seen Them? Ocean County's Most Wanted
Have You Seen Them? Monmouth County's Most Wanted
NEXT: 10 Jersey Shore School Districts Losing Millions From S2 School Funding Formula
Ten times drunk driving changed New Jersey Lives Forever
12 Times Being High Cost NJ Residents & Towns
Strange NJ Laws You've Never Heard Of
Marijuana legal in NJ: How do the laws work?
Answers to common questions about legalized recreational marijuana in New Jersey and rules about underage use of weed.
NEXT: INSIDE JOE PESCI'S HILARIOUSLY OVER-THE-TOP LAVALLETTE MANSION
LOOK: GO INSIDE JON BON JOVI'S $20 MILLION MIDDLETOWN MANSION
Go Inside Mike 'The Situation's' NJ Mansion
TAKE A TOUR OF JON BON JOVI'S NEW $43 MILLION PALM BEACH MANSION
Jersey Shore Nor'easter 2021 Listener Pictures
LOOK INSIDE: The Most Expensive House in Rumson
This is the most expensive house for sale in Rumson, NJ in 2021
Peek Inside Snooki's New Toms River Waterfront Home
LOOK: See the iconic cars that debuted the year you were born
NEXT: The 100 Best Places to Live on the East Coast