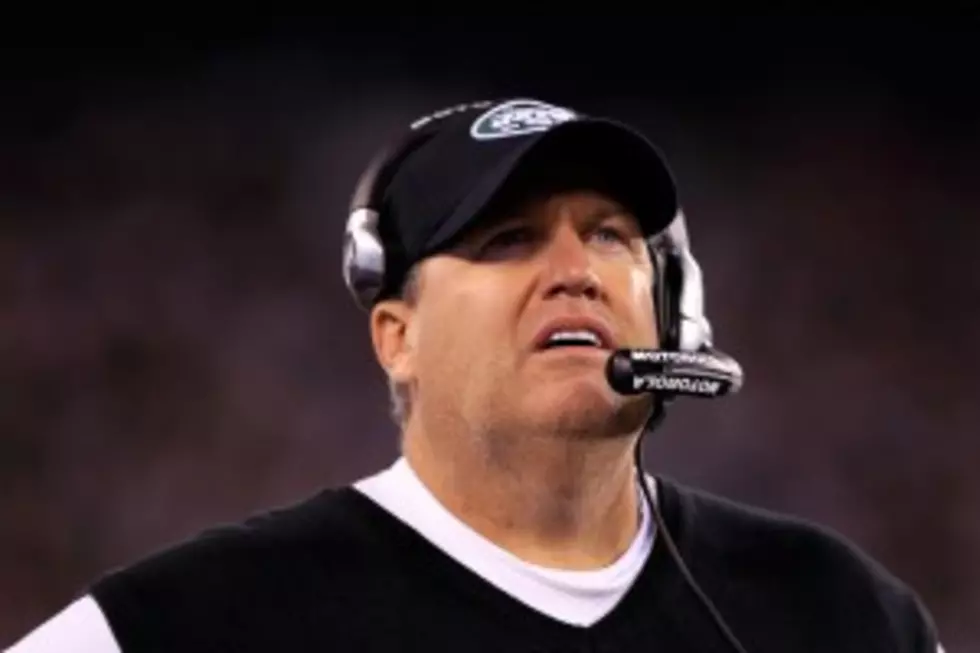 Rex Ryan has been described in many different ways since taking over as Jet head coach after the 2008 season. Winner, blowhard, insane, genius, fat, overrated, underrated, fraud, future Super Bowl champion, liar and attention hungry. Regardless of what you think of his personality in press conferences and to Hard Knocks cameras, he is undoubtedly the best coach hired in the '08 off-season. 
Three years ago, over a third of the National Football League decided it was time for a change on the sidelines. Woody Johnson, fresh off watching his team collapse late in the year, decided to move on from the Eric Mangini regime. The team interviewed a slew of candidates, including Ryan, Jeff Jagodzinski, Russ Grimm, Bill Callahan, and Brian Schottenheimer. As the seasons have played out, it's becoming clearer and clearer that New York picked by far the best coach available.
A quick look at the numbers show that the eleven head coaches hired that off-season have achieved varying degrees of success, but Rex is lapping the competition:
Rex Ryan, Jets: 28-17 - Four  postseason wins, two AFC Title Game trips, three wins away from back-t0-back-to-back playoff appearances. JOB STATUS: He's going to be in NY for a while.
Jim Caldwell, Colts: 24-21 - Only other of the eleven to have a winning career record, but may be .500 after completing an embarrassing 0-16 record. Might go down as the worst coach ever to roam the sidelines in a Super Bowl. JOB STATUS: NFL Network is reporting that he will be fired if Indy goes 0-16.
Jim Schwartz, Lions : 16-29 - We probably have to forgive the record because he took over a franchise that just went 0-16. Has a chance to take the Lions to the postseason for the first time in a long time. Looks like a good coach in the making, but I don't love his personality. JOB STATUS: His team is undisciplined, but he deserves credit for a major turnaround.
Raheem Morris, Bucs: 17-28 - Nearly fired after his opening 3-13 act, but followed it up by coaching up one of the league's youngest team to a 10-6, near playoff appearance in 2010. But the bottom has given out in 2011 as the Bucs are a wretched outfit. JOB STATUS: Shakier by the day.
Steve Spagnuolo, Rams: 10-34 - The media loves him, but ten wins in three years is hard to comprehend for a professional coach. Injuries haven't helped the cause in 2011. JOB STATUS: He's got about three weeks left.
Jim Mora Jr, Seahawks: 5-11 - Man, we're going to forget that year in Seattle. JOB STATUS: FIRED
Eric Mangini, Browns: 10-22 - The guy ousted for Rex left a sad mark in Cleveland. He was scooped up in about 15 seconds when the Jets decided to part ways, but something tells me he's going to be on ESPN a while longer before the NFL comes calling again. JOB STATUS: FIRED
Josh McDaniels, Broncos: 11-17 - Started off 6-0, finished 5-17. He did draft Tim Tebow, though. JOB STATUS: FIRED
Mike Singletary, 49ers:  18-22 - Jim Harbaugh's success in San Fran says as much about him as a coach as it does about Singletary. It's unfortunate that a whole generation of fans will think of him more as a bad coach than a great middle linebacker. JOB STATUS: FIRED
Tom Cable, Raiders: 17-27 - I was always a big fan, but it didn't take long to realize this guy wasn't going to last long term. JOB STATUS: FIRED
Todd Haley, Chiefs: 19-25 - The guy thought he was tough. He turned out to be the least respected head coach in the league. JOB STATUS: FIRED
Love him or hate him, Rex Ryan was clearly the right choice for the New York Jets franchise in 2008.
Listen to Rex try to lead his team back to the postseason this Sunday against the Eagles right here on 105.7 The Hawk. Kickoff is at 4:15 p.m.