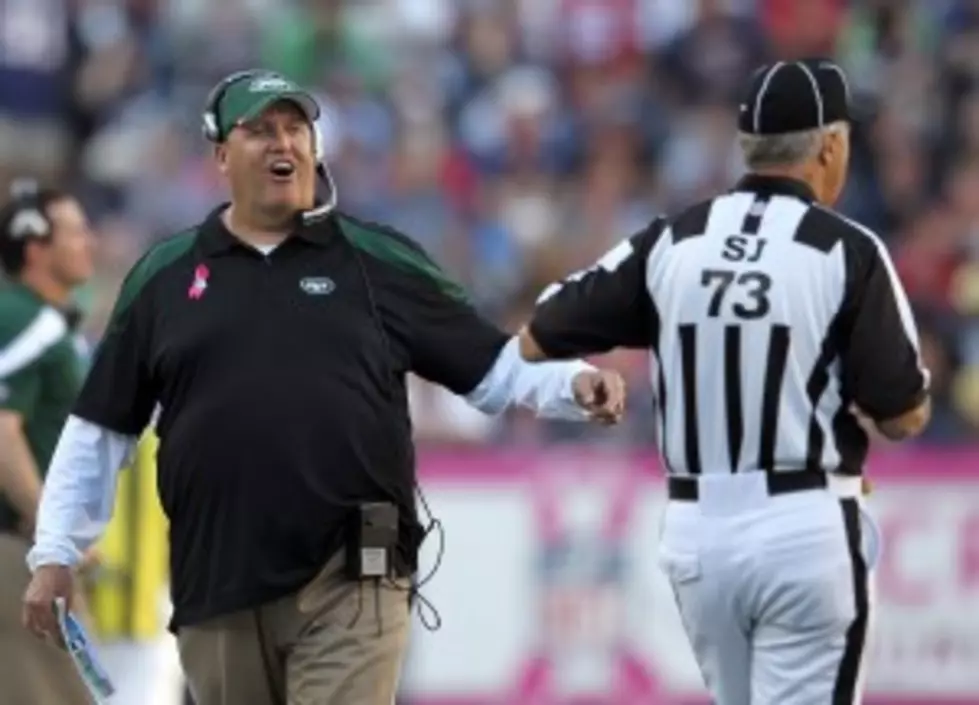 Most of the people who follow the National Football League know how it works with Rex Ryan. He's going to talk no matter what. Win or loss, the Jet coach will have something to say. Coming off of a 45-19 beating at the hands of the then 5-8 Philadelphia Eagles hasn't discouraged the chatter. Heading into the Christmas Eve showdown with the cross town New York Giants, Rex isn't just talking a big game. He's asking for the blame if his team doesn't perform.
Some believe Rex is bragadocious. Some believe he does what he does to take the spotlight and pressure off of his players. Either way, he is the face of the New York Jets. As strange as it may seem, the biggest match-up on Saturday isn't between the two coaches, star wide receivers against accomplished corners, or anyone wearing green and blue in the stands. It's between the two faces of New York football. Rex Ryan vs. Eli Manning.
Ryan, as per his usual, has come out and started the chatter. His book, Play Like You Mean It: Passion, Laughs, and Leadership in the World's Most Beautiful Game, began to reignite a doormant rivalry with the New York Giants.
In that book, Ryan claimed the Jets were the "big brother" to the Giants. And he almost referenced that Monday on a conference call with the crucial game against the Jets' co-stadium tenants looming Saturday at MetLife Stadium.
"Quite honestly, I never came here to be little brother to anybody," Ryan said. "So, it's on."
On Tuesday, Rex asked to have the blame put on his shoulders if his team doesn't perform against Manning's Giants.
"I feel like I have to win this game because I put it out there, I want to be the better team in our city, there's no doubt," Ryan said, adding that if they lose, "it's going to fall on one person, and that's the way it should be. It's coming right on top of me, and that's fine. And when we win, it'll be about the Jets."
As I wrote last week, Ryan has had tremendous success in his short time with the Jets. When he wins, he's a genius. When he loses, he's a fool. That's how it works when you are the head coach or the face of a team. Just ask Eli Manning. Amazingly enough, Rex is both of those things.
If Gang Green backs up what their coach believes, Rex will probably continue to lead his team into another postseason. If they don't, this year falls on Rex Ryan's shoulders.