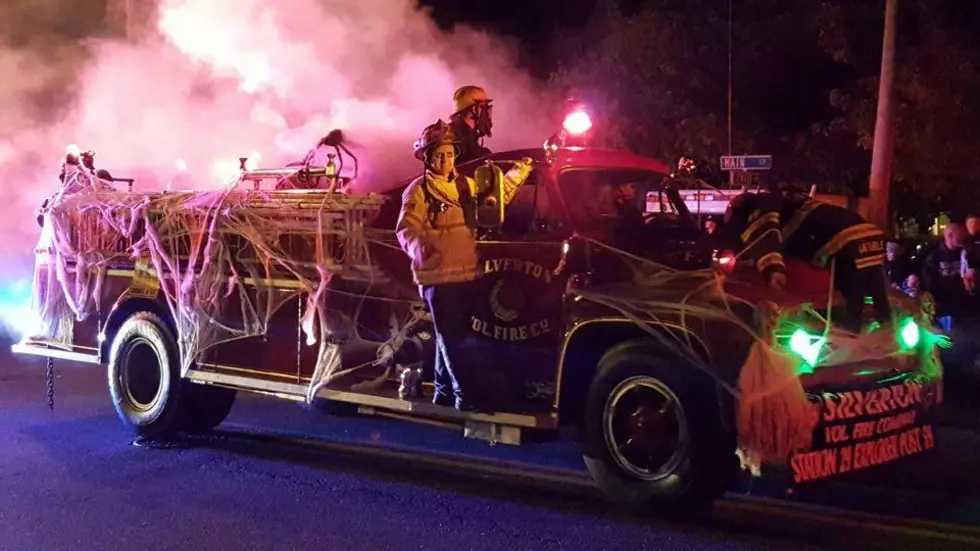 Toms River Halloween 2019 Guide
facebook.com/trfchalloweenparade
Toms River holds one of the country's biggest Halloween parades on Halloween, so to (a) let people avoid having to choose between the parade or trick-or-treating and (b) extend the holiday a bit more, the town does Trick-Or-Treating the day before, on Wednesday, October 30th.
Mayor Thomas F. Kelaher said the Township, TR Fire Companies and TRPD made a joint decision to avoid a conflict with the Halloween Parade.
Police Chief Mitch Little also reminded everyone to be safe:
On October 30th, motorists should be aware and drive with extra caution.  We advise parents to accompany children or have kids trick-or-treat in groups, always carry a flashlight for safety, stay on sidewalks or as close to the curb as possible and only go to houses where the porch lights are on.
There is no official curfew for trick-or-treating, but the TRPD asks that everyone be off the streets by 9pm.
As far as the Parade, most of the info stays the same for this annual tradition.
TO BE IN THE PARADE:
Registration:
There is no pre-registration. All participants must register in person at the firehouse on Robbins Street in Toms River.
Registration Times:
Thursday, October 31, from 8:00am to 4:00pm.
Registration Fee:
There is NO registration fee, however donations are welcomed.
Parade Route:
Parade formation and start is at the Toms River Shopping Centre on the corner of Highland Parkway & Rt. 166 (Main Street).  The Parade will travel down Main Street turning left onto Washington Street ending at the corner of Washington Street & Hooper Ave.  All Spectators need to be south of Highland parkway.
TO WATCH THE PARADE:
- Decide where you want to watch the parade and pick a spot. You can bring blankets and chairs to. It's recommended you arrive about 2 hours prior to the start of the parade (which is 7pm). Highland Parkway and Main Street will have to remain clear of people due to entry of floats.
- Do not sit within an intersection of any side street. Vehicles require unobstructed access in the event of an emergency.
- The township recommends parking at the Ocean County Parking Garage, located at Madison Avenue between Hooper Avenue and Hadley Avenue. Any vehicles parking on any side street off of Main Street must be 1,000 feet off of the corner of the parade. Parking will not be allowed at the Toms River Center.
- There will be a reserved area for wheelchair viewing; call the Firehouse (732) 349-0144 on parade day.
- Portable restrooms will be throughout the Toms River Center, at the end of the parade and across from the Firehouse on Robbins Street.
- Any articles that are found should be brought to the Firehouse on Robbins Street, after the parade.
More from 105.7 the Hawk: