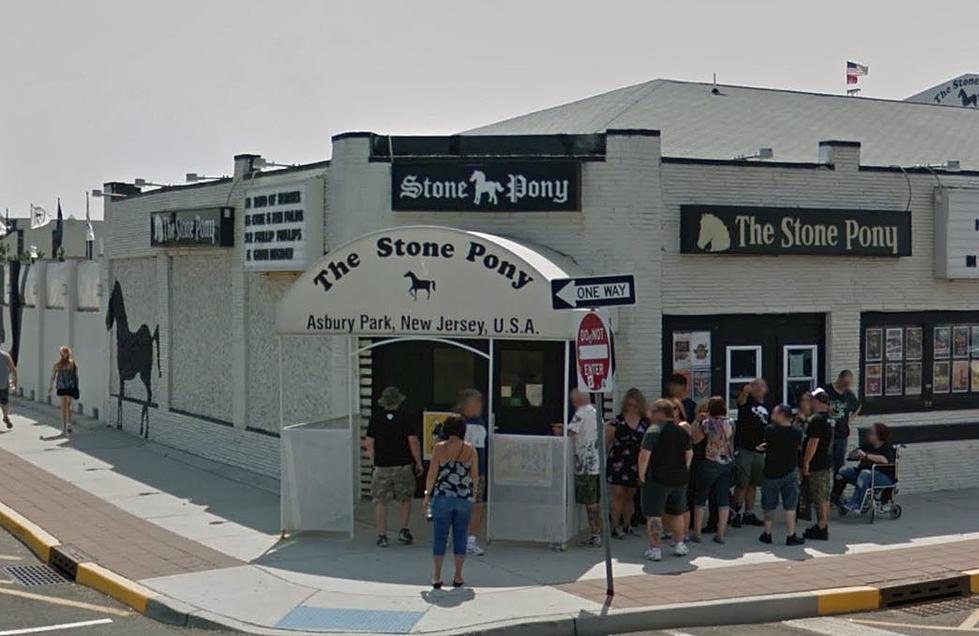 Stone Pony, Monmouth Senator hosting 'Asbury Band Aid' virtual benefit concert
Google Maps
The bands are getting back together!
Well, sort of.
The Stone Pony and Monmouth County Senator Vin Gopal's Civic Association are putting on a virtual benefit concert this month, called 'Asbury Band Aid'.
The concert will serve as a fundraiser to help support the Jersey Shore music and art industry.
Senator Vin Gopal says all the proceeds will go to the bands, artists, wedding photographers who couldn't perform or work because of the pandemic.
"We realized that a lot of these bands that made their living off playing at these different Jersey Shore restaurants, clubs and bars on weekends literally lost their entire revenue and many of them don't have unemployment opportunities," Gopal tells Townsquare Media News. "100-percent of the proceeds are going to go back to not just supporting these bands with financial relief but anybody who suffered from not being able to be in front of a crowd so that includes wedding photographers, DJ's and other industries like independent contractors who are used to performing in front of these crowds and who really at no fault of their own, have lost all revenue this past year."
Gopal says any performers are eligible to apply for funding as long as they meet certain criteria.
"The application is open, they should apply, it's at AsburyBandAid.com and there's an application process and The Stone Pony will be administering that," Gopal said. "You just have to show that in the prior year that you have had performances at different restaurants and bars and you will be eligible to receive some of this financial help."
Gopal explains that the amounts will vary based on how many performances you had scheduled.
"It's different and at the discretion of The Stone Pony," Gopal said. "If somebody was performing every weekend versus someone who just performed twice in the last year, it would be a different amount."
Overall, Gopal says the Civic Association and The Stone Pony want to help provide some financial relief those who came up short of making revenue last year.
"The stories I hear from these band members...they've gotten no financial opportunities this past year and at not fault of their own," Gopal said.
You can donate to help out these bands and artists as well.
"Any donation amount is appreciated," Gopal said.
You can learn more about the concert at AsburyBandAid.com where you'll also be able to watch it live on April 20 at 7:00 pm as well as on Facebook, Vimeo, and YouTube.
You'll see artists performing and special guest speakers including Governor Phil Murphy, Senator Vin Gopal, Harlan Coben, Anthony Krizan, The B Street Band, Beach Rats, Billy Walton Band, Bob Polding Band, Bobby Mahoney & The Seventh Son, Brian Kirk, Chris Buono, Colossal Street Jam, Danny Clinch, Dentist, Des and the Swagmatics, Eddie Testa, Emily Grove, Jarod Clemons, Jess Alaimo, Joe Boris, Jill Hennessy, Melissa Keeling, The Nerds, Pat Rody, Rachel Dobken, The Smokin' Jackets, Splintered Sunlight, Shady Street Show Band, Tangiers Blues Band, Waiting on Mongo, The Weeklings, and William's Honor.
Gopal said the sponsors of Asbury Band Aid include Tito's, JCP&L, Pepsi, Truly, Grunin Foundation, Horizon, NJ Resources, Monmouth Park, and CLB Partners.
"This has been a project months in the making. Everyone who participated did it with the hope of helping someone else." Caroline O'Toole, General Manager, The Stone Pony said in a statement. "That is a true power of music and the spirit of the Jersey Shore."
You can follow Vin Ebenau on Twitter and Instagram and email news tips to vin.ebenau@townsquaremedia.com.
10 Ocean, Monmouth School Districts losing multi-millions from S2 School Funding Formula
Ten times drunk driving changed New Jersey Lives Forever
12 Times Being High Cost NJ Residents & Towns
Have You Seen Them? Ocean County's Most Wanted
Have You Seen Them? Monmouth County's Most Wanted
Strange NJ Laws You've Never Heard Of
Marijuana legal in NJ: How do the laws work?
Answers to common questions about legalized recreational marijuana in New Jersey and rules about underage use of weed.
NEXT: INSIDE JOE PESCI'S HILARIOUSLY OVER-THE-TOP LAVALLETTE MANSION
LOOK: GO INSIDE JON BON JOVI'S $20 MILLION MIDDLETOWN MANSION
Go Inside Mike 'The Situation's' NJ Mansion
TAKE A TOUR OF JON BON JOVI'S NEW $43 MILLION PALM BEACH MANSION
Jersey Shore Nor'easter 2021 Listener Pictures
LOOK INSIDE: The Most Expensive House in Rumson
This is the most expensive house for sale in Rumson, NJ in 2021
Peek Inside Snooki's New Toms River Waterfront Home
LOOK: See the iconic cars that debuted the year you were born
NEXT: The 100 Best Places to Live on the East Coast