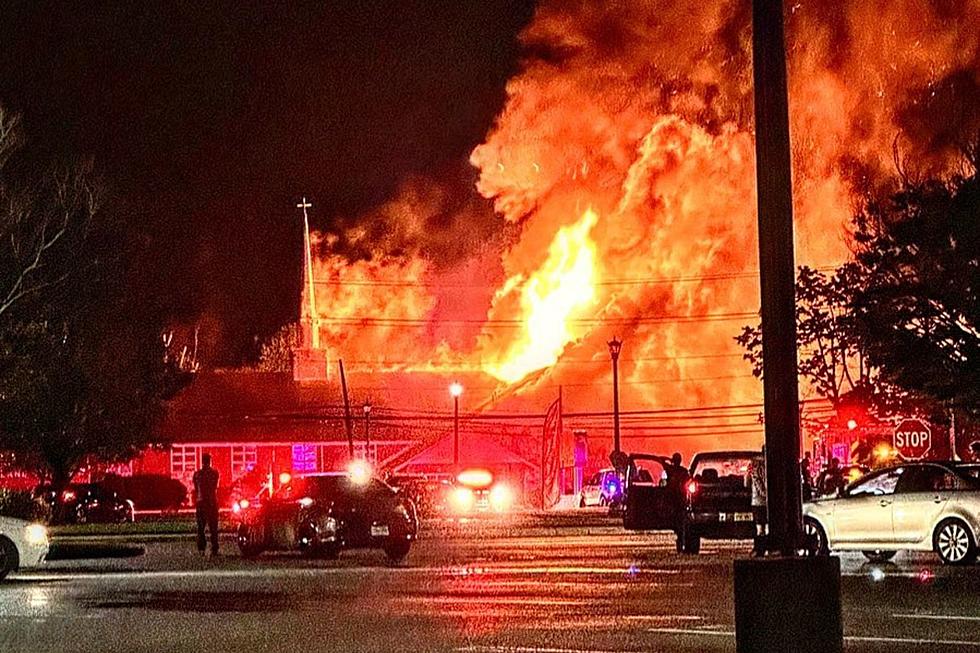 Scary thunderstorms in NJ may have sparked destructive church fire
Fire at the Voice of Deliverance New Covenant Church in Vineland 8/7/23 (South Vineland Fire Company)
⚡ A church fire in Vineland may have been sparked by lightning
⚡ Most power lost during the storm has been restored
⚡ The National Weather Service is sending a survey team to Hunterdon County
---
Monday's thunderstorms looked ferocious as they approached but weakened as the sun went down. Still, they may have been responsible for starting a fire at a church and knocking out power to thousands of homes.
A line of thunderstorms approached South Jersey from the west early Monday evening packing winds of up to 80 mph as they crossed the Delaware River. The storms also contained a lot of lightning, according to New Jersey 101.5 Chief Meteorologist Dan Zarrow.
"Radar showed a bow echo, a line of intense wind and rain, pushing into southwestern New Jersey just before 7 p.m. Luckily, the setting sun and cooler temperatures and fast forward motion helped to weaken that storm as it charged east across the state," Zarrow said. "I shudder to think how much worse the damage and power outages could have been if the storms arrived in New Jersey just an hour earlier."
The National Weather Service in Mount Holly said Tuesday it is sending a survey team to the Holland Township area in Hunterdon County "in relation to the severe thunderstorms." Extensive tree damage was reported near Bloomsbury by the emergency manager.
JCP&L reports power outages continuing in Holland and Kingswood as of 12:20 p.m.
Church destroyed by fire
The fire at the Voice of Deliverance New Covenant Church on East Chestnut Street caused severe damage to the building and the roof, according to Vineland Fire Chief Luigi Tramontana Jr.
"There was fire showing through the rear of the building, it started blowing out of the front of the building. They tried to knock it down and it started traveling through the whole roof area," Tramontana said.
Church in healing mode
Tramontana told CBS Philadelphia that 70 firefighters from 21 companies responded to the blaze. The cause of the fire is under investigation including whether or not lightning played a role.
"Vineland was under heavy thunderstorms from around 7 p.m. to 9 p.m. Monday evening. These were intense, turbulent storms, featuring high lightning density. So a strike around that time frame is certainly plausible," Zarrow said.
Fires in buildings stuck by lightning sometimes smolder and don't immediately show.
The congregation was in healing mode following the fire and is considering where services will be held.
"Right now, we are trying to process the loss," church officials said in a statement. "Once we have more information as to the cause of the fire we will have more to say. God is good and he always provides for his people. As of this moment, we don't have any information regarding upcoming services, but will be looking into alternatives."
16,000 without power at one point Monday night
Around 16,000 JCP&L, PSE&G and Atlantic City Electric customers were without power Monday evening. The number was down to around 4,000 by 8:30 a.m. Tuesday. Willingboro in Burlington County and Holland, Kingwood and West Amwell in Hunterdon County having the most outages. wes
Flights at Newark Liberty International Airport were affected Monday and Tuesday by the storms. On Monday, 172 arrivals and departures were canceled but only 32 on Tuesday, according to FlightAware.com.
The storm also caused the Phillies-Nationals game in Philadelphia to be postponed.
Report a correction 👈 | 👉 Contact our newsroom
Wait, there's a law? Why PA drivers have no excuse in NJ
For New Jersey drivers, this one might be an eye-opener.
NASCAR racing at Pocono Raceway just a step away from the Garden State
Last weekend, I took a trip to Pocono Raceway in Pennsylvania to check out the NASCAR action. It's more than racing. It's a huge three-day party where people from all over the country come to camp, party, and watch great racing.
Wow! Aaron Rodgers new home in New Jersey: Inside and out
Here's a look at New York Jets Aaron Rodgers' new Montclair home with 8 bedrooms and 9 baths — and sweeping views of the rest of New Jersey and the Manhattan skyline.