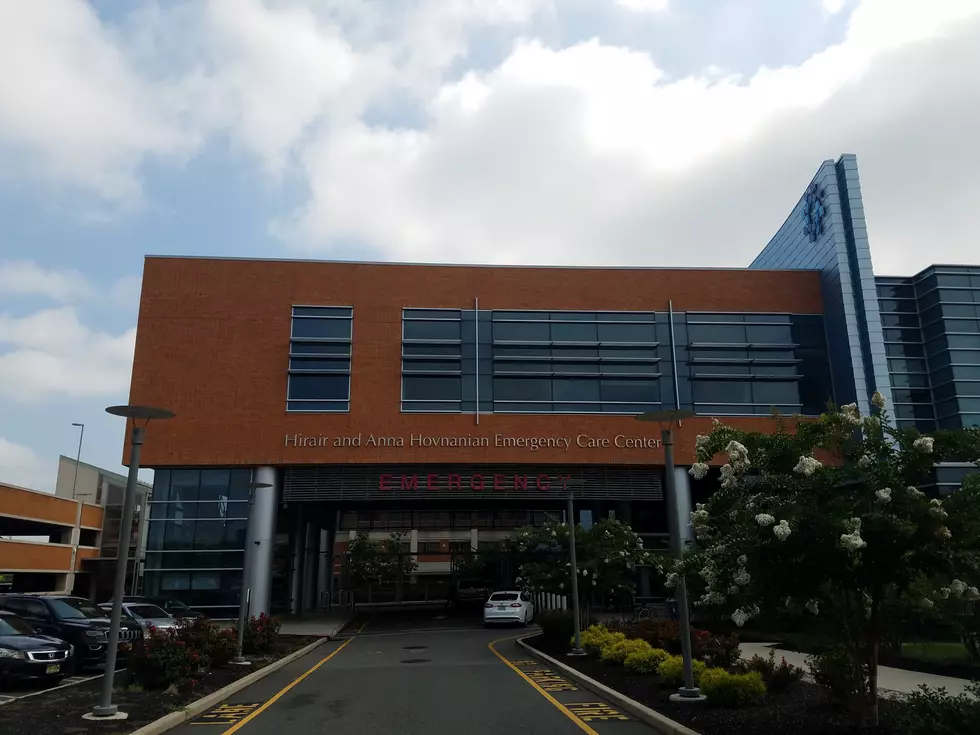 Omicron variant, unvaccinated causing strain on Jersey Shore, NJ hospitals
Emergency Department at Ocean Medical Center in Brick. (Vin Ebenau, Townsquare Media NJ)
The Covid-19 virus and all its ugly variants continue to wreak havoc on Ocean and Monmouth Counties, the state of New Jersey and beyond.
There are specific issues related to what's going on between Ocean and Monmouth Counties though that's making things particularly worse in some cases or delaying this latest surge from ending sooner than later.
"I can't stress enough how important it is to be vaccinated. Monmouth and Ocean Counties had a lower vaccination rate than some of the northern parts of the state and as a result, we saw Delta sticking around longer in the Monmouth and Ocean County areas than in the northern part of the state where Omicron became the dominant variant very quickly," Dr. Ken Sable, the Regional President for Hackensack Meridian Health's Southern Market which oversees Jersey Shore University Medical Center, Riverview Medical Center, Ocean University Medical Center and Southern Ocean Medical Center tells Townsquare Media News.
(Article continues below video)
To step back a second, prior to the Omicron variant -- and even still very much relevant -- the Delta variant began to circulate and it has caused and is causing a lot of sickness, hospitalization and even death.
There are similarities and differences between the two variants as well.
"The Omicron variant is generally three times more transmissible than Delta but one-third less severe," Dr. Sable said. "Sometimes people are saying, 'well, it's less severe so you don't need to worry about it', the problem is because it's three times more transmissible the absolute number of people, the denominator of people getting infected is so much greater that even though it's one-third less severe, we're seeing a lot more absolute number of sick patients."
As a result of so many people getting infected and in some cases getting really sick and hospitalized, it's putting a strain on hospital doctors, nurses and staff with having the man power to treat Covid patients as well as people coming in for other health matters.
It's not just people outside the hospital getting infected either that's causing the shortage right now.
"Because this is so contagious, we're seeing that more and more of our team members are getting infected and are unfortunately having to go out of work," Sable said. "We're grateful that the CDC has recently changed their policy that if you're positive and asymptomatic, the quarantine period is only 5-days, not 10-days so we're getting people back to work -- obviously, still protected with PPE and so forth."
However, a lot of strain is due to people becoming infected who are also not vaccinated.
"We still strongly encourage everyone to be vaccinated. I can tell you that three-quarters of our hospitalized patients -- we track this everyday -- are unvaccinated, 25-percent are vaccinated but some of them are not boosted, so you're best bet in terms of protection is vaccination and booster," Sable said. "If you're six-months out or more from your 2nd shot or your first shot -- if you got the J&J -- go get a booster shot. Even if your antibodies have dropped, you're still less likely to be hospitalized and less likely to die if you've been vaccinated against either Delta or Omicron variants."
Dr. Sable explains more on how this current surge is impacting hospitals and hospital staff on the latest episode of 'Eyes On The Jersey Shore' that you can watch below.
Your COVID-19 Questions Answered
Vaccinations for COVID-19 began being administered in the U.S. on Dec. 14, 2020. The quick rollout came a little more than a year after the virus was first identified in November 2019. The impressive speed with which vaccines were developed has also left a lot of people with a lot of questions. The questions range from the practical—how will I get vaccinated?—to the scientific—how do these vaccines even work?
Keep reading to discover answers to 25 common COVID-19 vaccine questions.
Honoring Our Healthcare Workers
Inspiring Images of NJ Medical Professionals Receiving the COVID-19 Vaccine