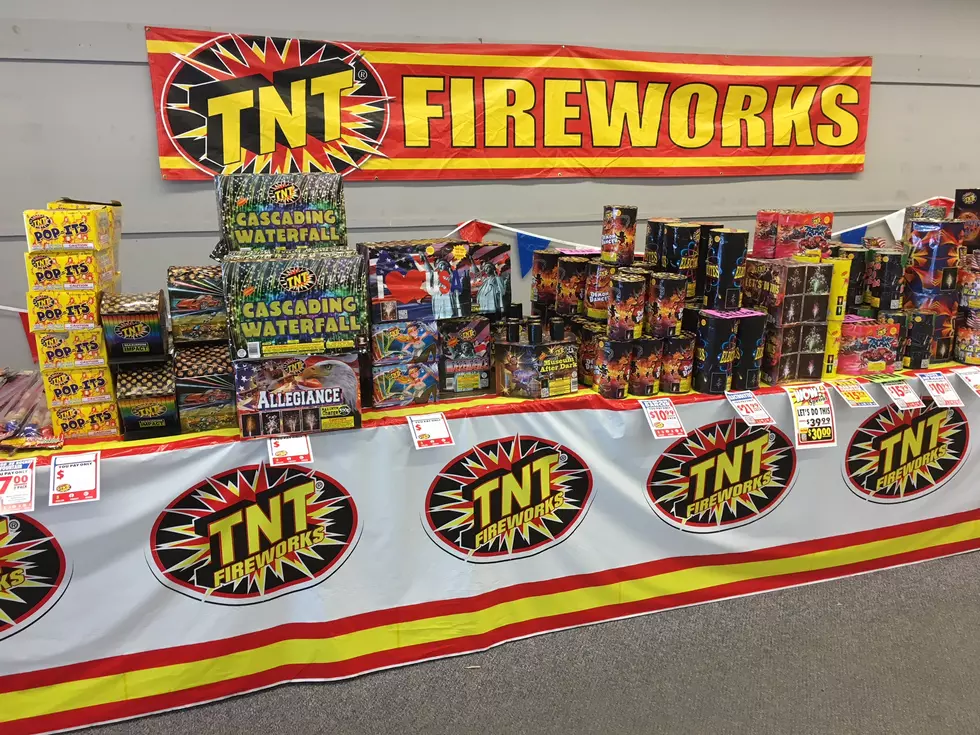 No Fireworks In Asbury This Year…Not So Fast Say Patriotic Residents
Fireworks for sale in Brick, ahead of July 4th holiday 2018 (Dino Flammia, Townsquare Media NJ)
If you were to cruise up and down the Jersey Shoreline, at dusk on any July 4th weekend, it is really hard not to witness fireworks in the distance.
Listen to Rich DeSisto weekdays from 3 p.m. - 7 p.m. on 105.7 The Hawk and download our free 105.7 The Hawk app.
Municipalities from the Highlands to Cape May dazzle their residents and visitors alike with displays of colors, sounds, shapes, and bursts.  Although some may look at July 4th as a celebration of individual freedom, history tells us it's a traditional way to express our freedom foreign rule, and patriotism to our country.  Other than the approach of a storm, fireworks on the 4th of July have always been a constant.  Until we were faced with the 100-year pandemic.
As the number of Covid19 cases and deaths increased dramatically last summer, the world, the country, and our neighborhoods shut down.  That "new normal" created so much anxiety.  We were at war with a virus and needed to hunker down. One by one, events, traditions, work, school and celebrations all took a backseat for the sake of our survival.  The traditional 4th of July fireworks celebration in 2020 was canceled almost everywhere.
This year as we began to see "light" at the end of the tunnel with Covid19.  President Biden chose the 4th of July as a benchmark for success in his vaccination plan.  The goal was to partially vaccinate 70% of Americans by Independence Day.  Although the goal fell short by a little less than 5%, the incredible efforts taken have led to the mask mandate to be removed in most areas and allowed us to rejoice and reclaim the normalcy in our everyday lives.
Unfortunately, the local government of Asbury Park wasn't so convinced of the progress and made a decision to cancel the 4th of July fireworks again this year.
So why would anyone be surprised that the locals wouldn't take matters into their own hands and plan their very own celebratory displays of patriotism from their backyards?  Especially since they legally can.
Municipalities in Monmouth Country including Asbury Park Mayor John Moor, said on Facebook, 
"We're looking to solve a problem so we don't go through it next year."
Apparently, Asbury City Hall was inundated with complaints from local residents complaining about the amateur fireworks displays in their communities.  This prompted the Mayor to ask the city legal department to review the state law on the books since 2017 legalizing the sale of fireworks in New Jersey.
Mayor Moor also said,
"I'm not blaming our legislation, we just want to find out what the law says and go from there," he said. "If it's something we need legislators to fix, we can reach out to them. If it's something the city can do at a local level, then we'll do that locally."
I get it.  Having an onslaught of fireworks displays going off in every direction can be a bit overwhelming, to say the least.  Short of creating multiple dangerous situations for the handlers, it also increases the concerns for our neighbors who suffer from PTSD, especially our Veterans.  Not to mention the trauma the increased noise causes our pets.
However, if you allowed your community to congregate together in one location for a proper 4th of July celebration, maybe, just maybe that would have eliminated some of the additional individual fireworks displays.  As long as they are legal, people will buy them and set them off.  But, this year canceling the rocket's red glare in Asbury was a mistake.
Especially since the outdoor festival in Asbury called "Sea. Hear. Now." is still a go, just two months later.  Just sayin.
Our Pets are our family.  We need to do our best to keep them safe and happy as more fireworks displays will commence through the summer.  Let's not forget the dangers of some foods for our dogs...
LOOK: Here Are 30 Foods That Are Poisonous to Dogs
To prepare yourself for a potential incident, always keep your vet's phone number handy, along with an after-hours clinic you can call in an emergency. The ASPCA Animal Poison Control Center also has a hotline you can call at (888) 426-4435 for advice.
Even with all of these resources, however, the best cure for food poisoning is preventing it in the first place. To give you an idea of what human foods can be dangerous, Stacker has put together a slideshow of 30 common foods to avoid. Take a look to see if there are any that surprise you.
Here's what else is going on in Asbury Park...
Asbury Park Trending News