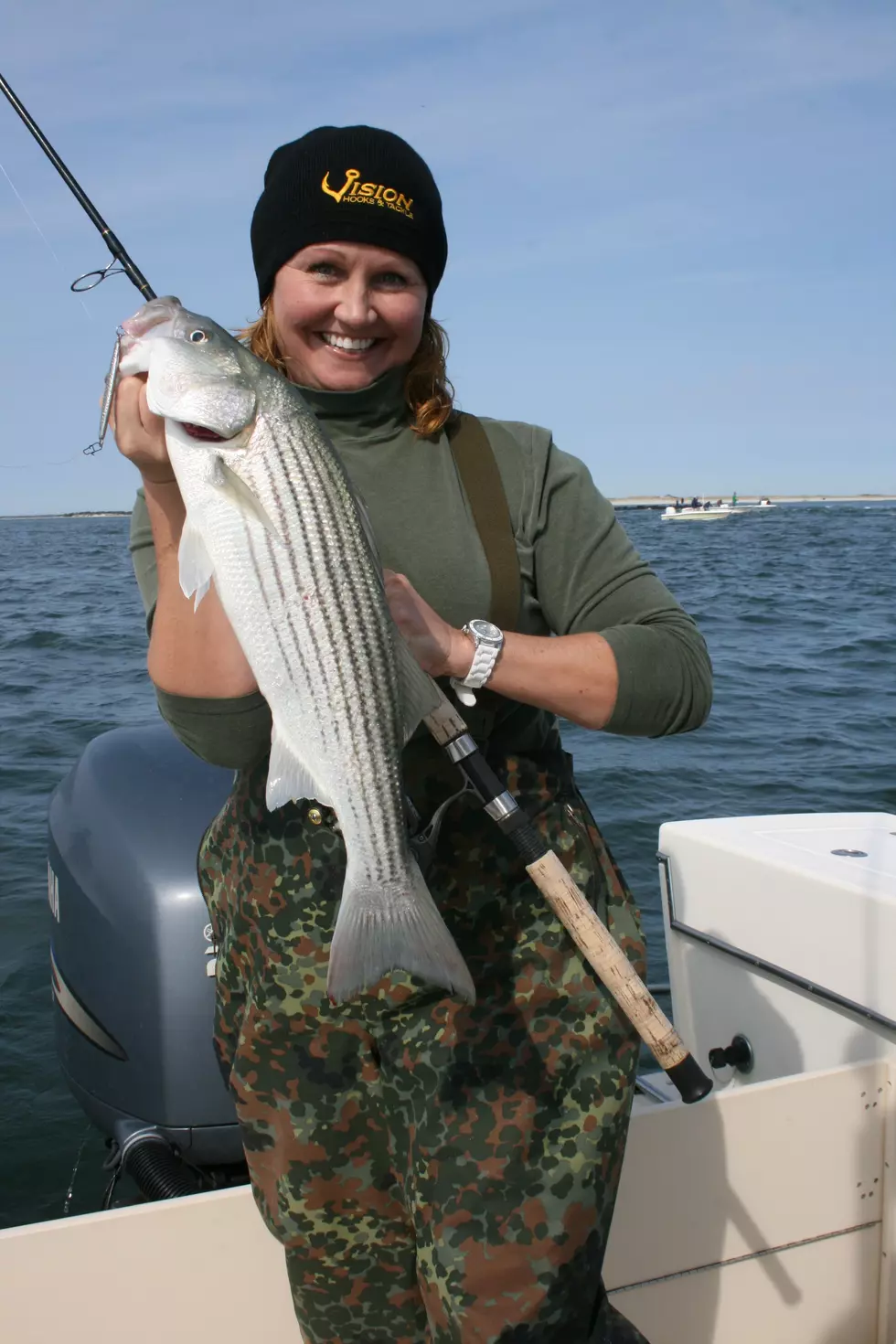 NJ Striper Season Opens Friday
Photo by Tom P
And just like that, it's once again legal to fish for striped bass in the bays and tidal rivers and creeks.
Starting tomorrow, you'll be able to target stripers, with the bag limit (one 28-inches to 42.9 inches and one over 43-inches), the same as last year...at least for this season. Heavy chatter is leaning to increased restrictions next year as per federal fisheries meetings scheduled for later this spring. So for now, get out and fish!
It's going to take a significant warming of the water to get the stripers biting with any degree of consistency. Some days of strong sun will serve to heat the water, and it's the outgoing tide, with its more comfortable temperatures conducive to bait movement and availability that will have the bass affixing the feedbags.
During March and April, it's primarily a bait 'n wait game. Bloodworms (central and south) and sandworms (north) are the rod-bending best offerings. As the waters warm, the bass will start chasing bucktails, plugs and poppers, but this usually starts in May. There are exceptions, of course, but as thae old saying goes when it comes to early spring stripers, "You bring 'em to terms when soaking the worms".
Barnegat Bay is rife with early season hotspots, with its Oyster Creek and Double Creek tributaries especially productive, especially during an uptick in water temperatures. Graveling Point in Great Bay at the end of Radio Road on Mystic Island is synonymous with March stripers and is a traditional locus for generations of spring bass buffs.
Reality check: "Keepers" as in 28-plus inches are not common until later in March and through April. As such, it's mostly a catch-and-release game, so if using bait, utilize circle hooks as opposed to J hooks to give a 95% assurance of a jaw set as opposed to the chance of a hungry bass swallowing the metal and most likely suffering a slow death. Bucktails, plugs or poppers? Mashing the barbs makes for a much easier and safer release...for the fish and you. You don't want to deal with the pain, blood and emergency department necessities after a hook is buried in your hand, thumb, arm or face. Trust me on this one!
Atlantic City Boat Show: "The Mother of All Boat Shows" aptly describes this massive boat-and-all-related exposition that opened yesterday and continues through Sunday. In excess of 350 exhibitors will be displaying everything from sportfishing yachts and pleasure cruisers to PWCs to gelcoat wax to sportfishing organizations to boat safety class operators…and every niche product and service in between. The explosive roster of seminars conducted by the Recreational Fishing Alliance is more than worth the price of the $16 adult admission fee (12 and younger enter free with an accompanying paying adult). Hours are today and Friday 11am-8pm; Saturday 10am-8pm and Sunday 10am-6pm. Not-to-be-missed free seminars include: Thursday-Jigging Blackfish (12:30pm), Inshore Weakfish (1:30pm); Friday- Deep Water Fluking (2pm), Offshore Fishing (3pm), Spring Black Drum (4pm); Saturday- Party Boat Flue Fishing (1pm), Jigging Sheepshead & Tog (2pm); Sunday- South Jersey Wreck Fishing (11am), Trolling Stripers (1pm), Trolling Fluke (3pm).