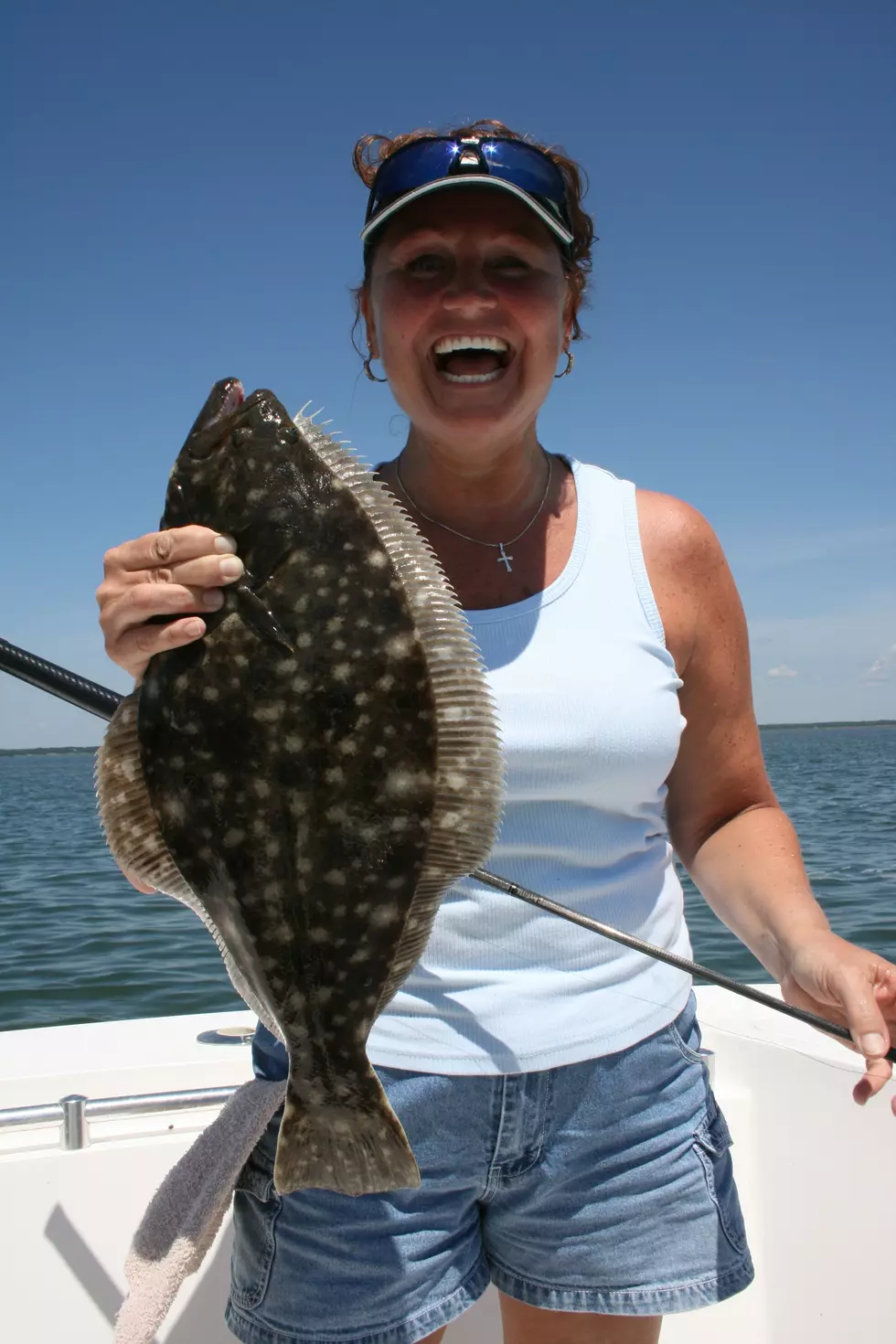 Fluke News For 2018 Good… Sort Of
(photo: Tom Pagliaroli)
With the December 12-14 joint meetings of the Atlantic State Marine Fisheries Commission (ASMFC) and the Mid-Atlantic Fishery Management Council concluded, Garden State fluke fishing enthusiast can take, well, half a heart as it appears as if there will be days added to the front or back (or both) for the 2018 season as per the approved 17% increase in allocation.
However, it's a take-it-to-the-bank bet that the 18-inch minimum length will remain in place. Whether the bag will remain at three fish or maybe be bumped to four is yet to be determined.
As explained during the December 16 7 a.m.-8 a.m. broadcast of Rack & Fin Radio on 97.3 ESPN FM, Tom Fote, the longtime Governor's appointee to the ASMFC and legislative chairman for the Jersey Coast Anglers Association and NJ State Federation of Sportsmen Clubs, dropping the length limit even ½-inch would quickly gobble the quota, the payback being a much shorter season such as last year's when it closed the day after Labor Day.
Delaware Bay's special regulation 17-inch minimum looks to stay intact, the bag limit being dictated by the coastal possession decision. The two fish at 16-inches for Island Beach State Park should remain the same.
The decisions will be made after public comment during the 4:30-6:30 p.m. meeting of the NJ Marine Fisheries Council in March which will be held, because of the huge crowd expected, at either the Stafford Municipal building in Manahawkin, or the Ocean County Office complex in Toms River.
The date will be posted here two weeks before the assemblage. If you enjoy fishing for fluke, make it a rapier point to attend and voice your opinion. As Jim Donofrio, executive director of the powerful NJ-based Recreational Fishing Alliance constantly reminds, "Democracy is not a spectator sport. Get involved!"
Pheasant/Quail Stockings Resume
It's a wonderful thing with the conclusion of the six-day buck week deer season and the onset of the various December "doe days": participation in pheasant and quail hunting nosedives despite the continuation of the stocking program.
This combination makes for a quality hunting experience, especially if afield during the week. Still, the Saturday hunting is far less crowded and good hunting is all but assured.
Following are the pheasant stocking numbers for tomorrow and next Tuesday and Thursday on those wildlife management areas in the 105.7 The Hawk listening area. Quail are released on the Greenwood Forest and Peaslee tracts only.
Pheaqsants: Stafford Forge (90, 90 and 90); Port Republic (30, 30 and 30); Manasquan (70, 70 and 70); Manahawkin (30, 30 and 30) and Howardsville (30, 30 and 30).
Quail: Greenwood and Peaslee (400, 400 and 400 each).