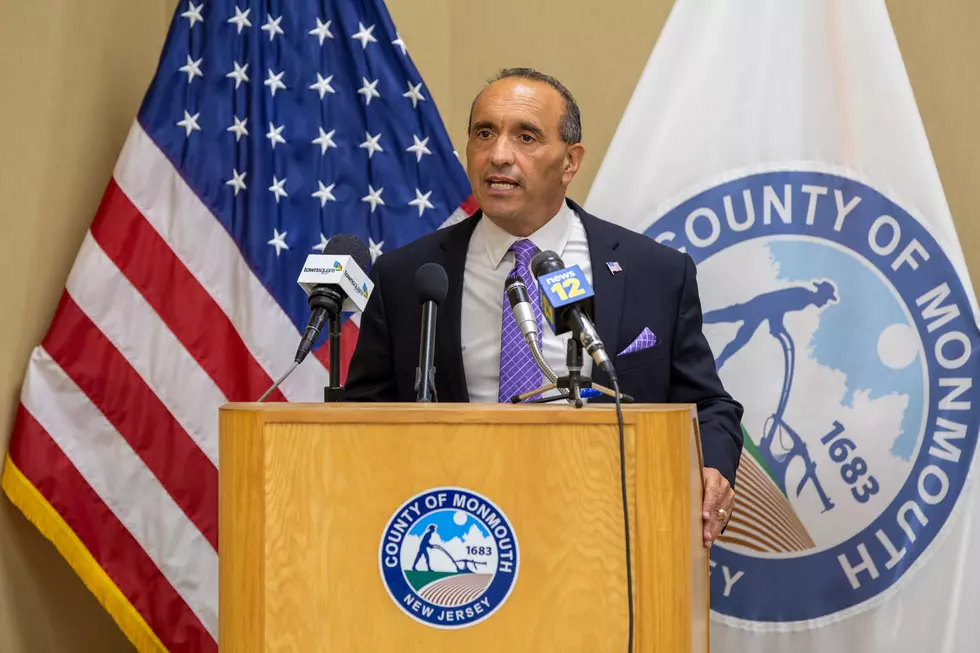 Monmouth County vaccine appointments being pushed back over delivery delays
Monmouth County Freeholder Director Tom Arnone addresses the media and reporters. (Monmouth County Government)
If you had a vaccine appointment scheduled this week in Monmouth County, you don't anymore.
There have been delays this week in the vaccine being distributed to Monmouth County forcing the Commissioners and Health Department to move appointments.
Commissioner Director Tom Arnone and Commissioner Deputy Director Sue Kiley said Wednesday that vaccine appointments scheduled for Thursday, February 18 are now being moved to Monday, February 22 due to the continued delay in vaccine deliveries.
"The County has not gotten notification that the vaccines have even shipped yet and so we want to be proactive by moving these appointments now so that people can make alternative plans if necessary," Commissioner Director Arnone said in a statement. "Again, we apologize for this inconvenience to those with scheduled appointments, but everyone scheduled for Thursday will receive their vaccine on Monday."
"Vaccine appointments are now moved to Monday at the same time and location as previously scheduled at either Brookdale Community College or the Monmouth County Agricultural Building," Commissioner Deputy Director Kiley said in a statement.
The Commissioners said you can get up to date information on the COVID-19 vaccine on the County's COVID-19 vaccination at www.visitmonmouth.com/health.
"Please do not go to a vaccination clinic without a confirmed appointment. There are no extra vaccines available at the clinics," Commissioners Arnone and Kiley said.
You can follow Vin Ebenau on Twitter and Instagram and email news tips to vin.ebenau@townsquaremedia.com.
NEXT: INSIDE JOE PESCI'S HILARIOUSLY OVER-THE-TOP LAVALLETTE MANSION
LOOK: GO INSIDE JON BON JOVI'S $20 MILLION MIDDLETOWN MANSION
Go Inside Mike 'The Situation's' NJ Mansion
TAKE A TOUR OF JON BON JOVI'S NEW $43 MILLION PALM BEACH MANSION
Jersey Shore Nor'easter 2021 Listener Pictures
9 REASONS NOT TO LIVE AT THE JERSEY SHORE
Peek Inside Snooki's New Toms River Waterfront Home
LOOK: See the iconic cars that debuted the year you were born
NEXT: The 100 Best Places to Live on the East Coast
KEEP READING: Here are the best places to retire in America