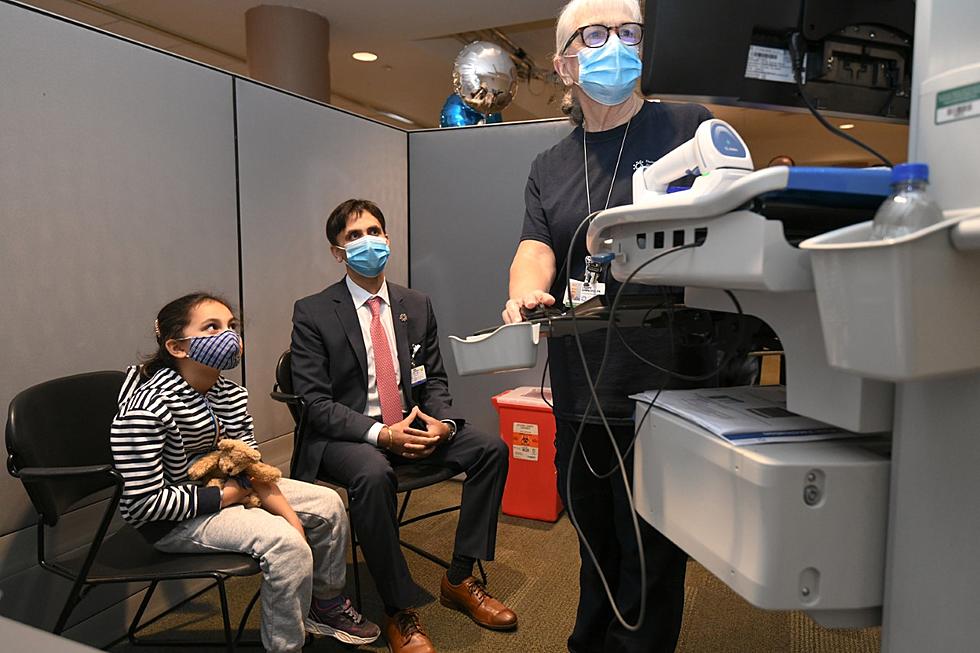 Jersey Shore doctor stresses importance of kids 5-11 years old getting Covid vaccine
(Photo Courtesy: Edna Argüello-Hitchner/Hackensack Meridian Health)
There are about 760,000 children in New Jersey between the ages of 5-11 who are eligible to receive the Covid vaccine, according to state figures, but as of last week the amount of children in this group who have been vaccinated is pretty low, at around 9,000, as reported by CBS-Philly.
State government leaders and health officials as well as those on the local level continue encouraging everyone (adults included) including parents who have kids to bring their sons and daughters in to be vaccinated.
There's a lot of information to consume and lots of mis-information to kick to the curb.
Many have concerns, fears and reservations with the Covid vaccine for kids for any number of reasons.
On one hand though, Dr. Aswine K. Ball, Chief of Pediatric Infectious Diseases of K. Hovnanian Children's Hospital at Jersey Shore University Medical Center, explains that while Covid is more prevalent in adults, it's just as important for kids to be vaccinated.
"The Covid symptoms are less severe in children, particularly younger children, compared to adolescents and adults, but there's a substantial number of children in that age group who can get very sick and end up in hospitals with Covid pneumonia," Dr. Bal tells Townsquare Media News. "There's also a lot of long-term sickness that happens after Covid, either symptomatic or asymptomatic diseases like MISC, and long Covid symptoms like fatigue, brain fog that can happen and linger for a long period of time."
These are some of the reasons Dr. Bal hopes more children will be vaccinated to prevent any severe Covid-19 illness and certainly prevent transmission to others.
"The studies that were done on multiple sites have shown that it does equally respond in terms of immunity like some of the young adults between 16-25 and the efficacy of the vaccine is about 91-percent," Dr. Bal said. "To avoid a serious illness and to avoid long-term complications of Covid-19 in that age group (5-11) the CDC recommends that anybody more than 5-years of age needs to be vaccinated."
There is concern for children in this age group just like some adults have who may have an underlying medical condition or illness where getting vaccinated should be discussed with your primary care physician before getting the shot in the arm to see what's best for you specifically.
"I think that it's very important for the parents to discuss with the primary care provider (of those children) because it's a comfort level and they can provide personal information which probably makes them comfortable to get the vaccine," Dr. Bal said. "In general, the adverse effect of the vaccine in that age group, ages 5-11, is very mild like an adult and they'll primary get a local reaction like the pain at the vaccination site, little aches and pains, low grade fever...they usually resolve in 1-3 days."
Dr. Bal explains that the benefits of kids getting the vaccine far outweigh any of the risks.
"The children with immune system problems like Diabetes...they're more susceptible to severe disease like Covid-19 because of their underlying problem so they're actually the target population to get the vaccine to prevent further complications," Dr. Bal said. "The only contrary indication would be if the child develops a severe allergic reaction --- a breathing problem -- after getting the vaccine. In that situation, you don't want to give the 2nd dose. Otherwise, I think it's very important that the parents and the pediatricians should discuss based on their individual sized health record."
Here are the HMH hospitals where you can bring your sons and daughters to be vaccinated or be vaccinated yourself:
Hackensack University Medical Center

Palisades Medical Center

JFK University Medical Center

Raritan Bay Medical Center

Old Bridge Medical Center

Bayshore Medical Center

Riverview Medical Center

Jersey Shore University Medical Center

Ocean University Medical Center

Southern Ocean Medical Center
Here are the HMH pediatric practices where you can bring your sons and daughters or get vaccinated yourself to be vaccinated:
Hackensack Meridian Medical Group Practices
Bergen in Hackensack

Lakewood in Jackson

Neptune in Neptune

Manalapan in Manalapan
Asbury Park Pediatrics, Asbury Park

Ocean Pediatrics Eatontown, Eatontown

SOMC Pediatrics, Manahawkin

Lakewood Pediatrics, Forked River

West Long Branch Pediatrics, West Long Branch

Kent Pediatrics, Jackson

Navesink Pediatrics, Red Bank

Bethany Pediatrics, Hazlet

Allergy and Pediatrics, Freehold
For 1st, 2nd or 3rd doses head to hackensackmeridianhealth.org/covid19/ to make an appointment.
Answers to 25 common COVID-19 vaccine questions
Vaccinations for COVID-19 began being administered in the U.S. on Dec. 14, 2020. The quick rollout came a little more than a year after the virus was first identified in November 2019. The impressive speed with which vaccines were developed has also left a lot of people with a lot of questions. The questions range from the practical—how will I get vaccinated?—to the scientific—how do these vaccines even work?
Keep reading to discover answers to 25 common COVID-19 vaccine questions.
Inspiring Images of NJ Medical Professionals Receiving the COVID-19 Vaccine