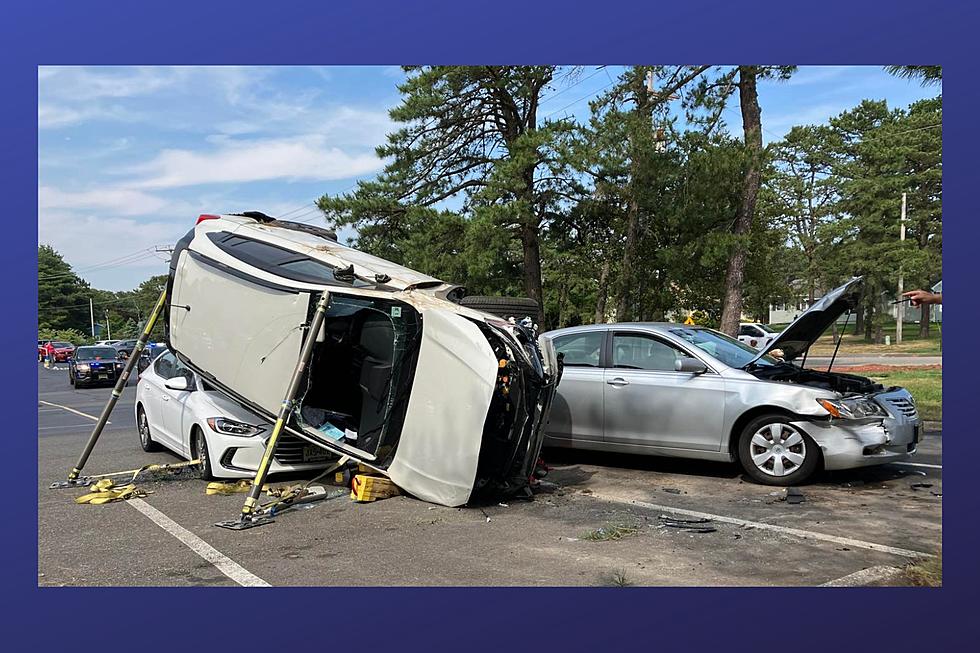 'Vault into the air' — 84-year-old Woman Injured in Ocean County, NJ, Airborne Crash
84-year-old woman injured in an accident in Manchester Township - Photo: Manchester Township Police Department
An 84-year-old woman from Ocean County is recovering after her vehicle went airborne in an accident over the weekend.
The crash happened around 3 PM Saturday on Congasia Road near Sunset Road in Manchester Township.
Upon arrival, officers say they found a 2021 Subaru Crosstrek on top of a 2017 Hyundai Elantra with the driver of the Subaru, 84-year-old Anna Grissell of Whiting, trapped inside the vehicle.
Grissell was extricated and flown to AtlantiCare Regional Medical Center for treatment of her injuries. She was last reported to be in stable condition.
Police say their investigation revealed the following chain of events:
Grissell was traveling northbound on Congasia Road approaching Sunset Road in an area of the roadway that is curved. She failed to properly negotiate the curve, drove off the roadway to the left, and struck a sign.
Her vehicle continued through the intersection of Sunset Road where it left the roadway a second time.
She then struck a second sign, went airborne for approximately 50 feet, struck various shrubs and trees, and ultimately hit a bush.
The bush caused the Subaru to get pushed onto the vehicle's driver-side two tires and subsequently onto the driver-side of the vehicle.
Grissell then continued forward, entering the parking lot of Deerfield Hall, where she hit two parked vehicles, the previously-mentioned Hyundai and a Toyota Camry.
The impact with the parked vehicles caused Grissell's Subaru to vault into the air and land on top of the Hyundai.
The Hyundai and Toyota were both unoccupied at the time of the crash.
The investigation into the crash is still ongoing, but at this point, police say a medical episode suffered by Grissell while she was driving appears to be a primary contributing factor.
Confection Perfection: The Best Bakeries in Ocean County
Backyard Friends in Ocean County
Animals That Live with Us in New Jersey