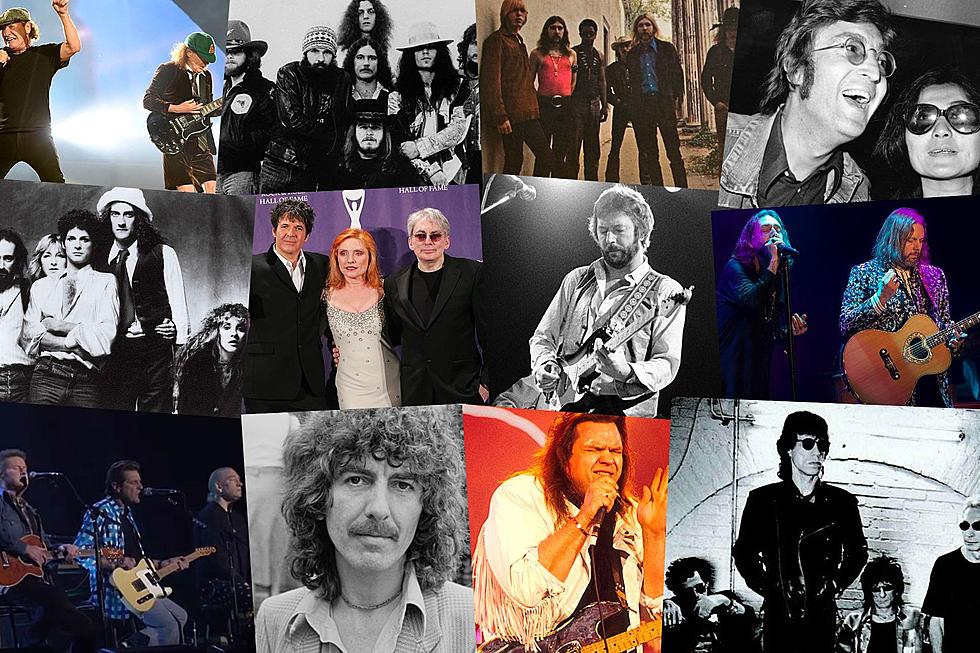 Rock 'n' Roll Hiatuses: 48 Bands That Returned From Long Breaks
UCR
"Rock bands are made to break up," Styx's Dennis DeYoung once said, and that's certainly been a common occurrence.
What he could have added, however, is that they're also made to get back together. Rock 'n' roll history is likewise filled with reunions and re-activations, returns and reconciliation. You break up to make up, as the saying goes, and rock acts have done plenty of that over the decades.
Some are more legendary than others. Don Henley famously declared that Eagles would get back together "when hell freezes over" — which wound up happening just a few years later. There are many reasons for these changes of heart, ranging from absence making hearts grow fonder to absence making the prospects of great capital gains larger. Fan demand is often cited — a postscript, of course, being that demand translates into ticket, merchandise and music sales.
The term "break-up," in fact, could be replaced by "hiatus," something more open-ended that takes away from the perception of hypocrisy (or cunning) upon any act's return. Some artists have been lampooned, or at least chided, for making a career out of saying goodbye. So well-chosen semantics can make a difference in how the seemingly inevitable comebacks are treated.
A number of acts are saying or are about to say goodbye again: Elton John, Foreigner, Kiss, Eagles, Aerosmith. So it seems like a good time to explore some of rock's most historic there-and-backs, the hiatuses and returns that are still talked about today.
AC/DC
Years: 2011-2014
The Break: AC/DC has put many years between albums and tours since 1990, and the period after the Black Ice World Tour seemed particularly fraught.
The Interim: Malcolm Young was diagnosed from dementia and ultimately left the band. Nephew Stevie Young took his place, although Malcolm had contributed to the album AC/DC was working on. Criminal charges against drummer Phil Rudd in New Zealand also led to his departure, leaving fans wondering if the group would be back.
The Return: Rock or Bust came out in November 2014, debuting at No. 3 on the Billboard 200. Malcolm Young was credited for writing contributions but he didn't play on it. "A lot of these songs were ideas that he had," Angus Young said at the time. "Mal himself, when he knew it was time to stop he said, 'You do it. You keep doing it.' It was his baby from the beginning. It was his whole idea. He wants it to go on." The subsequent tour took AC/DC around the world in 2015 and 2016, though Guns N' Roses' Axl Rose stepped in during the final two legs after Brian Johnson was sidelined with hearing issues.
Since: Malcolm Young passed away on Nov. 18, 2017. AC/DC released another album, Power Up in 2020, but did not tour to support it. Johnson and Rudd's first AC/DC concert in seven years was later confirmed for October 2023 at the Power Trip festival in Indio, Calif.
Watch Promo Clip for AC/DC's 'Rock or Bust' Tour
The Allman Brothers Band
Years: 1982-1989
The Break: The Allmans Brothers Band dealt with some creative and personal dust-ups then initially split up following 1981's tepid Brothers of the Road. "We felt like we'd already dragged our reputation through the mud and back and didn't want to do any more damage," Gregg Allman admitted. They closed things out with a January 1982 performance on Saturday Night Live.
The Interim: Allman and Dickey Betts led their own bands, while the Allmans reunited a couple of times – including for Charlie Daniels' Volunteer Jam in 1986.
The Return: The group's 20th anniversary and the Dreams box set in 1989 provided impetus for a reunion. "This really is the best thing any of us are going to do," Betts said back then. "The [band] is just something special. It's a combination of the players and all the history that goes with it." A successful tour led to a new album, 1990's Seven Turns, and a road that would seemingly go on forever.
Since: The Allman Brothers Band's knack for drama did not end as a nasty split with Betts followed in 2000. The group kept its standards high, however, with lineups that included guitarists Warren Haynes, Jimmy Herring and Derek Trucks (late drummer Butch Trucks' nephew). The Allmans closed out in October 2014 with a series of concerts at New York's Beacon Theatre. Allman died in 2017, a month after Butch Trucks.
Watch the Allman Brothers Perform 'Jessica' in January 1982
Bad Company
Years: 1982-1998
The Break: Original frontman Paul Rodgers and bassist Boz Burrell left Bad Company after its sixth album, 1982's Rough Diamonds.
The Interim: Guitarist Mick Ralphs and drummer Simon Kirke soldiered on with two singers, Brian Howe and Robert Hart, releasing another six albums through 1996.
The Return: Rodgers and Burrell rejoined their mates to record two new songs, "Hey, Hey" and "Hammer of Love," for 1999's The 'Original' Bad Co. Anthology, and a tour to support it.
Since: Rodgers and Kirke led another version of Bad Company in 2002, while Ralphs rejoined them from 2008-2016. The guitarist bowed out due to health reasons, with Heart alumnus Howard Leese and the Black Crowes' Rich Robinson filling in. The band remained technically still active but began a long period of silence in 2018.
Listen to Bad Company's 'Hey, Hey'
The Beatles
Years: 1969-1994
The Break: John Lennon had officially quit the Beatles during a meeting on Sept. 20, 1969, before Paul McCartney made the split official in May 1970, prior to the release of his first solo album and the Beatles' Let It Be.
The Interim: Lennon, McCartney, George Harrison and Ringo Starr went their separate ways, each establishing prolific solo careers. McCartney later started another band, Wings. The Beatles lived on through archival releases.
The Return: McCartney, Harrison and Starr teamed with producer Jeff Lynne to record something new in early 1994 as the Anthology documentary project began taking shape. They created "Free As a Bird" and "Real Love" — the first new Beatles material in 25 years – from two of the late Lennon's demos. The songs were featured during the broadcast and on the Anthology 1 and Anthology 2 albums, respectively. "That's some of the most fun I ever had in the studio, with the Beatles. It was the best treat I could ever wish for," Lynne later said. "All of it was surreal to me. I was staying in a little cottage with George and we'd go in and work in Paul's studio, and it was a totally surreal and unbelievable experience, really."
Since: Harrison passed away in 2001, while McCartney and Starr continued to record. McCartney long discussed releasing a third posthumous track that was considered for Anthology, "Now and Then."
Listen to the Beatles' 'Real Love'
The Black Crowes
Years: 2002-2005
The Break: Growing tensions within the band led drummer Steve Gorman to depart. The Black Crowes announced a formal hiatus after touring in support of their sixth album, Lions.
The Interim: Live, recorded in 2001 during Halloween shows in Boston, arrived in 2002. Frontman Chris Robinson put out a pair of solo albums and his brother, guitarist Rich Robinson, formed the short-lived Hookah Brown and then released a solo album, 2004's Paper.
The Return: The Black Crowes took flight again in 2005, with early guitarist Marc Ford back in the fold. The group toured first, then hit the studio for 2008's Warpaint. Lineup changes continued through this decade-long run, with guitarists such as Paul Stacey, Luther Dickinson and Jackie Green logging time with the band.
Since: The Black Crowes went on another hiatus in 2015, launching a variety of other projects, including the Chris Robinson Brotherhood, Rich Robinson's Magpie Salute and Gorman's Trigger Hippy. The drummer also published the forthright memoir Hard to Handle, but was not included in the band's next resumption, launched by the Robinsons in 2019.
Listen to the Black Crowes' 'Miracle to Me'
Boston
Years: 1979-1986
The Break: Tom Scholz became embroiled in lawsuits with a former co-manager and Epic Records after Boston's first two albums.
The Interim: Scholz launched his successful music equipment company, Scholz Research & Development. Guitarist Barry Goudreau released a solo album and then left Boston in 1981 to form his own band, Orion the Hunter.
The Return: Boston's triple platinum-selling Third Stage finally arrived in September 1986. The LP and lead single, "Amanda," went to No. 1 while "We're Ready" reached the Top 10. Boston toured as well, with only Scholz and frontman Brad Delp remaining. "The thing that did surprise me is the openness with which everyone listened to it," Scholz said. "I thought there might be pre-conceived notions that they weren't going to like it because it took too long."
Since: Delp left after Third Stage but returned as a part-time member until his death in 2007. Boston released just three more albums after Third Stage, and was inactive for long periods.
Listen to Boston's 'Amanda'
Blondie
Years: 1982-1997
The Break: Citing burnout, Blondie announced their split in November 1982, following a tour to promote 1981's The Hunter.
The Interim: Debbie Harry cared for guitarist Chris Stein while he battled a near-fatal bout with the autoimmune disease pemphigus, then focused on a solo career with the single "Rush Rush" for the film Scarface. She released three albums between 1986 and 1993, while drummer Clem Burke played sessions and toured with Eurythmics in 1986.
The Return: Harry, Stein, Burke and bassist Gary Valentine played three radio station concerts in 1997 and decided to make Blondie a going concern again. "I didn't want it to be 10 years from now and look back and go, 'Oh, shit, we could've done it and we didn't do it," Stein said.
Since: Blondie released its first new album in seven years with 1999's No Exit, followed by several more. Harry, Stein and Burke remained the core of the band, which more recently featured Sex Pistols co-founder Glen Matlock in its touring lineup.
Listen to Debbie Harry's 'Rush Rush'
Eric Clapton
Years: 1970-1974
The Break: Eric Clapton retreated from the spotlight after the drug-fueled maelstrom of Derek and the Dominos and Layla and Other Assorted Love Songs, sinking into substance addiction and his tortured longing for friend George Harrison's wife, Pattie Boyd.
The Interim: Clapton turned up for Harrison's Concert for Bangladesh shows in August 1971 in New York City, and the Who's Pete Townshend tried to pull him out of his torpor with an all-star concert at London's Rainbow Theatre that was recorded for a live album. Clapton was in such bad shape, however, that he had have his white suit altered to accommodate the girth he'd acquired during this down time.
The Return: Clapton eventually kicked heroin, put a new band together then recorded the gold-certified Top 5 hit 461 Ocean Boulevard in Miami. The LP featured a No. 1 hit cover of Bob Marley's "I Shot the Sheriff." He went back on the road, as well.
Since: Clapton maintained a steady career, but with plenty of personal life drama and a diminished output of new music. He continuesd to play concerts, most notably with the long-running Crossroads Guitar Festival. The shows raise funds for his Crossroads Center rehabilitation facility in Antigua.
Listen to Eric Clapton's Cover of 'I Shot the Sheriff'
Phil Collins
Years: 2011-2017
The Break: Phil Collins cited health and family concerns as reasons behind his decision to retire in March 2011, after eight solo albums plus a long run with Genesis.
The Interim: Collins moved to the Miami area to be closer to his two sons with third wife Orianne Cevey. He tried some collaborations with Adele, oversaw the remastering and reissue of his catalog and published a memoir, 2016's Not Dead Yet.
The Return: Spine and neck issues eventually left him unable to play drums anymore, or even stand on stage. Still, Collins went back on the road in June 2017 with his son Nicholas on drums.
Since: Collins' Not Dead Yet Tour made 97 stops worldwide through the fall of 2019. He then reunited with Tony Banks and Mike Rutherford in 2011 for a final Genesis tour, The Last Domino?, with a final show in March 2022 in London. Collins subsequently announced his second retirement.
Watch a Trailer for Genesis' 'Last Domino?' Tour
Alice Cooper
Years: 1983-1986
The Break: Alice Cooper found himself in bad shape after 1982's Zipper Catches Skin. By his own admission, Cooper was "drinking hard, rail thin, malnourished and knocking on death's door." His wife Sheryl moved out and filed for divorce, and manager Shep Gordon threatened to step away, as well.
The Interim: Cooper pulled himself back from the abyss with the help of his parents, heading back to Arizona where he checked into Phoenix's Camelback hospital and was treated for his addictions and cirrhosis of the liver. This second rehab took, and Cooper made a tentative step forward with a starring role in the C-grade Spanish horror film, Monster Dog.
The Return: Cooper recorded 1986's Constrictor, his first new album in four years, then hit the road. The Nightmare Returns tour recreated the theatrics that made him a rock 'n' roll icon in the first place. "I want the throne back," he declared. "Alice wants the championship crown again. ... The new Alice was in some ways even meaner, even more of a villain, but more in an arrogant, Alan Rickman, aristocratic kind of way. A little more cunning, I think."
Since: Cooper became non-stop, both on record and on the road. He had one of his biggest hits, "Poison," in 1989, then continued expanding an already huge catalog of albums.
Watch Alice Cooper's 'Poison' Video
Creed
Years: 2012-2023
The Break: Creed's first hiatus, from 2004-2009, was comparatively short-lived. A 2009 album, Full Circle, led to three years of touring, finishing with an international run in 2012.
The Interim: Frontman Scott Stapp released two solo albums as well as a Live and Unplugged set, while spending time with the band Art of Anarchy. Mark Tremonti, Scott Phillips and Brian Marshall turned out four releases with their band Alter Bridge. Tremonti's self-named solo band churned out a handful of LPs, and the guitarist took a left turn on 2022's Tremonti Sings Frank Sinatra. Ironically, Stapp was then tapped to portray Sinatra in the biopic Reagan.
The Return: "Over all the years, there's always talk" about reuniting, Tremonti said. "It's tough because I have such a tight schedule with everything I do." If they got together, he added, Creed would have to "see how people respond to the band being back on stage. And if people are clamoring for a record, who knows? You never say no to anything." Then, after more than a decade apart, Creed announced a headlining date on the Summer of '99 Cruise cruise to the Bahamas in 2023.
Since: Creed will be joined onboard by 3 Doors Down, Buckcherry, Fuel and others. "We are beyond stoked to announce that we will be reuniting on the Summer of '99 Cruise," the band said in an official statement. "We are honored by the unwavering support of Creed Nation throughout the years. It's all for you. Creed is back! Let's do this!"
Watch Creed's 'One Last Breath' Video
Eagles
Years: 1980-1994
The Break: The Eagles split after a tense 1980 benefit show in Long Beach, Calif., during which Glenn Frey and Don Felder almost came to blows backstage.
The Interim: Eagles were busy apart. They released 1980's Eagles Live, while all of the members pursued solo careers. Don Henley's was the most successful, as he insisted that Eagles would only reunite "when hell freezes over."
The Return: The 1993 tribute album Common Thread: The Songs of the Eagles initially reunited the band during a video shoot for Travis Tritt's update of "Take It Easy," then they made it official. "We never broke up. We just took a 14-year vacation," Frey told the crowd at the filming for Hell Freezes Over, an MTV concert special and subsequent album that included four new recordings and put the band back on the road.
Since: With breaks in between, Eagles stayed in flight. Felder was kicked out of the band early in 2002 and Frey passed away in 2016. (His son, Deacon, took his place in the band for a couple of tours, along with Vince Gill.) Eagles then began The Long Goodbye Tour in 2023, with no specified end date.
Watch Eagles Perform 'Take It Easy' Live
Electric Light Orchestra
Years: 1986-2000
The Break: Now years removed from their greatest commercial success, ELO quietly disbanded in July 1986 after a stint opening for Rod Stewart.
The Interim: Jeff Lynne went on to produce George Harrison's hit solo album, Cloud Nine, as well as new songs for the Beatles' Anthology. He was also part of the all-star Traveling Wilburys with Harrison, Tom Petty, Bob Dylan and Roy Orbison. Lynne released his first solo album, 1990's Armchair Theatre, while ELO drummer Bev Bevan formed ELO Part II. Bevin retired in 1999, and sold his rights to the ELO name to Lynne.
The Return: Lynne composed and produced 2001's Zoom, the first new ELO album since 1986. It didn't exactly zoom up the charts, however, and a planned North American concert tour was subsequently canceled, putting the band in dry-dock again.
Since: Lynne maintained a successful production career (including albums for Joe Walsh and Bryan Adams) and released more solo material before starting Jeff Lynne's ELO in 2013. "All the songs I write, I call them an ELO sound, really," he said. "I think of them as ELO as I'm doing it, so they all sound like that to me 'cause I'm the writer. So they all become ELO songs unless somebody asks me for a song particularly and I have to write one for somebody else." Lynne released a pair of ELO studio albums and toured, before starting another long pause in 2019.
Listen to Jeff Lynne's 'What Would It Take'
Fleetwood Mac
Years: 1987-1997
The Break: Lindsey Buckingham withdrew at the last minute before a tour to promote Tango in the Night, Fleetwood Mac's first new album in five years. "I think that in '87 you had a working atmosphere that could not really be called creative," Buckingham said. "Everyone was so zonked out [on drugs], for one thing, and there was very little unity."
The Interim: The band replaced Buckingham with Billy Burnette and Rick Vito and went on tour anyway, while other permutations would tour and record without Buckingham and then Stevie Nicks. The "classic five" lineup reunited to play "Don't Stop" at President Bill Clinton's Inaugural Ball after he used it as his campaign theme song.
The Return: An assortment of lower-key, individual collaborations led to a full-fledged reunion for The Dance, an MTV concert special and album which sold more than five million copies. The group hit the road for an arena-filling tour that finished in November 1997. "I didn't believe it would happen," Christine McVie said back then. "The separation had been so long. ... And then when we actually got in a room with one another, it was as if no time had passed at all."
Since: There have been more twists and turns than your favorite soap opera. Buckingham and McVie were in and out of the band and even recorded and toured as a duo. Buckingham was out again for the Fleetwood Mac tour in 2018-2019, and McVie's death in 2022 seemed to have put a cap on any future plans.
Watch Fleetwood Mac Perform 'Silver Springs' Live
John Fogerty
Years: 1976-1985
The Break: John Fogerty stepped away from the music industry after becoming disillusioned by legal issues with Fantasy Records from the Creedence Clearwater Revival days. His third solo album, Hoodoo, had also been rejected by Asylum Records.
The Interim: This marked the rare true hiatus, with virtually nothing heard from Fogerty until the mid-'80s.
The Return: Centerfield brought Fogerty back into the spotlight, topping the Billboard 200 with double-platinum sales. Forgerty scored Top 20 singles with "Rock and Roll Girls" and "The Old Man Down the Road," the latter of which sparked a lawsuit where Fantasy Records argued that it sounded too much like Creedence Clearwater Revival's "Run Through the Jungle," which Fogerty wrote. The title track became a staple at baseball games. "I didn't expect to be all the way back in one album," Fogerty said. "I'm delighted; I can't tell you how much. It's great to be back, and a couple of years ago I wasn't so sure I'd be able to say that." Fogerty had to revise the track "Zanz Kant Danz" to "Vanz Kant Danz," however, because it was so clearly directed at Fantasy owner Saul Zaentz. To support Centerfield, Fogerty filmed a Showtime special called John Fogerty's All-Stars.
Since: Fogerty returned to the road to promote his next album, 1986's Eye of the Zombie, though he pointedly did not perform any CCR songs because Fantasy owned them. He changed his tune while touring for 1997's Blue Moon Swamp, and in early 2023 received full rights to the CCR catalog.
Listen to John Fogerty's 'The Old Man Down the Road'
Genesis
Years: 1997-2007
The Break: Phil Collins' departure in 1996 and the failure of Calling All Stations with his short-lived replacement Ray Wilson brought Genesis to the end of its story — or so fans thought.
The Interim: Collins, Tony Banks and Mike Rutherford (with Mike & the Mechanics) worked on their own, and the Genesis Archive 1967-75 box set included newly overdubbed parts by former members Peter Gabriel and Steve Hackett. The quintet also played a bit at Gabriel's wedding in 2002.
The Return: After plans to tour The Lamb Lies Down on Broadway with Gabriel and Hackett failed to pan out, Collins, Banks and Rutherford launched the Turn It On Again Tour in North America and Europe (including the Live Earth concert in London). Banks said "the funny thing is, when you get back together it's just like you'd never been apart, really. You just slip back into the same way you used to behave. I don't think the dynamics are any different, really." A DVD (When in Rome 2007) and live album (Live Over Europe 2007) followed. Genesis then went back on hiatus for another 14 years.
Since: The band's catalog was remastered and grouped into a series of box sets, and they participated in a 2014 BBC documentary, Genesis: Together and Apart. Collins, Banks and Rutherford staged The Last Domino? farewell tour in 2021-2022. The group also sold a portion of their music rights to Concord for a reported $300 million.
Watch Genesis Perform on the Turn It On Again Tour in 2007
Guns N' Roses
Years: 1993-2001
The Break: Guns N' Roses finished the Use Your Illusion tour in July 1983 in Buenos Aires, Argentina, after more than two years on the road.
The Interim: The Spaghetti Incident covers album arrived as Guns N' Roses entered a period of prolonged stasis during which founding members Slash and Duff McKagan departed and left frontman Axl Rose in complete control. Rose recorded with a variety of other musicians, mostly in secret.
The Return: Rose's latest lineup played at the House of Blues near Las Vegas on New Year's Day 2001 before headlining 13 days later at Brazil's Rock in Rio 3. A full tour was canceled, however, and the group didn't play again until December 29-31 back near Las Vegas. The Chinese Democracy World Tour began in earnest in August 2002, and was again shortened by cancellations. The album of the same name did not surface for another six years.
Since: Rose kept the Chinese Democracy band active through 2011, then took another long break before Slash and McKagan rejoined Guns N' Roses for 2019's Not In This Lifetime ... Tour. There has been little new material, however, save for a pair of old tracks ("Hard Skool" and "Absurd") that were revived for the 2022 Hard Skool EP.
Listen to Guns N' Roses' 'Hard Skool'
George Harrison
Years: 1982-1987
The Break: After the failure of 1982's Gone Troppo, Harrison spent several years away from album projects.
The Interim: He made a number of guest appearances during this hiatus, including on Carl Perkins' Blue Suede Shoes: A Rockabilly Session and charity concerts in England. He also contributed a song to the Porky's Revenge! soundtrack and popped up for a February 1987 Taj Mahal concert.
The Return: Harrison enlisted Electric Light Orchestra's Jeff Lynne to produce his platinum-selling 11th solo album, Cloud Nine, which went Top 10 in the U.S. and spawned a No. 1 hit remake of James Ray's "Got My Mind Set On You."
Since: Right after Cloud Nine, Harrison joined Lynne, Tom Petty, Bob Dylan and Roy Orbison as the Traveling Wilburys, and the group released two albums. He toured Japan in 1991 with Eric Clapton and his band, resulting in the following year's Live in Japan, and participated in the making of the Beatles' Anthology. Harrison passed away from cancer on Nov. 29, 2001, at the age of 58.
Watch George Harrison's 'Got My Mind Set on You' Video
Jefferson Airplane
Years: 1973-1989
The Break: A slow decline grounded the Jefferson Airplane after 1973's Baron von Tolbooth & the Chrome Nun, and Paul Kantner, Grace Slick and David Freiberg fired up the new Jefferson Starship in its wake.
The Interim: Jefferson Starship eventually adding Airplane co-founder Marty Balin, as well, but had its own dramatic flight as Kantner, Balin and Slick all left at various points. Jorma Kaukonen and Jack Casady continued to work as Hot Tuna. Kantner, Balin and Casady formed the KBC Band in 1986.
The Return: Fueled by KBC and a Slick appearance with Hot Tuna in 1988, the remaining Jefferson Airplane principals joined forces again for a self-titled new album. "There will be some who will hate what we're doing and some who will love it," Kantner said. "Most of the ones who will hate it haven't heard [the new record] and didn't like us in the first place. If you can't take flak, you don't get on the plane." A subsequent reunion tour proved to be the group's last.
Since: Jefferson Airplane was inducted into the Rock & Roll Hall of Fame in 1996, though Slick missed it. Kantner won rights to tour as Jefferson Starship in parallel to the other Starship led by Mickey Thomas. They both remained out on the road, even after Kantner died in 2016. Balin died in 2018 and Slick remains retired, concentrating on her painting and visual art.
Listen to Jefferson Airplane's 'Summer of Love'
Journey
Years: 1987-1996
The Break: Steve Perry told bandmates Neal Schon and Jonathan Cain that he needed a break after touring to support 1986's Raised on Radio. Journey was gone for a decade.
The Interim: Schon and Cain formed the band Bad English with Cain's former Babys bandmate John Waite and future Journey drummer Deen Castronovo. Perry rejoined Cain and Schon for a performance at the Bill Graham tribute concert in November 1991 at San Francisco's Golden Gate Park, but returned to solo work. His second solo album followed in 1994, along with a tour to support it.
The Return: Perry came back to Journey in the fall of 1995, after stipulating a management change. The reunited band released a new album, Trial by Fire, in late 1996 that hit No. 3 on the Billboard 200. The single "When You Love a Woman" was nominated for a Grammy Award, but Journey could not tour after Perry was diagnosed with a degenerative bone condition that required hip-replacement surgery.
Since: Perry ultimately left Journey in 1998, and the group soldiered on with a pair of singers before finding current frontman Arnel Pineda. They released a new album, 2022's Freedom, and continued to tour but became mired in legal actions.
Watch Journey's 'When You Love a Woman' Video
King Crimson
Years: 1975-1981
The Break: Robert Fripp brought the first era of King Crimson to an end with an announcement in September 1974 that the band "ceased to exist" and was "completely over for ever and ever."
The Interim: The live album USA was released in May 1975, but it would be another six years before anyone heard from King Crimson.
The Return: Fripp changed his mind. After working with David Bowie, Daryl Hall and Peter Gabriel, as well as his own League of Gentlemen, he formed a new King Crimson with previous drummer Bill Bruford, Adrian Belew (who'd been on the road with Talking Heads) and Gabriel bassist Tony Levin. Originally named Discipline, the group debuted in April 1981 in Bath, England, then took the King Crimson name in October.
Since: The reconstituted King Crimson recorded three albums through 1984, when Fripp put the band on ice again. He subsequently put together different Crimsons between 1994-1999, 2000-2003, 2008 and 2014-2021. He claimed that the most recent edition, dubbed Three Over Five, would be the last – and that King Crimson was once again over forever and ever.
Listen to King Crimson's 'Discipline'
John Lennon
Years: 1975-1980
The Break: Lennon stepped away from the limelight after ending his infamous early '70s "Lost Weekend" by reconciling with wife Yoko Ono.
The Interim: The couple's only son, Sean, was born on Oct. 9, 1975 (also Lennon's 35th birthday), and Lennon devoted himself to being a self-described house husband. He wrote and recorded "Cookin' (In the Kitchen of Love)" for Ringo Starr's Ringo's Rotogravure in 1976, but otherwise was silent.
The Return: Lennon heard "Rock Lobster" by the B-52's at a dance club in Bermuda, and became inspired to make new music. "It sounds just like Yoko's music," he told Rolling Stone. "I said to myself, 'It's time to get out the old axe and wake the wife up!'" Lennon and Ono recorded Double Fantasy as a duo project, and his return was warmly received: The triple-platinum album hit No. 1 on the Billboard 200, as did the single "(Just Like) Starting Over."
Since: Tragically, he was not able to bask in the triumph. Lennon was murdered on Dec. 8, 1980, as he and Ono were returning to their New York City apartment building after a recording session. Ono released their final recordings as Milk and Honey in 1984.
Listen to John Lennon's '(Just Like) Starting Over'
Lynyrd Skynyrd
Years: 1977-1987
The Break: A Convair CV-240 carrying Lynyrd Skynyrd to Baton Rouge, La., crashed on Oct. 20, 1977, killing two band members, a backup singer and the assistant road manager, as well as the pilot and co-pilot. The rest of the touring party were severely injured.
The Interim: Their new album, Street Survivors, came out three days later but Skynyrd called it quits. Guitarists Gary Rossington and Allen Collins formed a new band that also included bassist Leon Wilkeson and pianist Billy Powell. The surviving band members briefly reunited to play "Free Bird" at Charlie Daniels' Volunteer Jam V in 1979.
The Return: Lynyrd Skynyrd then surprised many by launching a reunion tour in 1987, with original guitarist Ed King returning to the lineup. The late Ronnie Van Zant's younger brother Johnny took over as frontman. "The last thing we did as a band was have a plane crash," Rossington said back then. "We didn't want it to end like that." The tour was a box office success and spawned a live album, Southern by the Grace of God: Lynyrd Skynyrd Tribute Tour 1987.
Since: Though intended as a one-off, the tour kicked Skynyrd back into gear. They've stayed the course, releasing several more albums and touring regularly despite the deaths of most of the classic '70s lineup — including Rossington in 2023.
Watch 'Free Bird' at Charlie Daniels' Volunteer Jam V
MC5
Years: 1975-2003
The Break: After three studio albums and a handful of songs, MC5 kicked out the jams one last time during a New Year's Eve 1972 show at Detroit's Grande Ballroom. This was the same venue where MC5 recorded Kick Out the Jams four years earlier.
The Interim: Members of MC5 went on to a variety of other group and solo projects. Guitarist Fred "Sonic" Smith married Patti Smith and Wayne Kramer spent time in jail on a drug conviction. Frontman Rob Tyner's death in September 1991 got the remaining four members back together for a tribute show in Detroit. Fred Smith passed away two years later.
The Return: Kramer, drummer Dennis Thompson and bassist Michael Davis regrouped as the MC5 for a 2003 concert at London's 100 Watt Club, then toured the following two years as MC5/DKT, joined by guest singers such as Mudhoney's Mark Arm, Radio Birdman's Deniz Tek, Marshall Crenshaw, Evan Dando of the Lemonheads and others.
Since: Kramer kick-started the MC5 for an MC50 tour in 2018, joined by members of Soundgarden, Pearl Jam, Fugazi, Faith No More and other bands. He announced the We Are All MC5 campaign in 2022, which included a round of shows with a different lineup. There was also a new song, "Heavy Lifting," and a promised album produced by Bob Ezrin.
Watch MC5's 'Heavy Lifting' Teaser
Paul McCartney
Years: 1979-1989
The Break: A concert with his post-Beatles band Wings on Dec. 29, 1979, in London would be McCartney's final full-length performance for nearly a decade.
The Interim: Though off the road, McCartney did plenty of recording – including hit duets with Stevie Wonder ("Ebony and Ivory") and Michael Jackson ("The Girl is Mine," "Say Say Say"). He also made a film musical (Give My Regards to Broad Street) and recorded Choba a CCCP, a covers album which was initially released only in the Soviet Union. He sang the Beatles' "Let It Be" at the 1985 Live Aid concert in London and did some songwriting with Elvis Costello.
The Return: The Paul McCartney World Tour launched on Sept. 26, 1989 in Germany with a new band that included his wife Linda McCartney, the Average White Band's Hamish Stuart, former Pretenders guitarist Robbie McIntosh and others, then played 103 shows through July 1990. They did sellout business in arenas and stadiums and enjoyed rave reviews. "The problem with [the '70s-era Wings] tour was that even though people wanted to hear Beatles stuff, I didn't want to do it. It was, like, too close to the divorce," McCartney said. "Now, it's so far away. It feels good to do them. They just work well in a concert format." McCartney's April 21, 1990, show in Rio de Janiero, Brazil, set a record for the largest paying stadium audience in history with 184,000.
Since: McCartney stayed active in the studio and on the road, and has also published books of song lyrics and photographs. His sold-out Got Back tour included 16 shows across North America in 2022.
Listen to Wings Perform Live in 1979
Meat Loaf
Years: 1986-1993
The Break: Meat Loaf's fifth studio album Blind Before I Stop was written in collaboration with John Parr, and became the last new music he'd release for seven years.
The Interim: Meat Loaf continued to tour, but the action was going on behind the scenes as he and Bat Out of Hell partner Jim Steinman started working on a sequel in late 1990.
The Return: Bat Out of Hell II: Back Into Hell took flight in September 1993 and rose to No. 1. The single "I'd Do Anything For Love (But I Won't Do That)" likewise hit No. 1 in the U.S. and more than two dozen other countries, winning a Grammy Award for best solo rock vocal performance. "You read that [the album is] bigger than life, but it's not," Loaf noted. "It's as life, not bigger, because life is huge. ... It runs an emotional purity that the public is not jaded to, and that's why they buy it." "Rock and Roll Dreams Come Through" also reached the Top 20 and Bat Out of Hell II was certified five-times platinum.
Since: Meat Loaf continued to tour and act (Fight Club, Spice World, Absolute Killers) through to his death on Jan. 20, 2022. He and Steinman went back to Hades one more time, for 2006's Bat Out of Hell III: The Monster is Loose.
Watch Meat Loaf's 'I'd Do Anything For Love (Bu I Won't Do That)' Video
Moody Blues
Years: 1974-1977
The Break: Members of Moody Blues decided they needed time away from each other in the '70s after seven albums and a tour of Asia – but confirmed they were only putting the band on hold. "I never thought we'd break up, but I didn't really question it," John Lodge said. "As musicians, we'd lost the art of talking to each other because we'd become quite a big operation, with record companies, publishing companies, record stores. It became mammoth. It stopped being creative and it sort of ground to a halt, really."
The Interim: Justin Hayward and Lodge released a duo album, 1975's Blue Jays, while drummer Graeme Edge issued two albums with his own band and Ray Thomas also recorded a pair of solo projects. The This Is the Moody Blues compilation and Caught Live + 5 set were brought out of the archives.
The Return: June 1978 saw the Moody Blues release Octave, their first studio project in six years. Lodge remembers that "so many things went wrong making that album" – including relationships, weather and a broken arm he suffered during the sessions – but Octave went Top 20 and platinum in the U.S., and Top 10 and gold in the U.K. "It was an incredible realization that somehow we'd spanned another generation of fans for the band," he added.
Since: Mike Pinder was replaced by former Yes keyboardist Patrick Moraz for the tour supporting Octave, and the group continued to record and tour regularly through to its Rock & Roll Hall of Fame induction in 2018. Thomas died in 2018 and Edge passed in 2021. Hayward and Lodge toured on their own, with the latter playing the Moody Blues' 1967 album Days of Future Passed in its entirety.
Listen to the Moody Blues' 'Driftwood' From 'Octave'
Motley Crue
Years: 2015-2019
The Break: Motley Crue began The Final Tour in July 2014 and finished on New Year's Eve 2015 back home in Los Angeles. Promising it was not a ruse, the four members signed a pact that stipulated special guest Alice Cooper could guillotine them if they broke the pledge.
The Interim: Motley Crue took part in the Netflix adaptation of their band biography The Dirt, and also wrote and recorded four new songs for the companion soundtrack album. Both projects were released in March 2019, and the soundtrack became Motley Crue's first Billboard Top 10 hit in more than a decade.
The Return: The group presumably secured a pardon from Cooper before announcing the Stadium Tour with Def Leppard, Poison and Joan Jett & the Blackhearts. The dates were delayed by the pandemic before finally getting underway in June 2022, then ranked as one of the most successful tours of the year. "The Dirt brought us so many new fans we felt like we had to go out again and show them what the band was," Nikki Sixx said. "I felt like I have a responsibility because after all these years of being supported by our fans and everything, we kind of owe them one more – if not even more."
Since: Motley and Def Leppard continued on with the World Tour, with 37 scheduled dates on four continents. Mick Mars then retired from touring in October 2022, setting off a pair of lawsuits. John 5 replaced him, and Motley Crue began recording new music.
Listen to Motley Crue's 'The Dirt'
Mott The Hoople
Years: 1974-2009
The Break: Mott the Hoople frontman Ian Hunter brought in former Spiders From Mars guitarist Mick Ronson to replace the departed Ariel Bender in 1974, then decided to go solo and took Ronson with him.
The Interim: Remaining members Pete "Overend" Watts, Dale "Buffin" Griffin and Morgan Fisher continued as Mott and then British Lions without much commercial success, before disbanding in 1980.
The Return: Hunter, Watts, Mick Ralphs and Verden Allen reunited the band's classic lineup – with the Pretenders' Martin Chambers replacing an ailing Griffin – for concerts in October 2009 and again in November 2013 in London, resulting in the Live 2013 album. "I always thought [Mott the Hoople] had a good energy," Hunter said. "Mott's a fun band. I think people remember that and want to come and have a good time again." Griffin appeared during encores of the 2009 shows.
Since: Griffin died in January 2016, then Watts passed just over a year later. Hunter staged one more Mott reunion with Bender and Fisher in 2018 and 2019, before continuing on with his solo career and the release of Defiance Part 1.
Watch 'All the Young Dudes' at the Rock Hall Induction
New York Dolls
Years: 1976-2004
The Break: New York Dolls enjoyed critical acclaim but tepid sales for its first two studio albums. They were also experiencing growing substance issues and interpersonal problems. They quit after a Dec. 30, 1976, show at Max's Kansas City, with Blondie also on the bill.
The Interim: Frontman David Johansen had the most success on his own and in the guise of Buster Poindexter. Johnny Thunders and Jerry Nolan formed the Heartbreakers with Television's Richard Hell, the most notable of the other Dolls' post-breakup endeavors.
The Return: Morrissey brought Johansen, Sylvain Sylvain and Arthur Kane together when he curated the June 2004 Meltdown Festival in London. The group played again two months later at Little Steven's Underground Garage Festival in New York City – though without Kane, who passed away from leukemia in July. Johansen and Sylvain led a full-scale resumption the following year.
Since: The new Dolls released a trio of studio albums and continued to tour with a lineup that included former David Bowie mainstay Earl Slick and former Blondie guitarist Frank Infante. They quietly closed up shop in 2011.
Watch New York Dolls' 'Gotta Get Away From Tommy' Video
The Police
Years: 1984-2007
The Break: The Police's first era ended in March 1984 as the Synchronicity World Tour concluded in Australia. Sting in particular felt that they'd reached a peak that could not be repeated and chose to start a solo career instead.
The Interim: All three members pursued their own projects, with Sting having multi-platinum success. Andy Summers worked with Robert Fripp, while Stewart Copeland pursued soundtrack and symphonic work. The Police reunited briefly in 1986 to play three concerts during Amnesty International's Conspiracy of Hope tour.
The Return: The trio decided to celebrate their 30th anniversary with a tour, first playing "Roxanne" at the Grammy Awards in February 2007, then kicking off a reunion tour in May with three shows in Vancouver. The trek reached North America, Europe, Asia and Oceania through August 2008, ending again in New York. The Police played to a reported nearly 3.4 million fans, grossing nearly $362 million.
Since: All three members went back to their respective solo careers. "It was always planned as a very finite thing," Copeland said. "The main reason we're having so much fun is that we know that one day it'll be gone. We would probably love it to be a going concern, but paradoxically that would probably kill it, you know?"
Listen to the Police's 'Don't Stand So Close to Me' Live
Suzi Quatro
Years: 1982-1990
The Break: After supporting her 1982 album Main Attraction, Suzi Quatro stepped away from rock 'n' roll recording to focus on acting.
The Interim: Quatro had roles in the British TV series Minder and Dempsey and Makepeace. She also took a critically acclaimed starring role in a London production of Annie Get Your Gun which yielded a 1986 cast album.
The Return: Quatro put the leathers back on in 1990 for her 10th studio album, Oh, Suzi Q, with a new label and new producers. The 13-song set included covers of Dale Hawkins' "Suzie Q" and Kim Weston's Motown hit "Take Me in Your Arms (Rock Me a Little While)."
Since: Quatro continued recording, touring and writing both music and poetry, with occasional acting. She later announced a team up with KT Tunstall for the 2023 album, Face to Face.
Listen to Suzi Quatro's 'Suzi Q'
Queen
Years: 1991-2005
The Break: Frontman Freddie Mercury's death in November 1991 wasn't the death knell for Queen that it seemed at the time.
The Interim: Queen celebrated Mercury with the all-star Freddie Mercury Tribute Concert in April 1992 at London's Wembley Stadium then released a final album with Mercury, 1995's Made in Heaven. Additional archival projects were released during the interim, and guitarist Brian May and drummer Roger Taylor played together at Nelson Mandela's 46664 Concert in November 2003 in South Africa.
The Return: May and Taylor put Queen back on the road as Queen + Paul Rodgers, bringing in the R&B-laced hard-rock flavor he'd mined with Free, Bad Company and the Firm. The new configuration released a studio album, 2008's The Cosmos Rocks, then toured again for the balance of the year. Queen + Paul Rodgers amicably ended with a statement issued in May 2009.
Since: In addition to their own projects, May and Taylor launched another version of the band, Queen + Adam Lambert in 2012 after appearing with him on American Idol. The 2018 biopic Bohemian Rhapsody was a box office smash, grossing more than $910 million worldwide and claiming four Academy Awards – including Best Actor for Rami Malek as Mercury. The group had performed together for more than a decade when they announced a new North American leg of the Rhapsody Tour in 2023.
Watch 'Somebody to Love' From the Freddie Mercury Tribute Concert
The Rascals
Years: 1972-2012
The Break: The Rascals had been enduring membership turnover and a downturn in commercial fortunes when Felix Caveliere and Dino Danelli quietly put the band to rest after 1972's The Island of Real.
The Interim: Cavaliere stayed visible as a solo artist, while Danelli was the first drummer in Little Steven and the Disciple of Souls. They reunited with guitarist Gene Cornish for the Atlantic Records 40th Anniversary Celebration in May 1988, and the trio moved forward as the New Rascals after that. The entire lineup attended the Rascals' Rock & Roll Hall of Fame induction in 1997. Cavaliere and vocalist Eddie Brigati were also inducted into the Songwriters Hall of Fame in June 2009.
The Return: The Rascals played together at the Kristen Ann Carr Benefit in April 2010 in New York, as Steven Van Zandt and Bruce Springsteen joined the group for "Good Lovin.'" Van Zandt and his wife Maureen then created a stage show called The Rascals: Once Upon a Dream, during which the group members performed and also told their story in video interviews. "It's been a long time coming and here it is and we're just trying to make the best of it," Cavaliere said. "The audience is having a really good time, and it's amazing to see the joy that his music and this show brings to people – and to us." The show continued through January 2014, including two runs on Broadway.
Since: The Rascals have stayed apart, while Cavaliere served as a TV infomercial personality for Time Life's The '60s music compilation. Danelli died in December 2022 from heart issues.
Watch the Rascals Perform 'People Got to Be Free' Live
The Rolling Stones
Years: 1986-1989
The BNreak: Tumultuous sessions for 1986's Dirty Work led to a temporary cessation of Rolling Stones band activities, though not a formal breakup.
The Interim: Mick Jagger and Keith Richards began sniping at each other in the press, as Richards threatened to slit Jagger's throat if the singer toured without the Stones. They both released solo albums and toured on their own – as did drummer Charlie Watts. They called a brief truce to coordinate the 25th anniversary documentary 25x5: The Continuing Adventures of the Rolling Stones.
The Return: Jagger and Richards reconciled and the Rolling Stones were inducted into the Rock & Roll Hall of Fame in early 1989. They returned to the studio in the spring to record Steel Wheels, then hit the road for their first tour in seven years – and biggest to date. "The band's loving being the band again," Richards said. "It's not always like that; they don't always appreciate what it means to be the Rolling Stones, how good we have it. ... But now everybody is so into the playing. They're having fun up on stage. Everyone is getting off on what we're doing." Their 1991 live album Flashpoint and IMAX concert film Live at the Max followed.
Since: The Rolling Stones have gathered no moss, enduring through the '90s-era departure of bassist Bill Wyman and Watts' death in 2021. A long-promised new album would be their first studio set since 2016, and first LP of new material since 2005.
Watch the Rolling Stones Perform 'Mixed Emotions' Live 
Rush
Years: 1997-2002
The Break: Drummer Neal Peart suffered the death of his daughter in a car crash about a month after finishing the Test For Echo Tour in July 1997, then lost his wife to cancer a year later.
The Interim: Rush released a live album, Different Stages, and Geddy Lee and Alex Lifeson engaged in other projects while waiting for Peart to heal. The drummer remarried in 2000.
The Return: Rush regrouped in early 2001 and released their 17th studio album, Vapor Trails, in May 2022. Next, they mounted the first tour in six years. "I really wasn't sure [whether Rush would reactivate] to be honest," Lee said. "I sort of thought in the back of my mind there'll come a time in [Peart's] life when he'll feel a need to get back on the horse. I wasn't positive that would occur, but I had a feeling it probably would, and that's what eventually came to pass."
Since: Rush stayed active, releasing two more studio albums and a covers EP while touring five more times. The R40 Live Tour celebrated their 40th anniversary, wrapping up in August 2015 in Los Angeles. Peart passed away on Jan. 7, 2020 from cancer, effectively ending the band save for a regular stream of a boxed-set reissues.
Listen to Rush's 'Vapor Trail'
Sex Pistols
Years: 1978-1996
The Break: The Sex Pistols' first era closed after a tumultuous four years on Jan. 14, 1978, at the Winterland Ballroom in San Francisco. Johnny Rotten pointedly sang the Stooges' "No Fun," asking the crowd: "Ever get the feeling you've been cheated? Good night."
The Interim: The band members scattered to other endeavors, as Rotten reverted back to his real name of Lydon with Public Image Ltd. Guitarist Steve Jones recorded solo albums, did session work and formed the all-star band Chequered Past. Drummer Paul Cook started the Professionals. Doomed second bassist Sid Vicious had died from a drug overdose in February 1979.
The Return: The original band – including founding bassist Glen Matlock – reunited in 1996 for a six-month Filthy Lucre Tour that covered North and South America, Europe, Japan and Australia. The tour name was not a joke: "We want to make some bread now; there's nothing wrong with that," Jones said. "But we want to prove we're a great fucking band, too. ... To me, the Sex Pistols is just great fucking rock 'n' roll. It's stupid not to be back together." The tour lasted the year and yielded the Filthy Lucre Live album.
Since: The Sex Pistols worked together again in 2002 and 2007 but seemed unlikely to reunite again after creative and financial differences over the 2022 mini-series Pistol.
Watch Sex Pistols Perform 'Pretty Vacant' Live
Simon & Garfunkel
Years: 1971-1981
The Break: Simon & Garfunkel played a final concert in July 1970 at Forest Hills Tennis Stadium in New York after the difficult recording of their Grammy-winning 1970 album Bridge Over Troubled Water.
The Interim: There were a number of one-off reunions during the '70s and early '80s in concert, on TV and in the studio. The song "My Little Town" appeared on both of their 1975 solo albums. A reunion concert in New York's Central Park on Sept. 19, 1981, drew more than 500,000 fans, and was a hit live album and HBO special. But a hoped-for new studio album was subsequently abandoned.
The Return: Simon & Garfunkel hit the road together for the first time in 13 years in the spring of 1983, playing U.S. stadiums to a jubilant response. "Surprise is not even the word," Paul Simon said. "To find out that some work you did 10, 15 years ago remains popular through your generation and the generation after that and the generation after that, you have to be fortunate. It's like a blessing." They were again said to be working on a new album, but that material ended up as part of Simon's solo effort Hearts and Bones.
Since: Simon & Garfunkel were inducted into the Rock & Roll Hall of Fame in 1990. They maintained an on-and-off relationship, with additional tours and one-off live dates before a concluding appearance at the 2019 New Orleans Jazz and Heritage Festival. Art Garfunkel was diagnosed with vocal paresis shortly thereafter. Personal animosities kept them apart, then Simon retired from touring in 2018.
Watch Simon and Garfunkel Perform in 1981
Patti Smith
Years: 1975-1988
The Break: After releasing 1975's Horses, Patti Smith met and married former MC5 guitarist Fred "Sonic" Smith. They settled in the Detroit suburb of St. Clair Shores where Smith gave birth to two children and lived in quiet domesticity.
The Return: With Fred's encouragement, Patti turned her continuing writing into 1988's Dream of Life. The single "People Have the Power" was inspired by a Diego Rivera mural featured in the Detroit Institute of Arts. Fred Smith co-produced the 10-song set with Jimmy Iovine.
Since: Smith took another break after Dream of Life and was rocked by Fred's death in 1994 and the death of her brother Todd shortly afterward. She returned to recording with 1994's Gone Again and released a handful of studio albums, along with a number of critically lauded books.
Listen to Patti Smith's 'People Have the Power'
Squeeze
Years: 1999-2007
The Break: Squeeze had a short-lived breakup in the early '80s, before spending almost the entire '00s apart after Chris Difford announced that he was taking a hiatus on the eve of a tour.
The Interim: Difford and co-frontman Glenn Tilbrook maintained busy solo careers but remained friends. VH1 tried to put Squeeze back together in 2004 for its Bands Reunited series but the attempt failed.
The Return: In early 2007, Difford and Tilbrook announced they were re-forming Squeeze to tour again, with a show in California and subsequent dates across Great Britain.
Since: Squeeze released a trio of studio albums beginning in 2010. They paired up with the Psychedelic Furs for a 2023 North American tour, kicking off in New York City.
Watch Squeeze Perform 'Goodbye Girl' Live
Ringo Starr
Years: 1983-1989
The Break: Though he'd still be visible, Starr's 1982 album Old Wave seemed like an end point for his recording career. He'd struggled to even find a label willing to release the Joe Walsh-produced LP.
The Interim: A planned country album with Chips Moman was abandoned. Starr and his son Zak were part of the all-star "Sun City" protest song by Artists United Against Apartheid, and he performed with George Harrison on the Carl Perkins' TV special Blue Suede Shoes: A Rockabilly Session. Starr played on Harrison's "When We Was Fab" and starred in the British children's TV series Thomas & Friends and in the American adaptation, Shining Time Station. Starr also got sober, which led to his next move: "I don't just sit and be sober. I work, and I play drums, play with other musicians. That's what I wanted to do."
The Return: Starr hadn't toured since the Beatles came off the road in 1966. He began his All-Starr Band concept in 1989, featuring veteran rockers mixing their career hits with Starr's songs. The inaugural 1989 lineup included brother-in-law Walsh, Dr. John, Billy Preston, Rick Danko and Levon Helm of the Band; Clarence Clemons and Nils Lofgren from Bruce Springsteen's E Street Band; and drummer Jim Keltner. "The idea is everyone plays an instrument, and everyone has hits they can play," Starr explained.
Since: The All-Starr Band continued forward as Starr returned to recording. He released around a dozen albums, adding EPs of new material to the mix in 2021.
Watch Ringo Starr's All Starr Band Perform in 1989
The Stooges
Years: 1974-2003
The Break: The turbulent first era of Iggy Pop's band came to an end after 1973's Raw Power.
The Interim: Pop launched a David Bowie-assisted solo career with 1977's The Idiot and Lust For Life. Guitarist/bassist Ron Asheton formed the band Destroy All Monsters and Raw Power guitarist James Williamson continued to work with Pop, while also earning an engineering degree. Bassist Dave Alexander died in 1975. Williamson later went to work for Sony.
The Return: Pop recorded four songs with Asheton and his brother, drummer Scott "Rock Action" Asheton, for 2003's Skull Ring and took the band on the road along with saxophonist Steve Mackay from 1970's Fun House and bassist Mike Watt. "Really, I had no expectations whatsoever," Pop said. "I probably had an exaggerated horror of the negative side of what had gone before and hadn't really imagined how nicely the Asheton brothers had matured, both as people and players. So [the reunion] is fuckin' shock and revelation, dude. You could've knocked me over with a feather from the first day. I just didn't expect it. It's just been so much better than I could imagine."
Since: The Stooges released a new album, 2007's The Weirdness, and Williamson returned after Ron Asheton's death in 2009 for more touring and 2013's Ready to Die. Scott Asheton and Mackay died in 2014 and 2015, respectively, and the Stooges retired for good.
Listen to Iggy Pop's 'Skull Ring'
Stray Cats
Years: 1984-1986
The Break: Frontman Brian Setzer disbanded Stray Cats after appearing in a final show at 1984's Louisiana World Expedition, a move he would later call "silly."
The Interim: Setzer began a solo career with the heartland-rock album The Knife Feels Like Justice, while bandmates Slim Jim Phantom and Lee Rocker formed another harder-rocking trio with former David Bowie guitarist Earl Slick.
The Return: The Stray Cats' first reunion was brought about by a shared love of baseball: Phantom had begun playing first base on a Setzer's team. "We started talking again," Setzer said. "We realized we didn't have those feelings of resentment anymore. Deep down, we missed each other. That broke down all the barriers." A new album, Blast Off! came out of the reunion, in addition to touring.
Since: The trio broke up again in 1993 after two more albums, but regrouped between 2004-2009 and again in 2018 while still maintaining their own endeavors. Setzer added still another release to his discography with the announcement of 2023's The Devil Always Collects.
Listen to Stray Cats' 'Blast Off!'
Styx
Years: 1984-1990
The Break: The worn-down Styx said domo arigato after their difficult and polarizing Kilroy Was Here album and the ambitious tour that followed. "It was just time to be away from each other," Dennis DeYoung explained. "These things happen in life. Rock bands are made to break up."
The Interim: DeYoung released three solo albums, including 1984's successful Desert Moon. Tommy Shaw launched his own solo career then joined forces in 1989 with Ted Nugent and Night Ranger's Jack Blades as Damn Yankees.
The Return: Styx initially reunited without Shaw, who was replaced by Glenn Burtnik, for the new album Edge of the Century and the hit "Show Me the Way." "I always felt that once we spent time away from each other ... that we'd think of [Styx] in a more fond light and want to play together again," James "J.Y." Young said. The group toured but suffered a setback when Styx was dropped by A&M Records, their home for 15 years, after the label was purchased by PolyGram.
Since: Shaw returned in 1995 then DeYoung left acrimoniously in 1999. Drummer John Panozzo died in 1996 and bassist Chuck Panozzo became a part-time member in 1999, due to health issues. Young is the sole founding full-time member in the lineup, which released a handful of albums following DeYoung's departure.
Watch Styx's 'Show Me the Way' Video
Them Crooked Vultures
Years: 2010-2022
The Break: Dave Grohl of Nirvana and Foo Fighters, John Paul Jones of Led Zeppelin and Josh Homme of Queens of the Stone Age went their separate ways after ending a tour cycle promoting their 2009 self-titled debut album on July 30, 2010, at the Fuji Rock Festival.
The Interim: Grohl and Homme stayed busy with their bands and other projects, while Jones has been less visible beyond forming the group Sons of Chipotle with the Finnish cellist Anssi Karttunen.
The Return: The trio appeared at both of the September 2022 Taylor Hawkins Tribute Concerts in London and Los Angeles. Them Crooked Creatures played two of their own songs, as well as Elton John's "Goodbye Yellow Brick Road."
Since: There were vague discussions about possibly doing something else, but Grohl and Homme remained busy with their other bands so scheduling was an issue.
Watch Them Crooked Vultures Perform in 2009
The Who
Years: 1982-1989
The Break: The Who initially called it a career while still unsettled after the death of drummer Keith Moon. Their North American tour ended on Dec. 17, 1982 in Toronto.
The Interim: The Who's members pursued other projects, and Pete Townshend was the most prolific. They briefly reunited to perform at the 1985 Live Aid concert in London then Roger Daltrey and John Entwistle also contributed to two songs on Townshend's 1989 album The Iron Man, billed as the Who.
The Return: The Who officially reunited in 1989 for their 25th anniversary. They also celebrated the 20th birthday of Tommy by playing the rock opera in its entirety, along with a selection of greatest hits. Townshend was an admitted "late convert" to the idea of a reunion: "I abhor the idea of doing a tour," he said before the Who began playing these shows. He later acknowledged that "there's something about the way the crowds are responding ... that's rebuilding a lot of the faith I had in the music I've loved all my life, that it can keep people together and bring pleasure."
Since: The Who reunited in fits and starts thereafter, with Townshend and Daltrey continuing on since Entwistle's death on the eve of a summer 2002 tour. Two new albums, 2006's Endless Wire and 2019's Who, were issued. They more recently toured with an orchestra, but have been circumspect about any future plans as the Who.
Watch the Who Perform 'Pinball Wizard' Live
Yes
Years: 1981-83
The Break: No stranger to lineup changes, Yes made a brave move in 1980 by bringing in the Buggles (singer Trevor Horn and keyboardist Geoff Downes) to replace Jon Anderson and Rick Wakeman. The new configuration released one album, Drama, and toured then management confirmed in March 1981 that Yes ceased to exist.
The Interim: Though short, it was eventful. Guitarist Steve Howe and Downes formed the multi-platinum all-star band Asia, and bassist Chris Squire and drummer Alan White did some exploratory work with Led Zeppelin's Jimmy Page for a band to be called XYZ (which stood for ex-Yes and Zeppelin). Anderson and Wakeman pursued solo careers.
The Return: Guitarist Trevor Rabin joined another proposed new band called Cinema with Squire and White, then recruited original Yes keyboardist Tony Kaye. After considering other singing options, Yes welcomed Anderson back in April 1983. "Once Jon was back in it didn't make sense to call it anything but Yes," White said. They created a fresh sound and the new album 90125, which gave Yes its first No. 1 hit ("Owner of a Lonely Heart") and a Grammy Award for the instrumental "Cinema."
Since: The Rabin era continued through 1995, with a 1990-1992 break during which Howe returned to the fold. Yes has since been through a scorecard's worth of members, and without Anderson since 2004. Squire passed away in 2015 and White died in 2022, but Yes has soldiered on with Howe, Downes and frontman Jon Davison. Their resumed recording schedule included 2023's Mirror to the Sky.
Watch Yes' 'Owner of a Lonely Heart' Video
The Zombies
Years: 1967-1989
The Break: The time of the Zombies' season ended in December 1967.
The Interim: The Zombies' final album, the since-acclaimed Odessey and Oracle, came out in 1968 and was a commercial disappointment. The single "Time of the Season" didn't become a Top 5 hit in the U.S. until the following year. Singer Colin Blunstone began a solo career and keyboardist Rod Argent had success ("Hold Your Head Up") with the band that bore his surname.
The Return: Blunstone, Chris White and Hugh Grundy reunited with new keyboardist Sebastian Santa Maria for The Return of the Zombies in February 1990. The short-lived grouping released another album, New World, in 1991 before the Zombies walked away once more.
Since: What many consider the real return came when Blunstone and Argent began playing together again and eventually readopted the Zombies name. The group released several new studio albums, including 2023's Different Game.
Listen to the Zombies' 'New World (My America)'
Farewell Tour Tracker
Don't miss out — it's your last chance to see these artists before they come off the road for good.