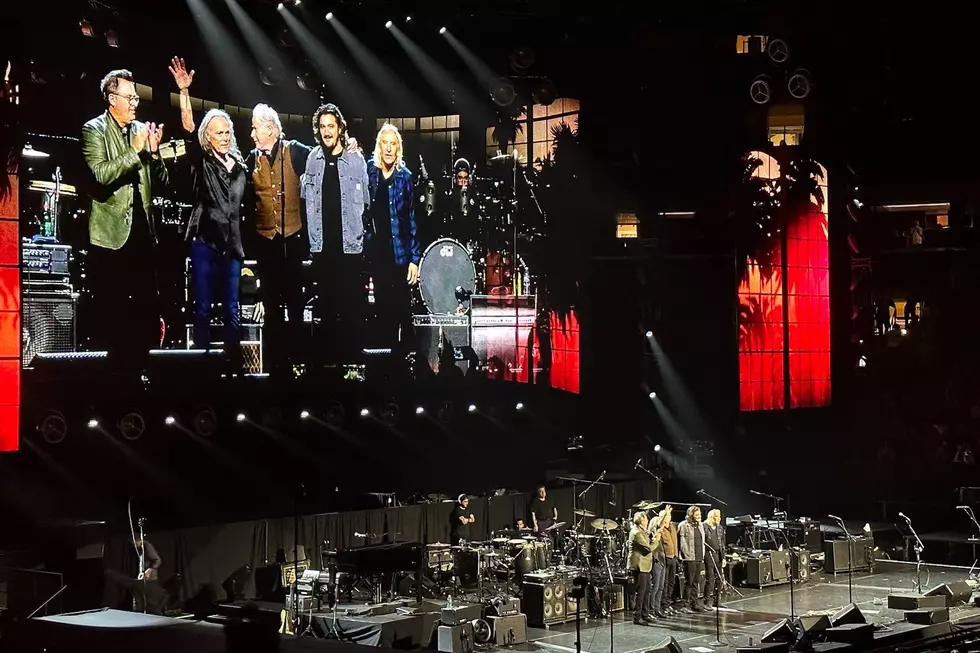 Eagles Launch Farewell Tour in New York City
Allison Rapp, UCR
Eagles kicked off their Long Goodbye farewell tour at Madison Square Garden in New York City this evening.
The night began with Steely Dan as the opening act, who played several of their hits, including "Hey Nineteen," "Dirty Work," "Reelin' in the Years" and more. (This is not the first time Steely Dan and Eagles have worked together. "[Timothy B. Schmit] used to help out singing backup in the '70s," Donald Fagen, now the sole surviving member of Steely Dan, explained in a recent interview with Expanding Dan, "and Don Henley did a couple sessions as well. Because we share a manager, I've run into the guys now and then over the years. Good band.")
Then came Eagles, beginning with their cover of "Seven Bridges Road."
"It's been a rough six weeks for us," Henley admitted from the stage, referencing the recent passing of Eagles co-founder Randy Meisner. "Incredible musician, amazing singing voice, and we will miss him." The band then dedicated their performance of "Take It to the Limit" to Meisner.
Later in the evening, tribute was also paid to Jimmy Buffett, who passed away on Sept. 1. "Jimmy Buffett is now sailing on that cosmic ocean, having that cheeseburger with Glenn [Frey] and Randy," Henley said. "We always liked to laugh and say we survived the '70s together."
"Jimmy and I got thrown out of some of the finest hotels in the world,"Joe Walsh added.
Two Buffett covers followed: "Come Monday" and "Fins," the latter of which was sung by Walsh, who donned a colorful "parrot head" hat while doing so.
Walsh, Henley and Schmit, along with Vince Gill and Deacon Frey, played a hit-heavy set list, which also included some solo material of Walsh's: "In the City," "All Night Long" and "Rocky Mountain Way."
You can view a complete set list from the concert below.
The End of the Road for Eagles
Eagles first announced this tour back in July, noting their appreciation for their management, crew and fans over the years on the road.
"We hope to see as many of you as we can before we finish up," they said in a statement at the time. "Most importantly, we thank you from the bottom of our hearts for embracing this band and its music. At the end of the day, you are the reason we have been able to carry on for over five decades. This is our swan song, but the music goes on and on."
READ MORE: How Eagles Wrote 'Tequila Sunrise' in a Week
"I think people like B.B. King set an example, which is, there's no reason to stop unless you can't do it," Walsh elaborated not long after the announcement. "And so we're just announcing that we're gonna just focus on playing quality shows and slow it down a little bit. And we're gonna play until we can't, or play until nobody comes, whichever comes first. But they're still coming, so why stop? That's the only thing we know how to do."
The band currently has tour dates scheduled through Nov. 18.
Eagles, 9/7/23, Madison Square Garden, New York City
1. "Seven Bridges Road" (Steve Young cover)
2. "Take It Easy"
3. "One of These Nights"
4. "Take It to the Limi"
5. "Best of My Love"
6. "Witchy Woman"
7. "Peaceful Easy Feeling"
8. "Tequila Sunrise"
9. "In the City" (Joe Walsh solo song)
10. "I Can't Tell You Why"
11. "New Kid in Town"
12. "Lyin' Eyes"
13. "Life's Been Good"
14. "Already Gone"
15. "Come Monday" (Jimmy Buffett cover)
16. "Fins" (Jimmy Buffett cover)
17. "Boys of Summer"
18. "All Night Long" (Joe Walsh solo song)
19. "Heartache Tonight"
20. "Life in the Fast Lane"
21. "Rocky Mountain Way" (Joe Walsh solo song)
22. "Desperado"
23. "Hotel California"
The Best Song From Every Eagles Album
Which ones go the distance?