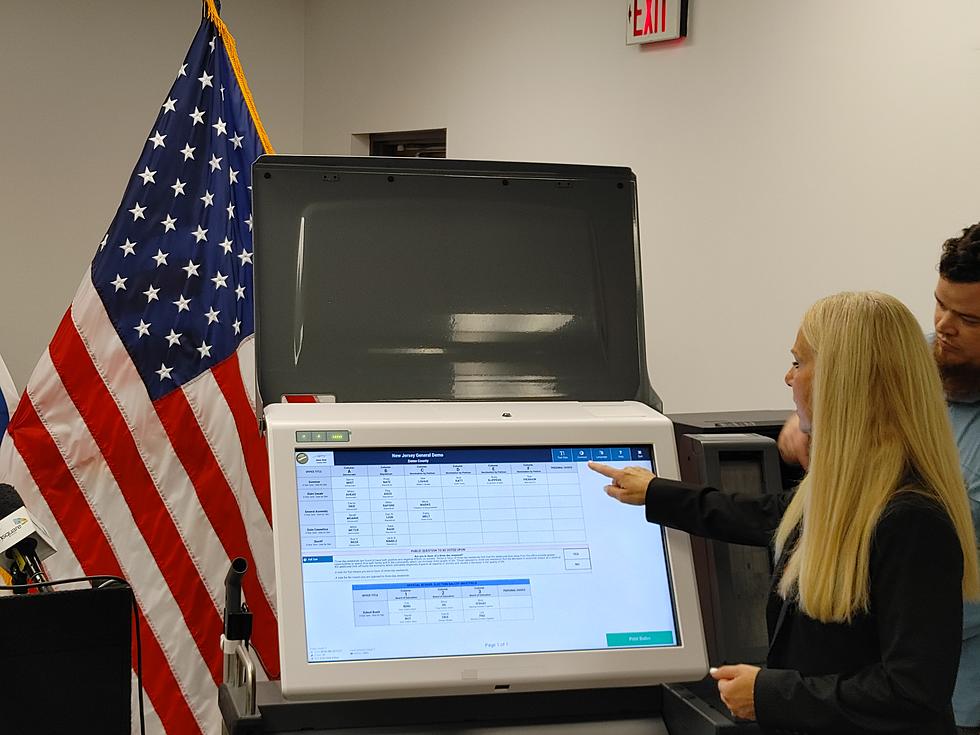 Here's what you need to know about Early Voting in Monmouth County
(Photo: Vin Ebenau, Townsquare Media NJ)
It's electric!
The early voting season consisting of nine days leading up to election day begins on October 23 and it adds a new way of casting your ballots here in 2021.
When you head to the polls, you'll be casting your ballot electronically and also leave a paper trail.
Listen to Vin Ebenau mornings on Townsquare Media Jersey Shore Radio Stations, email him news tips here, and download our free app.
At a press conference in Freehold on Tuesday, Monmouth County Commissioner Director Tom Arnone said that the county has committed $12-million to the new voting systems in the county, "to ensure that the election is both seamless and protected. this money was allocated for the purpose of voting for our voting machines and our e-poll books and scanners."
Monmouth County Clerk Christine Hanlon then went through a description of the early voting process and demonstration of how the machines will work.
Early in-person is something new this year in New Jersey and while it may seem overwhelming at first glance, you may find it to be easy and simple as you cast your votes.
"What the law provides is that voters have the opportunity to vote in-person on voting machines during a 9-day period prior to election day," Hanlon said. "For this year, that 9-day period begins on October 23 and ends on October 31. This voting procedure will take place not in the normal election districts that you would expect on election day, these locations are specially designated for early in-person voting and in Monmouth County, we have 10 early voting locations."
Those locations are in Colts Neck, Hazlet, Howell, Little Silver, Long Branch, Manalapan, Middletown, Neptune, Spring Lake Heights and Upper Freehold Township.
You can find exactly where to go on the Monmouth County votes website.
There are 53 municipalities in Monmouth County and only 10 early voting locations so that means you can vote at any of the early voting locations in the county, if you're a registered voter of course.
"If you, for instance, live in Asbury Park and you want to early vote during this 9-day period, you can go to any one of the 10 locations," Hanlon said. "You may be working near one of the locations, you may be passing by, you may be shopping...you don't have to have a particular reason and you don't have to go to a specific one. At every one of these 10 locations, voters will have the ability to find their specific ballot for their specific municipality."
While you can vote early starting here in 2021, that doesn't meant you'll be able to see the results early. It's kind of like getting a Christmas gift early, but not being able to open it until Christmas day.
"The early voting results must be secured and not tabulated until the close of the polls on November 2, so there will be no tabulation of early voting results until after the polls close on election day," Hanlon said.
You will vote electronically in-person but there's a second part you'll need to complete on scene as well to ensure a paper trail is left to cast the ballot.
"A voter will go into a polling location, they will check in like normal with the poll worker, the poll worker will search the voter name in the electronic poll book and then the voter will be asked to sign the poll book with a stylus to capture a digital signature for the voter," Hanlon said. "Once the voter checks in, the voter will receive a card that of course does not have the voters name on it because voting is anonymous but the card will just indicate the type of ballot, the town the voter will need when the voter steps into the voting booth. The voter will walk over to the voting machine and insert the card that indicates the type of ballot that the voter will need."
You'll then see all the state, local, municipal and school board races for your town as well as any questions and can then vote by touching anywhere in the box of the candidate you want to vote for is.
"It can be anywhere in the box because this is a touch screen," Hanlon said. "Once you've made your selections, you're going to press 'print ballot' and what that will do is cause the paper that the voter inserted into the machine, that paper card, it will come up to the right of the screen and the voter then has the opportunity to confirm the voter choices for that election and that is the paper trail that will be maintained with the voting machine as the backup for the particular vote that is cast."
Once you confirm all the votes on your ballot, you hit 'cast ballot' and then you're on your way.
NEXT: 10 Jersey Shore School Districts Losing Millions From S2 School Funding Formula