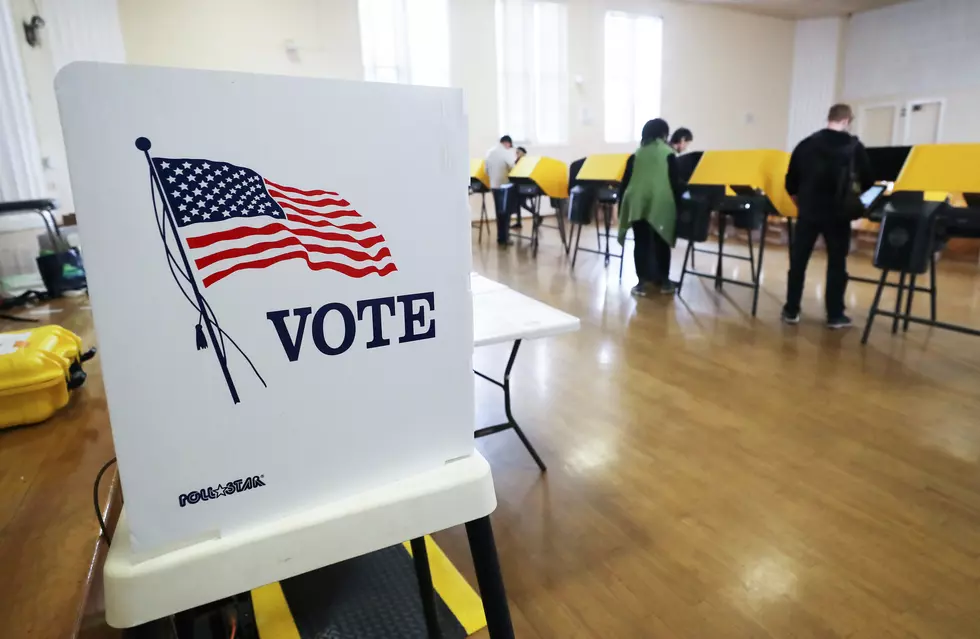 When you head to the polls tomorrow, here's what you need to know
(Photo by Mario Tama/Getty Images)
In 2020, there was a primarily mail-in ballot election due to the Covid-19 pandemic and if you decided to show up in person, you were given a paper ballot to fill out and cast your ballot.
In 2021, there was still mail-in ballots but it was not mandated or primary with those kinds of ballots only going out to those who requested them.
There was early voting in person which ended on Sunday.
Now, we turn our attention to the standard election day voting you experienced thru 2019 but there are a few things you need to know about casting your ballot on Election Day 2021.
Listen to Vin Ebenau mornings on Townsquare Media Jersey Shore Radio Stations, email him news tips here, and download our free app.
There are actually similarities to the early in-person voting process that you'll experience if you're voting in person tomorrow.
Monmouth County Clerk Christine Hanlon explains that one of them is with the electronic poll book instead of a paper poll book in some counties which have to be deployed for both kinds of voting in 2021.
It's part of an effort to prevent any kind of voter fraud.
"The reason for that is because you have to make sure that voters aren't going out and trying to vote twice and these systems update in real-time and between the end of early voting and the start of election day voting, there's not enough time to print out enough paper poll books throughout the state," Hanlon tells Townsquare Media News. "So, these electric poll books are easy to update and then they're ready to go for Election Day."
What will be different for voting in person on Election Day may include the machine in which you vote on.
"Some counties purchase new machines just for early voting because you have to be able to give the voter, during early voting, any type of ballot from around the county and that's a special type of machine that you have to be able to produce, like in Monmouth County -- that's 53-plus ballots because we have 53-municipalities and we have some bilingual ballots so it's a lot of ballots to produce so you have to have a voting machine that can produce any one of those ballots no matter where the voter goes," Hanlon said.
Your experience with what machine you vote on and how it works may be different depending on the county where you live.
"In Monmouth County, our Commissioners invested in new machines for everyday -- for early voting and for election day -- so the experience for the voter will be the same," Hanlon said. "You'll see the same type of electronic poll book, you'll see the same type of voting machine. But in some counties (not Monmouth) there's a different type of voting machine because they may be using machines that they've always used in the past for election day but purchased new machines just for the early voting."
In Ocean County, the way you cast your ballot in person on Election Day will be same but signing in will be different.
"You're going to sign in on an electronic poll pad, different than you've ever signed in before, and it's basically just a pad like you're going to a retail store and you sign your name for your transaction," Ocean County Clerk Scott Colabella tells Townsquare Media News. "You'll then be given a piece of paper and you'll go to the voting machine you've always voted on, cast your ballot and you should be good."
The Election Day Process itself tomorrow will look much the same as it has prior to 2020 in terms of you showing up and go to cast your ballot, unless your location changed, which does happen from time to time, so take a look at your sample ballot you received in the mail.
"It has your polling place and that may have changed so you want to check to make sure you're going to the right place," Colabella said. "Then you want to look at your ballot because there's a lot of offices on and questions that you want to review and you can feel free to bring your sample ballot to your polling place."
"The important thing to remember though is that the polling locations for early voting are not the same as election day polling locations," Hanlon said. "Now, there may be a scenario here and there throughout the state where there is the same polling location because that polling location may just be the normal polling location but odds are your election day polling location is not the same as the early voting locations."
In the event that you can't sign-in either because you can't find your name on the register or there's some other reason, you'll be able to fill out a pro-visionary ballot provided that you are a registered voter.
"Let's say you go and the poll worker cannot find your name on the registration list, on the poll pad or for whatever reason they won't allow you to go into the machine, you do have the opportunity to vote provisionally on a provisional ballot and once that goes back to the Board of Elections after the election they'll review it and see what the problem was," Colabella said. "Maybe you received a vote-by-mail ballot, you forgot about it (and) you never voted it but they won't allow you into the machine, you'll vote provisional the board staff will figure it out. If you are indeed entitled to a vote, they will count that provisional ballot as well."
NEXT: 10 Jersey Shore School Districts Losing Millions From S2 School Funding Formula