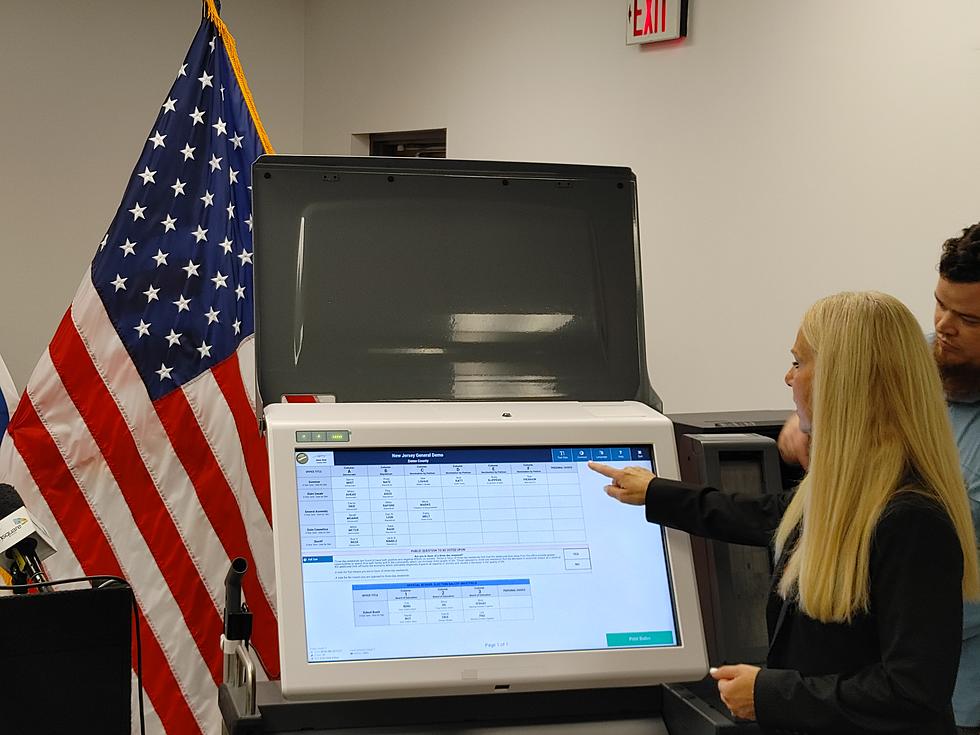 Early Election Voting begins this weekend in New Jersey, here's what you need to know
(Photo: Vin Ebenau, Townsquare Media NJ)
And the race is on!
You still have some time to mull over who you'll be voting for come Election Day but if you want to get done now, your opportunity is right here.
There is no reason to not vote, several opportunities to do so are out there.
Early Voting begins on Saturday in New Jersey and provides you with a 9-day window from October 29 to November 6 to get to the polls and cast your ballots.
For some need-to-know information on the Early Voting process, I spoke with Monmouth County Clerk Christine Hanlon for an episode of the 'Eyes on The Jersey Shore Podcast' to help answer questions that voters may have leading into this exciting period of time.
"We're trying to get the word out about Early Voting, which was a law passed last year, it was implemented last year," Hanlon said. "Hopefully this year, a lot more people will take advantage of the Early Voting process. It's basically an opportunity for voters to vote in-person on voting machines during a specified time period prior to Election Day."
Unlike Election Day itself, where many locations are available, there are fewer open for the Early Voting period, and we've put those below.
"It can only be done at specially designated locations throughout each county, and in Monmouth, we have 10 designated locations where voters can go early," Hanlon said.
Two other things to note about the Early Voting process as well: the times are different and you can't drop off a ballot, it's all in-person at the machines.
"You can't drop off any ballots at these locations, I want to be clear about that, this is so people can go vote on the machine, it's like mimicking what happens on Election Day but you can't bring a mail-in ballot there," Hanlon said.
One of the other new ways of voting in person that was put into play last year is the electronic poll books, which help speed things up and make it easier for you during Early Voting or on Election Day itself.
"In Monmouth County, we have all new voting machines and, of course, mandated to have electronic poll books," Hanlon said. "Because of the Early Voting procedure that was enacted last year, where you have a limited number of polling locations, you had to go to electronic poll books in order to implement something like that because, if a voter goes during Early Voting -- their name has to appear in the poll book and their ballot has to be available, so with Early Voting, came the electronic poll books so that all of the over 400,000 voters in Monmouth County would be able to go and vote in this one location."
Many took advantage of the new machines and early voting in 2021 across the Jersey Shore leading into Election Day itself with Monmouth County leading the way and Ocean County not too far behind.
"I will note that Monmouth County had the most voters utilizing the early voting process last year, by far, so, I'm hoping that our voters go out and vote on the machines this year," Hanlon said.
You have options regardless of the day you vote, you just have to do so by November 8.
"What I like to say to people is that in New Jersey, there are three options for voting: early voting by machines during the 9-day period before the General Election, in-person voting on Election Day -- your most traditional method of voting --, and voting by mail," Hanlon said. "Those are the three options New Jersey has mandated through statute. I like to encourage voters to make sure they go out there and vote."
In Monmouth County, here are the locations and times you can go for Early Voting.
October 29 - November 6, 10:00 am until 8:00 pm, with the exception being on Sunday which will be 10:00 am until 6:00 pm.
· Colts Neck Township – Colts Neck Library, 1 Winthrop Drive
· Hazlet Township – James J. Cullen Center, 1776 Union Avenue
· Howell Township – Adelphia Fire Company Station No. 2, 993 State Route 33, Freehold
· Little Silver Borough – The Women's Club of Little Silver, 111 Church Street
· Long Branch City – Long Branch Senior Center, 85 2nd Avenue
· Manalapan Township – Monmouth County Library Headquarters, 125 Symmes Drive
· Middletown Township – Croydon Hall, 900 Leonardville Road, Leonardo
· Neptune Township – Neptune Senior Center, 1607 Corlies Avenue
· Spring Lake Heights Borough – Cornelius V. Kelly Community Center, 902 Ocean Road
· Upper Freehold Township – Hope Fire Company #1, 82 Route 526, Allentown
You can listen to the full conversation with Monmouth County Clerk Christine Hanlon discussing Early Voting in New Jersey, right here.
LOOK: What major laws were passed the year you were born?
Data for this list was acquired from trusted online sources and news outlets. Read on to discover what major law was passed the year you were born and learn its name, the vote count (where relevant), and its impact and significance.
LOOK: Things from the year you were born that don't exist anymore
The iconic (and at times silly) toys, technologies, and electronics have been usurped since their grand entrance, either by advances in technology or breakthroughs in common sense.
See how many things on this list
trigger childhood memories—and which ones were here and gone so fast you missed them entirely.
LOOK: 50 famous memes and what they mean
With the infinite number of memes scattered across the internet, it's hard to keep track. Just when you've grasped the meaning of one hilarious meme, it has already become old news and replaced by something equally as enigmatic. Online forums like Tumblr, Twitter, 4chan, and Reddit are responsible for a majority of meme infections, and with the constant posting and sharing, finding the source of an original meme is easier said than done. Stacker hunted through internet resources, pop culture publications, and databases like
Know Your Meme
to find 50 different memes and what they mean. While the almost self-replicating nature of these vague symbols can get exhausting, memes in their essence can also bring people closer together—as long as they have internet access.