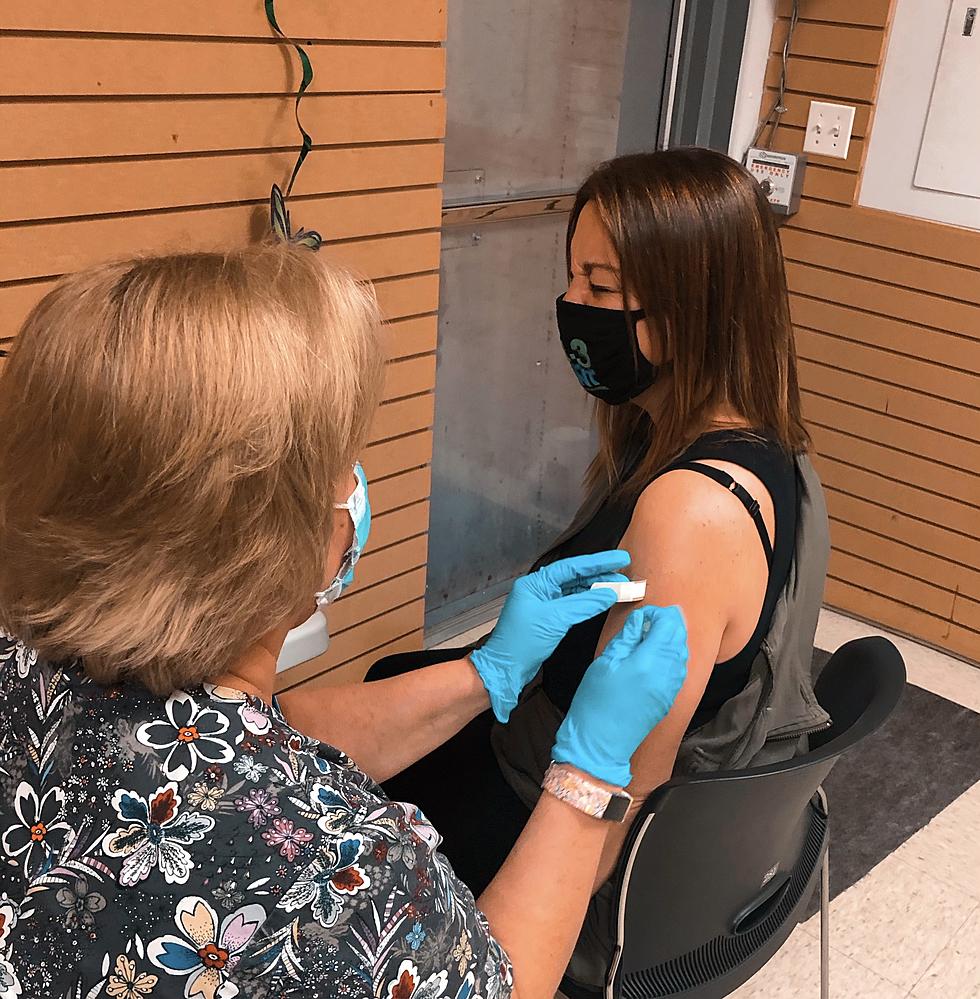 One Of Six Women Who Suffered Blood Clots After J&J Vaccine Is Hospitalized In New Jersey
Shannon Holly Getting COVID Vaccine
I was all set to get my Johnson and Johnson COVID vaccine the next morning and then the news scrolls across my phone that the J&J shots were on hold.  I was super disappointed at first because getting an appointment was near impossible with the work hours I keep, but then by a stroke of luck I found an appointment for the Pfizer vaccine and I grabbed it.  I was really lucky to get that appointment and I also felt lucky that I missed getting the J&J shot by just one day. I'm sure I would have been fine, but I KNOW I would have worried hearing the news after having gotten the shot. On the way home, I started wondering about the 6 poor women who had adverse effects with their vaccines and I wondered why they couldn't be lucky too.
I know the general feeling is, well 6.8 million people got the J&J vaccine and only 6 women had issues...that's nothing!  Well, it is something and I feel terrible for them. Since when is being human all about the numbers?  One of those 6 women is only 26 years old and is being hospitalized right here in Jersey.
About a week after she had the J&J shot she got a severe headache.  She felt weak and then was admitted to the hospital for 10 days. Her blood platelets were low and scans showed several blood clots in major vessels in her brain, stomach, and lungs.  She is a young girl who thought she was protecting herself and others and now she is fighting for her life. I have no solution or opinion on what should happen with all the vaccine being held...the truth is none of us know what to do but we all want to do the right thing.
The CDC is saying that they will need at least another week or two before making a decision on the Johnson & Johnson's vaccine. Hoping we all heal from this soon.
Listen to Lou & Shannon mornings on 94.3 The Point and download our free 94.3 The Point app
LOOK: Answers to 30 common COVID-19 vaccine questions
While much is still unknown about the coronavirus and the future, what is known is that the currently available vaccines have gone through all three trial phases and are
safe and effective
. It will be necessary for as many Americans as possible to be vaccinated in order to finally return to some level of pre-pandemic normalcy, and hopefully these 30 answers provided here will help readers get vaccinated as soon they are able.
COVID relief for NJ municipalities: How much is your town getting?
The American Rescue Plan signed by President Joseph Biden awards $10.2 billion to New Jersey. Here is a a county-by-county and town-by-town breakdown.