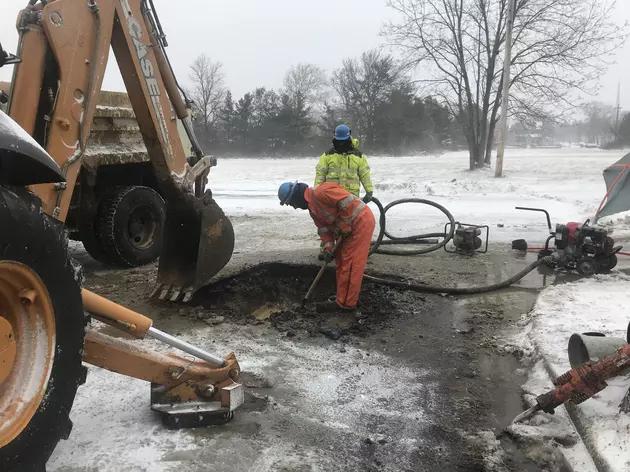 Bitter cold weather causing NJ water mains to burst
Courtesy of NJ American Water
Repair crews are working across the Garden State, fixing hundreds of water pipes and mains that are leaking or have burst from the recent bone-chilling weather.
According to Denise Venuti Free, spokeswoman for New Jersey American Water, when temperatures drop below freezing for a stretch of time, "it just escalates the number of service line breaks and leaks" caused by shifting soils.
"You have freeze-thaw contractions of the pipes and it just wreaks havoc with the systems," she said last week.
New Jersey American Water has experienced more than 120 main breaks or leaks across the area.
She noted repairing a water main leak or break can be relatively straightforward, or difficult and complex depending on the size of the main, which usually range from 2 to 30 inches.
Venuti Free said because it's been so cold, crews have been forced to use jackhammers to break through frozen soil after they rip up a roadway.
New Jersey American Water spends $350 million annually to upgrade infrastructure, which is almost a $1 million a day. But even newer mains are susceptible to the cold.
She noted even though it's warming up this week, additional breaks and leaks are anticipated.
If customers suspect a leak or they see water outside their property, they should file a report at NewJerseyAmWater.com or call 800-272-1325.
New Jersey American Water serves more than 600,000 households and businesses in 191 communities.