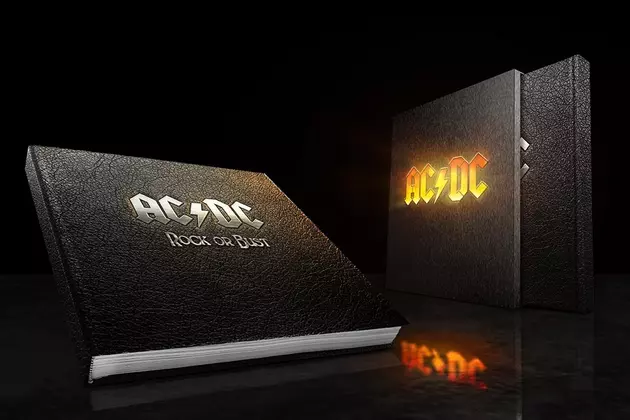 AC/DC Announce 'Rock or Bust' Tour Book
Rufus Stone Limited Editions
AC/DC's Rock or Bust Tour is being commemorated with what's being touted as the band's first-ever official book.
Scheduled for release sometime during the first half of 2017, the volume — sensibly titled The Rock or Bust Tour Book 2015 — collects a slew of shots from photographer Ralph Larmann, presenting what publisher Rufus Stone Limited Editions promises is "an amazing photographic documentary of the band and fans in action."
More than 200 pages in all, the book also includes "amazing facts, figures and tour memorabilia" to offer fans an in-depth overview of what might end up being the band's final world tour.
The Rock or Bust Tour Book 2015 is being offered in a number of configurations, including a collector's item — dubbed the "Leather and Metal" edition — that comes with a light-up slipcase. According to the press release announcing the project, each version of the book will be the same size as a vinyl LP.
"Creating this type of book with a band with the legacy of AC/DC is the dream project for Rufus," enthuses publisher co-director Mark Smith. "We are delighted to be able to produce an official book on behalf of the band and we've got a few surprises along the way to help make this a unique and special publishing event."
As fans are aware, the Rock or Bust Tour was problem-plagued from the start — at least behind the scenes, where the band lost rhythm guitarist Malcolm Young (to illness) and drummer Phil Rudd (to legal issues) before they even played their first date. Along the way, singer Brian Johnson was forced out due to hearing loss, and before the tour's conclusion, bassist Cliff Williams announced his retirement.
On the bright side, the band earned widespread positive reviews during the tour, even after Johnson bowed out and Guns N' Roses frontman Axl Rose stepped in on vocals. It may not have been the smoothest ride, but it was incredibly eventful — and the simple fact that they were able to make it to the end is worth commemorating. Pre-order your copy of The Rock or Bust Tour Book 2015 at the book's official site.
AC/DC Albums Ranked Worst to Best