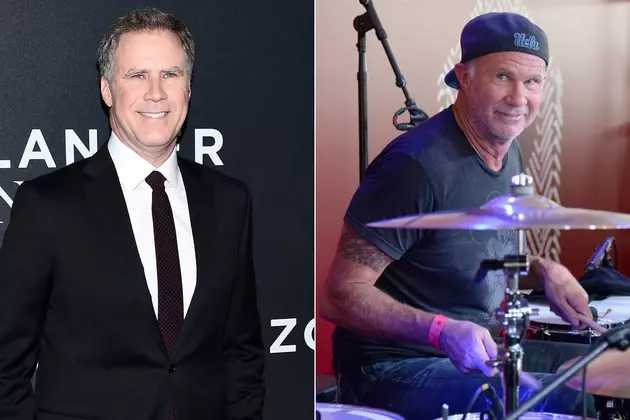 Tommy Lee, Mick Fleetwood, Stewart Copeland Join Ferrell / Smith Drum Battle
Dimitrios Kambouris / Michael Kovac, Getty Images
The event, dubbed the "Red Hot Benefit Comedy + Music Show & Quinceañera," took place at the Shrine Auditorium in Los Angeles. A quinceañera is a traditional Latin American party for a girl on the occasion of her 15th birthday, which Ferrell was celebrating.
"I have only one great regret in life and it's that I never actually celebrated my quinceanera," Ferrell said when the show was announced. "I'd like to think it was just a simple oversight by my mother, but there has been a void inside me for many years. Growing up on the mean streets of Irvine, California, I have vivid memories of all my friends celebrating their quinceanera."
Funny or Die posted the above video of the night to their Facebook page, with the onstage festivities beginning at roughly the 13-minute mark. But because they had previously battled, they decided to recruit teams. Smith recruited Taylor Hawkins of Foo Fighters, Stewart Copeland of the Police and Tommy Lee. Ferrell responded with Andy Lee -- whom Ferrell described as "a 14-year-old kid from Brentwood, California" -- former SNL star Fred Armisen and Fleetwood Mac's Mick Fleetwood.
Smith and Ferrell started mock-feuding years ago due to their resemblance, and they appeared on the Tonight Show to settle it once and for all, with Ferrell winning. Last night's evening not only included the drum battle, but also comedy sets from Jim Gaffigan, Nick Offerman and Roy Wood, Jr. The Red Hot Chili Peppers also performed.
Ferrell raised money for Cancer for College, while Smith's cause of choice was the Silverlake Conservatory of Music.
See the Red Hot Chili Peppers and Other Rockers in the Top 100 Albums of the '90s