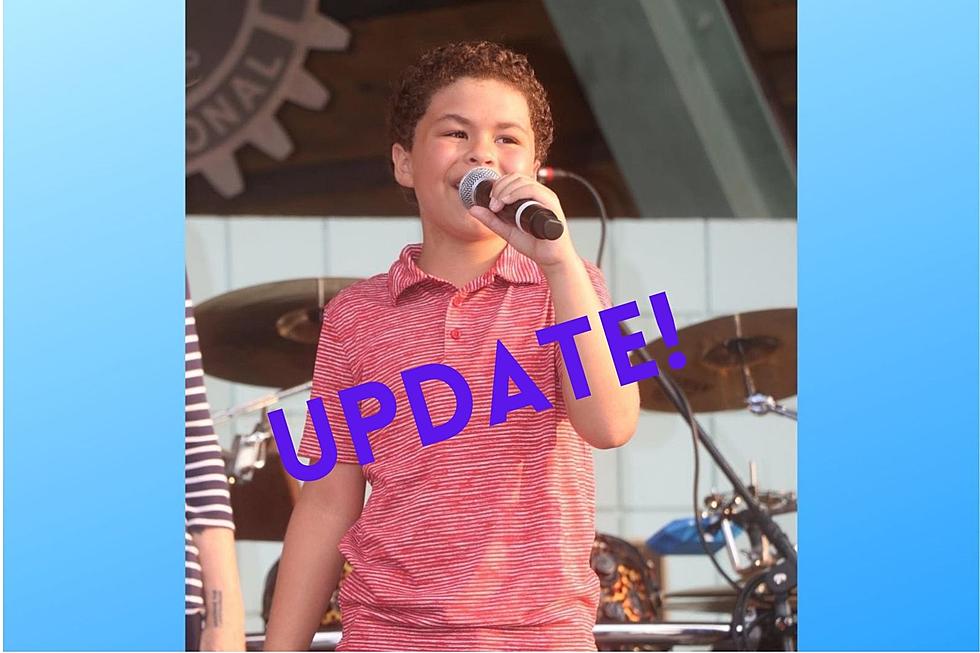 Big Update For This Local Brick Boy Dreaming Of Being On Broadway
Photo credit: Brick Facebook Page
We have SUCH cool update to this local story!!!!!!!!!!  Here is what originally happened and make sure to scroll to the end and see the fantastic update!  If you believe in the law of attraction and manifesting your own destiny (or even better, if you don't believe your thoughts will become your reality) you need to read this update!!!!!!!
Original story....
I got to introduce The Nerds on stage at Brick Summerfest and they were so much fun BUT they weren't the only stars there!  Sweet little Brayden Morgan of Brick is just 10 years old and he sang our National Anthem with such swag!  You may know him from that viral video he did singing with his dad...it's pretty clear his star power is catching on and he couldn't be more grateful.
Listen to Shannon Holly mornings on 94.3 The Point and download our free 94.3 The Point app.
It all started when Brayden and his Dad performed Queen's "Don't Stop Me Now" in a video that went VIRAL!  Watch this greatness if you want to smile ear to ear:
Can you see the effortless, natural talent here?  What struck me the most was his pure joyfulness.  Agents aren't stupid, so they were clamoring over this little guy not long after this video was posted!  Today, Brayden is a performer for the Zzak G Applaud Our Kids Foundation and he has representation with Paradigm, Innovative Artists and Mara Entertainment!  I was blown away at how comfortable and joyful Brayden was singing on stage, so much so that Lou and I had to talk about him on the Jersey Shore Morning Show today:
Brayden's star is definitely on the rise...Brayden has landed a role on TWO major cartoon streaming networks which are soon to be announced! For now you can see what Brayden is up to on his Instagram @Brayden.Morgan_
His mom, Maggie describes Brayden as "fearless" and "born to do it". Mom says, "He really doesn't have any fear. When he looks out into the audience and he sees everyone smiling, that's what he loves the most."
Brayden's dream is to be on Broadway!  Lou & I will be the first ones to buy tickets!  Break a leg buddy!
UPDATE UPDATE UPDATE UPDATE!!!!!!!!!
After posting this article, I was contacted by Joseph John Brunetti, producer of Broadway Meets The Beach which features TONS of Broadway stars. Joseph read the article and saw Brayden's viral video above. He was impressed!  As a result he asked Brayden to join the show for multiple singing engagements!
When I asked Brayden what his goal was he boldly stated, "I want to be on Broadway" with those words in the Universe it was already in motion. Don't forget to believe in your intentions!  Now Brayden will be performing with Broadway Meets The Beach and sing among loads of Broadway stars.  The shows are free and live at Seaside Heights...you can see Brayden perform on August 13th and August 27th at 7pm at the Franklin Avenue Stage!
Want to smile today? Just listen to how EXCITED Brayden was on the Jersey Shore Morning Show this morning!  He got to break the big news about his BIG BREAK!  Way to go Brayden!
Popular Child Stars From Every Year
Below,
Stacker
sifted through movie databases, film histories, celebrity biographies and digital archives to compile this list of popular pint-sized actors from 1919 through 2021.
LOOK: The most famous actress born the same year as you
Many of the actresses in this story not only made a name for themselves through their collection of iconic performances, but also through the selfless, philanthropic nature with which many of them approached their stardom. In an age of flipping the script on societal norms, many of these actresses are using their voices and platforms to be advocates for those who are otherwise unheard.
LOOK: The Most Famous Actor Born Every Year