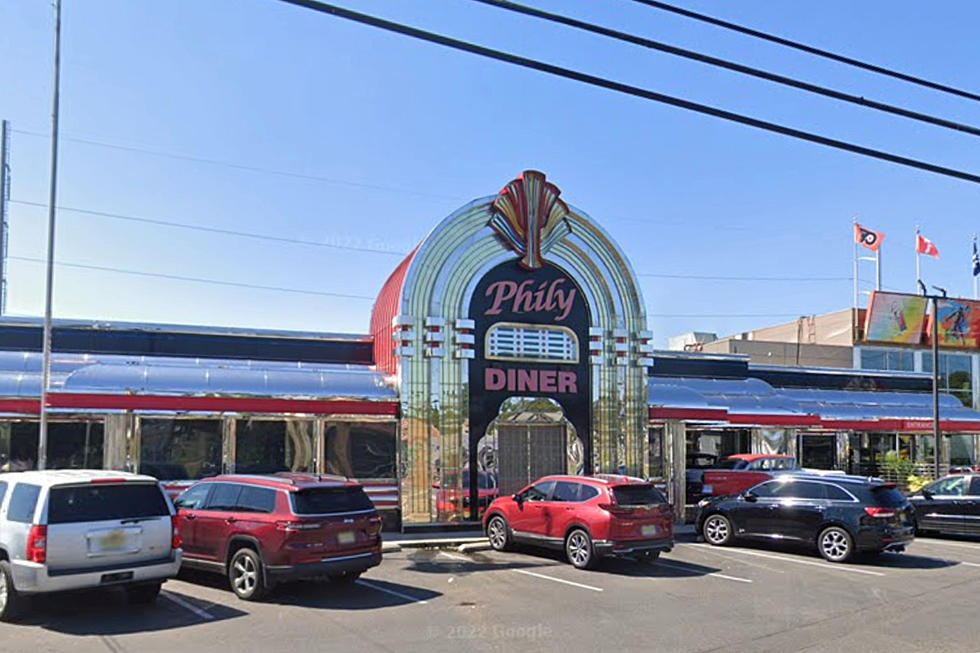 The definitive list of New Jersey's top 7 diners
Google Maps
Did you know New Jersey has more diners than any other state? Over the years, many people have compiled lists of what they believe are the best diners in New Jersey.
But the research that has gone into my list is unparalleled.
Why? We had input from our listeners to figure this out! And who knows more than our listeners?
Some people may think that the popularity of diners has waned, and, although many diners have closed since the pandemic, the diner experience is more popular now than ever!
Especially with an uncertain economy, it just makes sense to eat great food at a great price.
Not only do we New Jerseyans have the best diners, but you truly can't drive more than 20 minutes and not pass one.
Here are some of Jersey's seven most acclaimed diners in no particular order.
The New Berlin Diner
117 South White Horse Pike
Berlin
The New Berlin Diner is the picture of a diner you have in your head when people talk about old-school diners. It's tiny and quaint and the food is just as good as it should be in the diner capital of the country.
Its head chef has over 20 years of fine dining/restaurant experience and they've been given every award from best breakfast to best American cuisine to best South Jersey Diner. Plus, it has a chrome exterior that makes the diner experience so authentic.
Rainbow Diner
847 Route 70 East
Brick
This diner always makes the list. It's a favorite for so many reasons. But listeners laud the steak and eggs, breakfast, the eggs benedict, especially because unlike most diners they give you three eggs.
And the stuffed mushrooms or something that you'll think about until the next time you go there
Phily Diner and Sports Bar
31 South Black Horse Pike
Runnemeade
This gem in Runnemede has the 50s look that you crave in a diner the service is fantastic. People commented on the professionalism of their servers. And by the way, one less nerd, clued us into the strange spelling of the name of the restaurant. According to that source, it's not Philly the city it's named for, but it's said to be spelled that way in honor of the Greek Philos (love).
Bridgewater Diner
1244 Route 22
Bridgewater
The Bridgewater diner has one of the most classic diner dishes that people keep coming back for. It's their French dip. Juicy roast beef accompanied with the best diner gravy in the state.
The Diner
26 West Railroad Avenue
Jamesburg
Eponymously named, The Diner in Jamesburg is another one of those classic New Jersey diners that has stand-out food and service. And even though we know there's nothing as awesome as a diner Burger, the Jamesburg diner burgers are even better. They're standouts. The soups, too.
All Seasons Restaurant
176 Wyckoff Road
Eatontown
All Seasons calls itself a restaurant because it is. But it's a diner too. It has that wonderful combination of modern and old-school. The menu has everything you could ever want including old-time diner, favorites, but also updated more modern cuisine.
The family that runs it is warm and wonderful and it's enormous, clean and bright. I've literally never had a bad meal there and also Their coffee is a standout, unlike a lot of diners in New Jersey.
Marlboro Diner
143 US Highway 9
Marlboro
Marlboro diner is what you get when you cross a diner with a fine restaurant. Their amazing menu can rival some of the best eateries you've ever experienced in the Garden State.
Diners are usually family owned and this one is no different. Owner Kara Petrou has combined flavors of the Mediterranean with the latest trends.
With the kind of people running it that you'd want to have sit down and enjoy a meal with you.
NJ Diners that are open 24/7
Inside one of NJ's few remaining 'five and dimes'
Binkley's is a staple for people who live in Medford and Medford Lakes.
Opinions expressed in the post above are those of New Jersey 101.5 talk show host Judi Franco only.
You can now listen to Dennis & Judi — On Demand! Hear New Jersey's favorite best friends anytime, anywhere and any day of the week. Download the Dennis & Judi show wherever you get podcasts, on our free app, or listen right now.