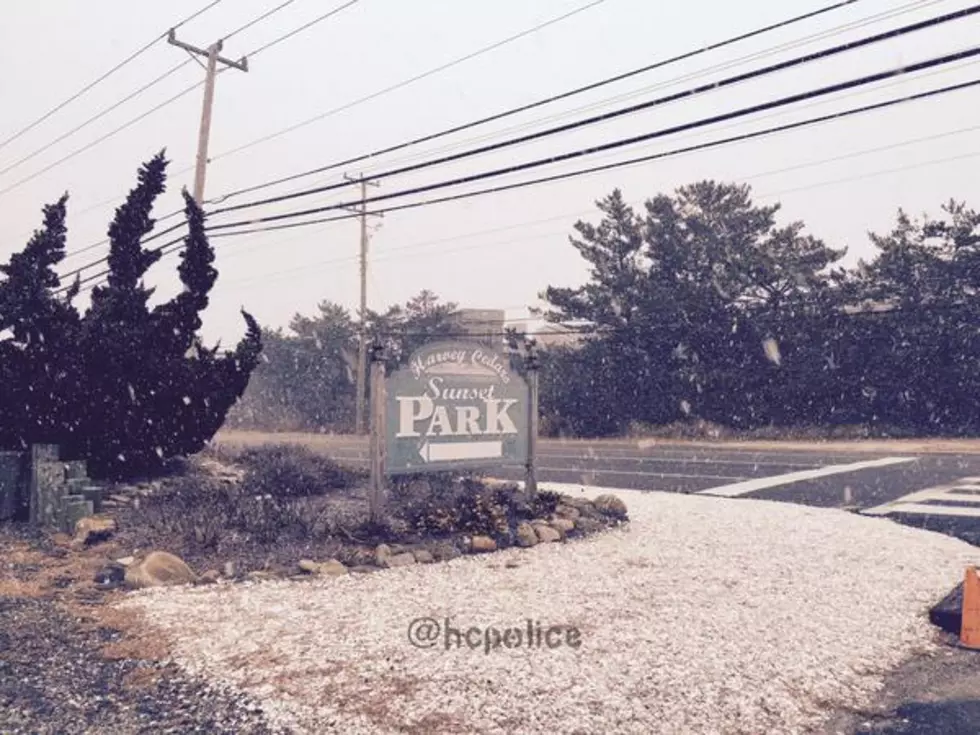 Reporting storm closings and delays on The Hawk
Snow in Harvey Cedars (Harvey Cedars Police)
Are you ready to report to 105.7 The Hawk's Ocean County Stormwatch?

The Hawk has rolled out a new, more user-friendly version of Stormwatch, the program used by schools, businesses, and organizations to post cancellations and delays online during severe weather.
Here's a Q & A on how your school or organization can participate.
Q. We are already registered in Jersey Shore Stormwatch. What do we need to do in order to report our cancellations and delays this winter?

A. If you're a registered user, you will soon receive an email at the address you've had on file with us. It will include complete instructions and a new password. Please make sure your email box will accept email from njstormwatch@townsquaremedia.com
Q. What if we don't receive an email?
A. Check your email account's junk mail or spam folder. If you don't find an email from us there, phone our Ocean County Stormwatch administrator, Dan Alexander at 609-359-5358.
Q. We weren't registered in Jersey Shore Stormwatch. How do we sign up for NJStormwatch now?
A. Use the form below and we will contact you directly.
Q. Does it cost anything to participate?
A. No. This is a free service designed for use by all New Jersey public and private schools, daycares, houses of worship, government agencies -- any organization with a need to alert people about weather-related closings, cancellations or delays.
Q. We are registered but have had a change in personnel. How do we make sure the new person will be able to submit our cancellations and delays to NJ Stormwatch?

A. You can report the change to us on the form below and we will contact you directly. Or you can phone Dan Alexander at 609-359-5358.
Q. Will our old password still work?
A. No, all passwords are being changed as part of the site update. Please disregard any old log-in information you may have been using.

Q. The person who used to report our closings is no longer here and we're not sure of the password or other log-in information.

A. Phone Dan Alexander at 609-359-5358. He will look up your organization's registration information and help you update it. All passwords are being changed, so you will not need to recover your old one.
Q. After we receive our log-in instructions and password, will we be able to send a test report?
A. Yes.
Q. How will we know whether our test report was received?

A. Once you've clicked on "SUBMIT," you should be able to go to our closings page and see the test closing you've entered.
I went through all the steps and I don't see my organization. What do I do?
Send an email to dan.alexander@townsquaremedia.com and Dan will check the status.
Q. What if we report a delayed opening and then decide to close for the day? Will we be able to update our report?
A. Yes, you will be able to log in again to make that change.
Q. How do we arrange for each of our individual schools, offices or locations to have their respective cancellations, closings and delays listed?

A. They can each be registered separately so that information specific to them can always be listed on our site.

Q. Can cancellations and delays be phoned in?
A. No, NJStormwatch is an online-only program. We are not able to accept phoned-in information on weather-related closings and delayed openings
Q. What if there's no power or I lose my internet connection?
You'll be able to access Jersey Stormwatch via mobile devices, like smart phones and tablets. But it's also a good idea for you to have several people authorized to log in to Jersey Shore Stormwatch on your behalf.
Q. How will your station's website users find our cancellations and delays?

A. The Hawk's homepage will be pointing to all listed closings whenever we have a severe weather event.
Q. Are the closings read on the air?
A. No. You may check the list at any time our closings page using computers, smart phones or tablets for the most-to-date list.
Enter your number to get our mobile branded app