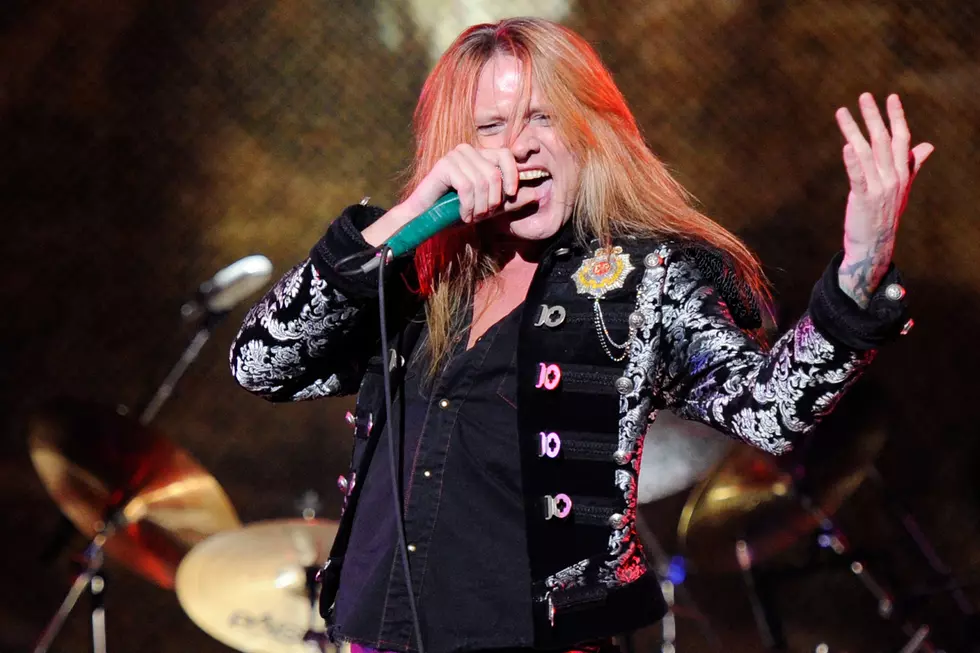 Sebastian Bach Announces 'Skid Row' 30th Anniversary Shows
Ethan Miller, Getty Images
Sebastian Bach will celebrate the 30th anniversary of Skid Row's self-titled debut album by performing the LP in its entirety during shows on his upcoming U.S. tour.
"In 1989 we put out the first record Skid Row," Bach said in a statement posted on his Facebook page. "Thirty years later, people still dig the music we created in a garage all those years ago."
The singer is clearly excited about the performances, noting that "it's going to be fun to do something that has never been done live before!"
Five years ago, Bach blasted his former Skid Row bandmates for their inaction on the album's 25th anniversary. This time around, the rocker took matters into his own hands. The 30th-anniversary tour will kick off in Nashville on Aug. 30, with dates scheduled through November. Tickets go on sale Friday. You can see all the tour dates below.
Released in January 1989, Skid Row's self-titled effort catapulted the New Jersey hard rockers to worldwide stardom. The album sold more than 5 million copies in the U.S. alone, with the singles "18 And Life," "Youth Gone Wild" and "I Remember You" earning heavy rotation on radio stations and MTV.
Much of the songs' distinctive energy can be attributed to Bach, whose powerhouse vocals made him one of the most recognizable frontmen of the late '80s and early '90s.
Though 1991's follow-up album Slave to the Grind was another commercial triumph, Skid Row were never able to duplicate the success of their debut. Bach left the group in 1996 following internal arguments over musical direction.
Since then, the singer has been involved in various projects, including Broadway productions, reality television appearances and solo records.
Sebastian Bach, 'Skid Row' 2019 Tour
Aug. 29 - Nashville, TN @ Mercy Lounge
Aug. 30 - Anderson, SC @ William A Floyd Amphitheater
Aug. 31 - Charlotte, NC @ Amos Southend
Sept. 2 - Huntsville, AL @ Side Tracks Music Hall
Sept. 3 - Columbus, OH @ Skully's
Sept. 4 - Cleveland, OH @ Phantasy
Sept. 6 - Stafford Springs, CT @ Palace Theater
Sept. 7 - Block Island, RI @ Ballard's
Sept. 9 - Laconia, NH @ Granite State Music Hall
Sept. 10 - Hampton Beach, NH @ Wally's
Sept. 11 - Portland, ME @ Aura
Sept. 13 - Harrison, OH @ The Blue Note
Sept. 14 - Flint, MI @ The Machine Shop
Sept. 15 - Grand Rapids, MI @ The Intersection
Sept. 18 - Kansasville, WI @ 1175
Sept. 19 - St. Louis, MO @ Delmar Hall
Sept. 20 - Lombard, IL @ Brauer House
Sept. 21 - Dubuque, IA @ Q Casino
Sept. 22 - Lexington, KY @ Manchester Music Hall
Sept. 25 - New York, NY @ Sony Hall
Sept. 26 - Harrisburg, PA @ XL Live
Sept. 27 - Lynchburg, VA @ Phase 2
Sept. 28 - Waterloo, NY @ The Vine at Del Lago
Sept. 29 - Warrendale, PA @ Jergel's
Oct. 1 - Atlanta, GA @ Variety Playhouse
Oct. 3 - Wichita, KS @ WAVE
Oct. 5 - Golden, CO @ Dirty Dogs Roadhouse
Oct. 6 - Albuquerque, NM @ Sunshine Theater
Oct. 10 - Ramona, CA @ Ramona Mainstage
Oct. 11 - Los Angeles, CA @ Whisky A Go Go
Oct. 12 - Los Angeles, CA @ Whisky A Go Go
Oct. 17 - Roswell, NM @ Liberty Theater
Oct. 18 - Oklahoma City, OK @ Diamond Ballroom
Oct. 19 - Waco, TX @ The Backyard
Oct. 20 - Dallas, TX @ Gas Monkey Bar N' Grill
Oct. 22 - Houston, TX @ House of Blues
Oct. 23 - San Antonio, TX @ Aztec Theater
Oct. 24 - Corpus Christi, TX @ House of Rock
Oct. 25 - Lafayette, LA @ The District
Oct. 26 - Miramar Beach, FL @ Village Door Music Hall
Oct. 28 - Miami, FL @ KISS Kruise Pre Partye
Oct. 30 - Orlando, FL @ Hard Rock
Oct. 31 - Savannah, GA @ Victory North
Nov. 1 - Ft. Myers, FL @ The Ranch
Nov. 2 - Pinellas Park, FL @ England Brothers Park
Top 100 Albums of the '80s