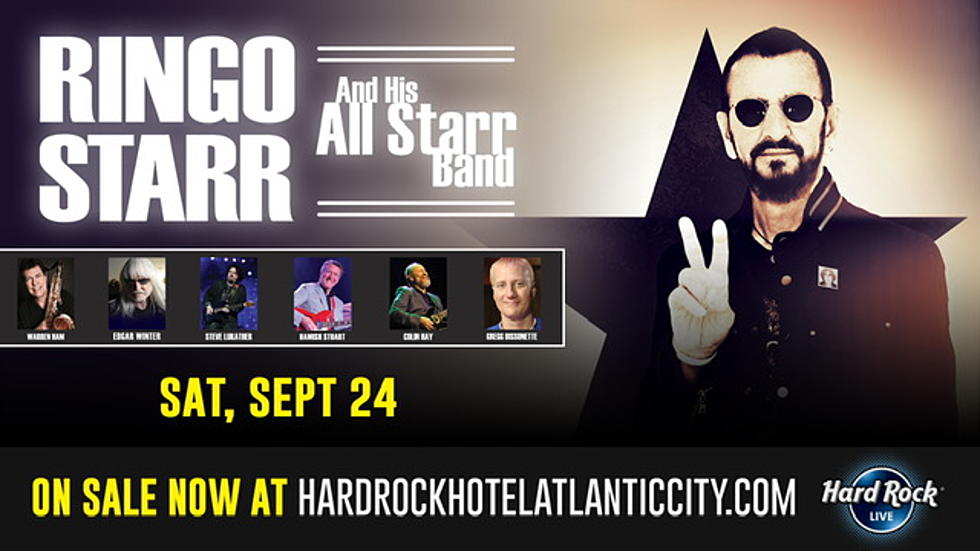 Win 2022 Summer Tickets To See Ringo Starr In Atlantic City, NJ
RINGO STARR - JL MEDIA
Did you know Ringo Starr is the wealthiest drummer in the world? He has a net worth of $350 million.
He is also a left-handed drummer; Starr leads with his dominant left hand. The result of this unorthodox style of drumming creates a different sound because of the crossing of the left hand over the right. It's just one of the many reasons why he had tremendous success with the Beatles. He is now 81 years old; he is still recognized as one of the best drummers and musicians of all time.
Thanks to the Hard Rock Hotel & Casino in Atlantic City, you can see Ringo Starr & his All-Star Band perform LIVE. It will be a fantastic night of music in Atlantic City! The show is on Saturday, September 24th at the Hard Rock. WIN TICKETS BELOW!
Ringo Starr occasionally sang lead vocals with the Beatles. He would usually sing at least one song off each album. His best hits were "Yellow Submarine" and "With a Little Help from My Friends". He also wrote and sang "Don't Pass Me By" and "Octopus's Garden". You will see him sing a ton on September 24th.
Tickets are on sale now at hardrockhotelatlanticcity.com. Or you can try and win a FREE pair of tickets below. If you win, we will contact you and your tickets will be at will call. Your name will be sent to the Hard Rock box office.
WIN RINGO STARR TICKETS BELOW.
If you are looking at this via our station app, you'll see the entry form below. If you don't have our app, open it now or click here to download it to your phone. Winners will be contacted once the giveaway is complete! GOOD LUCK & THANK YOU FOR LISTENING!
Your Official 2022 PNC Bank Arts Center Concert Schedule
The Current 2022 Stone Pony Summer Stage Schedule