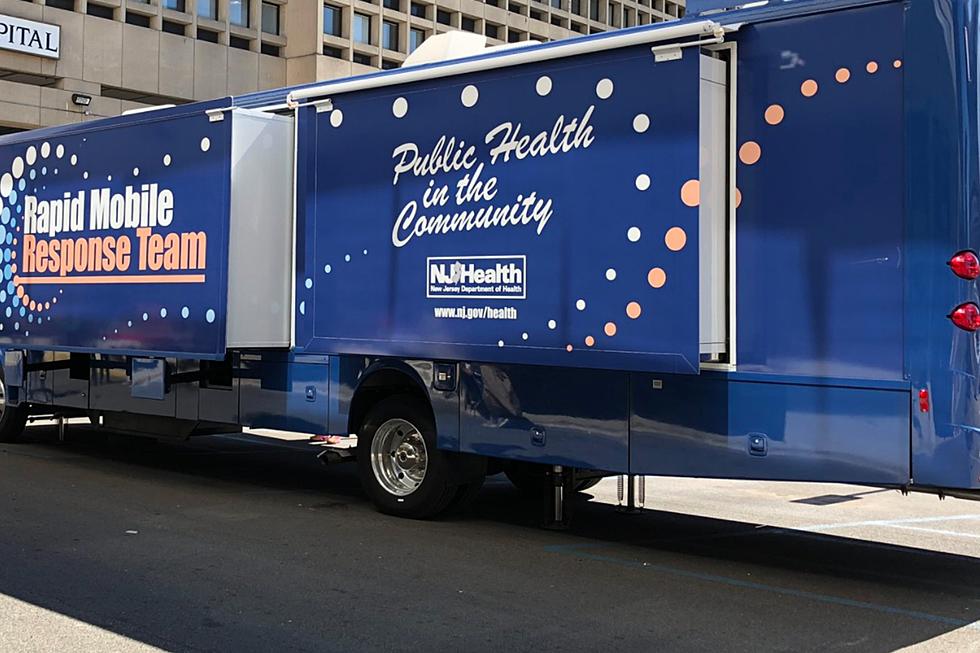 Lakewood among New Jersey's 16 'least vaccinated' towns
A rapid mobile response team van parked in Newark on May 1 (NJ Department of Health via Twitter)
TRENTON — As the state has reached nearly three-quarters of its goal in vaccinating roughly 70% of the adult population against COVID-19, officials have identified the "least vaccinated" towns and cities in an effort to better reach them.
On Monday, Gov. Phil Murphy announced 16 communities, each with more than 10,000 residents, where the vaccination rate of adults was below 40%.
Using 2019 estimates from the U.S. Census, here's a look at each municipality, with its population, rate of vaccination and cumulative COVID-19 cases and deaths.
Percentage of residents with at least one dose: 39%
Population: 69,703
Confirmed cases to date: 64,637
Confirmed COVID deaths to date: 1,673

Percentage of residents with at least one dose: 38%
Population: 282,011
Confirmed cases to date: 36,820
Confirmed COVID deaths to date: 960

Percentage of residents with at least one dose: 34%
Population: 106,300
Confirmed cases to date: 13,609
Confirmed COVID deaths to date: 304

Percentage of residents with at least one dose: 32%
Population: 64,367
Confirmed cases to date: 7,017
Confirmed COVID deaths to date: 295

Percentage of residents with at least one dose: 29%
Population: 54,312
Confirmed cases to date: 4,598
Confirmed COVID deaths to date: 222

Percentage of residents with at least one dose: 32%
Population: 51,390
Confirmed cases to date: 9,153
Confirmed COVID deaths to date: 202

Percentage of residents with at least one dose: 37%
Population: 50,317
Confirmed cases to date: 6,454
Confirmed COVID deaths to date: 182

Percentage of residents with at least one dose: 32%
Population: 73,562
Confirmed cases to date: 9,842
Confirmed COVID deaths to date: 164

Percentage of residents with at least one dose: 36%
Population: 30,551
Confirmed cases to date: 3,516
Confirmed COVID deaths to date: 130

Percentage of residents with at least one dose: 24%
Population: 55,676
Confirmed cases to date: 6,181
Confirmed COVID deaths to date: 103

Percentage of residents with at least one dose: 39%
Population: 31,802
Confirmed cases to date as of April 28: 3,892
Confirmed COVID deaths to date: 77

Percentage of residents with at least one dose: 37%
Population: 24,160
Confirmed cases to date: 2,308
Confirmed COVID deaths to date: 53

Percentage of residents with at least one dose: 32%
Population: 26, 979
Confirmed cases to date: 1,833
Confirmed COVID deaths to date: 36

Percentage of residents with at least one dose: 36%
Population: 14,189
Confirmed cases to date April 28: 1,918
Confirmed COVID deaths to date: 30

Percentage of residents with at least one dose: 29%
Population: 14,212
Confirmed cases as of April 28: 1,245
Confirmed COVID deaths to date: unclear as of Tuesday, though 1,182 cases are listed as 'recovered'

Percentage of residents with at least one dose: 32%
Population: 83,203
Confirmed cases to date: Data not available
Confirmed COVID deaths to date: Data not available