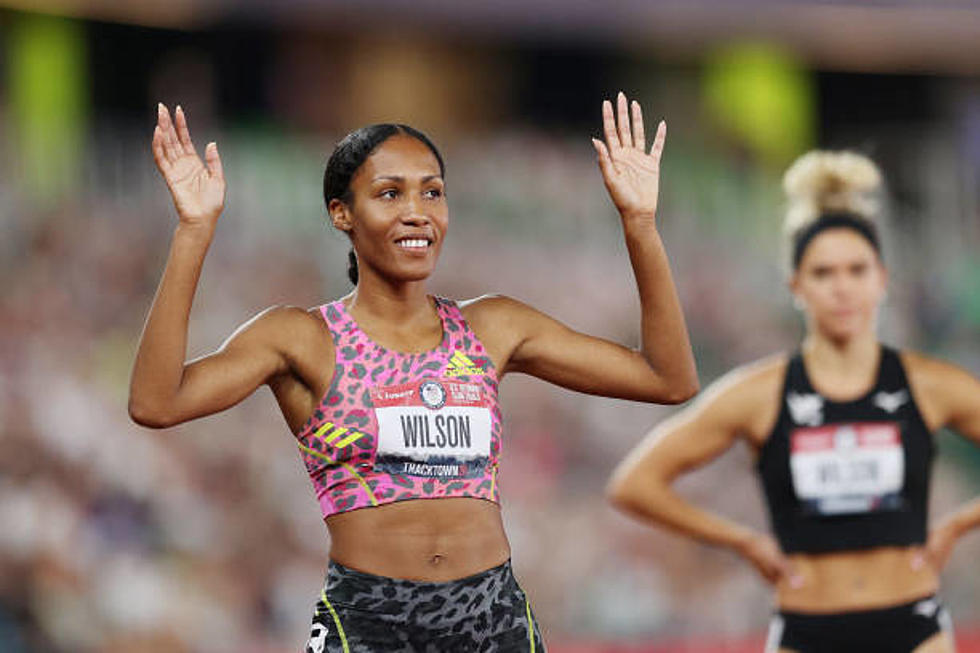 Do You Know These Outstanding Athletes Representing New Jersey In The Olympics?
Photo credit: Getty Images, Ajee Wilson ran for Neptune Township
I have soooo much Jersey pride and I know you do too!  So when I found this list of New Jersey athletes and coaches heading to the Olympics by Carly Baldwin from The Patch, I had to highlight it!  The fact that that Bruce Springsteen's daughter, Jessica Springsteen, is going to Tokyo has us all wondering what Jersey athletes and towns are representing us in the Olympics.  Maybe an athlete from your town is representing us in the Olympics this year! So many talented Jersey peeps!  Scroll through to see the list...
Listen to Shannon Holly mornings on 94.3 The Point and download our free 94.3 The Point app.
Sydney McLaughlin, Dunellen: 400-meter dash. This 2017 graduate of Union Catholic Regional High School crushed a world record earlier this year when she became the first woman to run the 400-meter hurdle in under 52 seconds. McLaughlin was born in Dunellen and raced for Union Catholic. This will be her second Olympics: At just 17, she was the youngest athlete to qualify for the U.S. track and field team in the 2016 summer Olympics in Rio de Janeiro. She is now 21.
Ajee Wilson, Neptune: 800-meter dash. Wilson, 27, currently holds the U.S. record for the 800-meter dash, with a time of 1:55.61. She was a track star at the Academy of Allied Health & Science in Neptune Township, before going to Florida State, followed by Temple University and then turning pro.
Keturah Orji, Mount Olive: High jump. Born in Hoboken, raised in Mount Olive, this 25-year-old got her start wowing fans at Mount Olive High School, where she set several school records. This is her second Olympics; she competed in 2016 in Rio.
Athing Mu, Trenton: 800-meter dash. This 19-year-old originally from Trenton currently attends Texas A&M University.
Curtis Thompson, Trenton: Javelin throw. A Trenton native who is a 2014 graduate of Florence Township Memorial High School; this will be his first Olympics.
Sam Mattis, East Brunswick: Discus throw. Mattis, 27, is a graduate of East Brunswick High School and went on to the University of Pennsylvania's Wharton School of Business, where he was the 2015 NCAA national champion in discus throw.
Rudy Winkler, Rutgers: Hammer throw. He was raised in New York state but he got his MBA from Rutgers.  This will be his second Olympics this summer.
Tracy Eisser, Fair Lawn: Rowing:  Born in Summit and raised in Fair Lawn, this will be Eisser's second Olympics. She competed in Rio de Janeiro in 2016, finishing fifth in the women's quadruple sculls. She graduated from Cornell University and has a gold and bronze medal under her belt, according to her Team USA profile.
Kara Kohler, Princeton: She trains with her Team USA teammates at the U.S. Olympic Rowing Center in Princeton.
Molly Reckford, Short Hills: Raised in Short Hills, Molly learned to row while attending Phillips Exeter Academy. She comes from a rowing family, her grandfather, Bill Spencer, was a two-time Olympian and longtime coach for Team USA in Biathlon.
Fencing:
Dagmara Wozniak, Avenel: Dagmara moved to the U.S. from Poland at age 1, and her family settled in Avenel. She graduated from Colonia High School and she was part of the Team USA women's fencing team that won bronze in the 2016 summer Olympics in Rio. She's lived in Hoboken and Jersey City.
Jackie Dubrovich, Riverdale: Born in Paterson, this Pompton Lakes High School grad went on to graduate from Columbia University in 2016.
Francesca Russo, Wayne: This 2014 graduate of Wayne Valley High School went to Notre Dame.
Khalil Thompson, Teaneck: Thompson and his sister are both stand-out fencers; they got their start in the sport when it was offered as an after-school program at Teaneck High School. Thompson is currently enrolled at NJIT.
Triathlon:
Morgan Pearson, New Vernon/Spring Lake: Pearson, 27, is originally from Spring Lake, where he grew up as a competitive swimmer, ocean lifeguard and high school runner. He went on to run cross-country and track & field at the University of Colorado at Boulder, where he was a seven-time All-American.
Equestrian:
Jessica Springsteen, Colts Neck: Yes, she's that Springsteen! This family can't help but be filled with overachievers!  The daughter of Jersey's crown jewel, Bruce Springsteen and singer-songwriter Patti Scialfa, was recently named to the U.S. Olympic equestrian team's jumping squad. She will compete aboard her 12-year-old Belgian Warmblood stallion Don Juan van de Donkhoeve, which she keeps at her family's 368-acre Stone Hill Farm in Colts Neck. Jessica is 29 and grew up in Rumson. She began riding at the age of four.
Soccer:
Carli Lloyd, Delran: This Jersey Girl is plastered all over my 16 year old daughter's walls.  There has not been a poster that she does not have of Carli! Tokyo will be Lloyd's fourth Olympic games.
Tobin Health, Basking Ridge: Health grew up in Bernards Twp. and graduated from Ridge High School in 2006. Just like Lloyd, this will be her fourth Olympics; she was on the 2008 and 2016 U.S. women's soccer team that won gold.
Baseball (baseball is returning to the Olympics this summer for the first time since 2008):
Todd Frazier, Toms River: As a kid, Frazier was on the Toms River East American Team that won the 1998 Little League World Series. He went on to Rutgers, where he is considered one of the best baseball players to ever attend RU.
Patrick Kivlehan, Rutgers: Outfielder Kivlehan played two sports in his time at Rutgers, football and baseball. He is originally from Nyack, New York. The Mariners drafted him in the fourth round of the 2012 MLB draft. This most recent season, he played for the San Diego Padres.
Swimming:
Nic Fink, Morristown: This Morristown native qualified for the games after winning the men's 200-meter breaststroke in the U.S. Olympic Swim Trials.
Judo:
Colton Brown, Piscataway: Born in New Brunswick, Brown graduated from Piscataway High School in 2009. He first went to his first Olympics in 2016 and is coached by his father.
Coaching:
Tatiana Kovaleva, Middletown/Holmdel, will coach Team USA Gymnastics: Kovaleva owns Elite Trampoline Academy in Middletown and she will head to Tokyo later this month, as she has been selected to coach two trampoline athletes for Team USA. She will coach Aliaksei Shostak, 26, and Nicole Ahsinger, 24, on the trampoline, who both train in Louisiana. This will actually be Kovaleva's second time going to the Olympics as a coach: In 2012, she coached U.S. gymnasts in the London summer Olympics.
Darren Fenster, Rutgers, Team USA baseball coach: Fenster attended Rutgers from 1997-2000, where he was a two-time All-American shortstop and four-year starter. He went on to play five years for the Kansas City Royals. Fenster has been a coach with the Boston Red Sox since 2012. In this summer's Olympics, he will be the third-base coach.The Olympics begin with the Opening Ceremony on Friday, July 23 and end Sunday, Aug. 8. These are technically the 2020 Olympics as they were supposed to be held last summer, but were postponed due to the pandemic.
The Olympics kick off with the Opening Ceremony on Friday, July 23rd and end Sunday, Aug. 8th. Just a side note, these are actually the 2020 Olympics since they were supposed to be happening last summer, of course it was postponed due to the pandemic.
We are SO PROUD of all of you!!!!!!!!!!!  Go get it!!!!!  We'll be pulling for you! #TeamUSA #JerseyPride
Hard Work Means A Bright Future Keep Scrolling For The 20 Most Incredibly Expensive New Jersey Homes on the Market Right Now
Meet even more successful New Jersey stars this is the 2021 Inductees To The NJ Hall of Fame