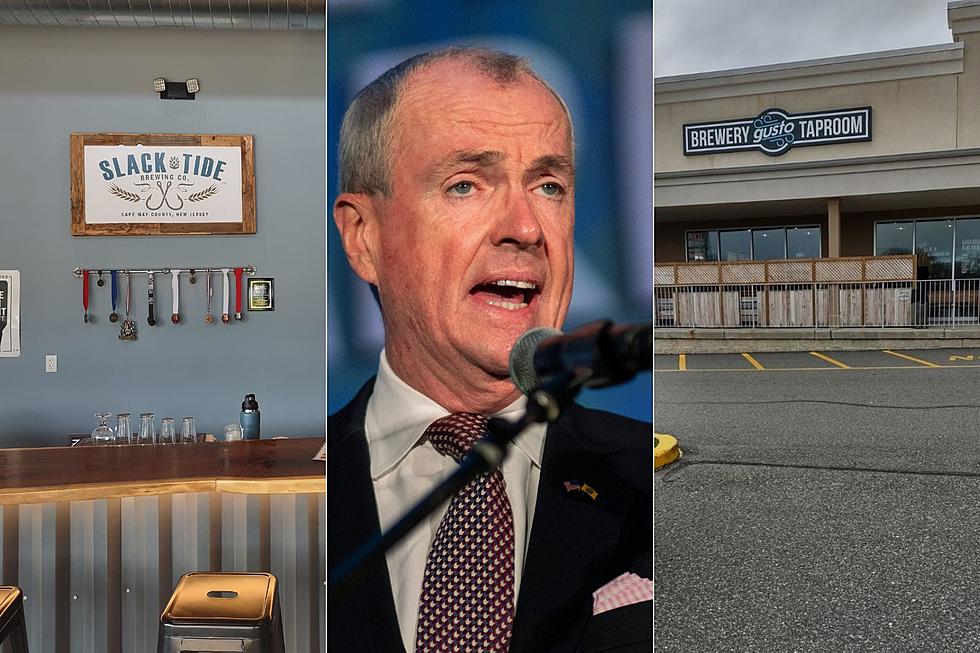 New Jersey Craft Brewers Still Waiting on Gov Murphy and Trenton
Governor Phil Murphy Photo by Eduardo Munoz Alvarez/Getty Images; Slack Tide and Gusto Brewing Photos by Josh Hennig/Townsquare Media
Back in June, the New Jersey State Senate and State Assembly voted unanimously to pass Legislative Bill S3038/A4630 which will lift the aggressive restrictions on New Jersey Local Craft Breweries, Wineries, and Distilleries.  But almost three months later, Governor Phil Murphy has refused to sign into law the legislation that would help so many New Jersey small businesses.
Despite the unanimous support for this legislation, New Jersey Governor's Office Spokesperson Jennifer Sciortino told the New Jersey Monitor last week that Governor Murphy's plan is to conditionally veto the bill in order to have it added into a big picture liquor license reform legislation following November's elections when all State Senators and Assemblyman return to Trenton.
Sciortino gave a follow-up statement to NJ Biz about the Governor's position on this subject:
"The Governor unequivocally supports easing restrictions on New Jersey breweries, which is why he proposed these reforms himself earlier this year. However, he has been clear that our outdated liquor license system needs comprehensive reform, not a piecemeal approach, in order to ensure equity and affordability so that all small businesses and the entire industry as a whole will benefit."
This position by New Jersey's Governor has been perceived as an unfair maneuver to force the state legislature to address a different issue (liquor license system) while sacrificing doing what is in the best interest of the small business owners of local Breweries, Distilleries, and Wineries.  Currently, the Division of Alcoholic Beverage Control (ABC) suspended enforcement of the aggressive restrictions on these Local Craft Producers but that special order expires at the end of the 2023 Calendar Year.  So these businesses have no guarantees that the New Jersey ABC would not resume strict enforcement of the old rules starting on January 1, 2024.
One of the sponsors of this legislation is State Senator Michael Testa, whose representation district includes all of Cape May County along with part of Atlantic County and half of Cumberland County.  He released the following statement in response to Governor Murphy's continued decision to not sign into law a legislative bill that passed with unanimous support from both parties:
"Governor Murphy's decision to hold our breweries hostage in a broader liquor license reform debate runs counter to the State's push to grow our tourism industry. We've seen breweries starting to go out of business because of these oppressive rules overregulating their businesses and limiting their ability to serve food and hold certain events. The legislation that I sponsored would help breweries lift these unnecessary regulations. Governor Murphy's liquor license reform is separate and apart from the business of breweries and they should not be used as a bargaining chip."
Speaking of breweries, I thought people should hear from some of the business owners of these local breweries that are being impacted by this Political Game of Chicken.  Two of the popular Craft Breweries in Cape May County are Slack Tide Brewing Company in Dennis Township and Gusto Brewing Company in North Cape May.
Jason Campbell is the co-owner of Slack Tide Brewing (he owns the business with his brother Tadhg), which originally opened in 2015 on Route 83.  Thanks to their great beer selection, the brothers opened their new location during the summer on Route 9 to accommodate their growing customer base.  When I spoke with Jason Campbell about this situation, this is what he said:
"The ball is squarely in Governor Murphy's court to sign this legislation that benefits all of the breweries and small businesses affected by the impacts of the Special Ruling (editor note: that ruling stopping the NJ ABC Aggressive Enforcement for the rest of the 2023 Calendar year). We at Slack Tide Brewing hope (Governor Murphy) signs the legislation as soon as possible"
Zack Pashley is the co-owner of Gusto Brewing (he owns the business with his wife Adrianna) and has been serving South Jersey fun and unique craft brews over the last five years.  Located where the old Bayshore 8 Movie Theater used to be almost 20 years ago, Gusto Brewing in just a few years has become one of the top Craft Breweries in South Jersey.  Here is what Zack had to say when I spoke with him about this situation:
"We just feel duped. The bill waiting on Governor Murphy's desk is the common sense product of, not only the voice of a unanimous legislature, but of tens of thousands of New Jersey citizens' support too. We welcome all the rules that regulate the safe manufacture and sale of alcohol, 100%. But when the same entity responsible for regulating those things also has their hand in how many times we can have live music or advertise that we're watching a Phillies game, one of these things is not like the (other regulations)."
As the unnecessary stalemate continues in Trenton, you can see that local craft breweries are hoping for the best outcome while they continue to service their community of customers.  These small businesses are passionate about what they do and they should be allowed to continue to operate without wondering what happens at the end of this calendar year.  Governor Murphy and the State Legislature need to stop using excuses and political tactics that prevent the implementation of common-sense solutions.
Learn about Cape May County's Breweries (Alphabetical Order)