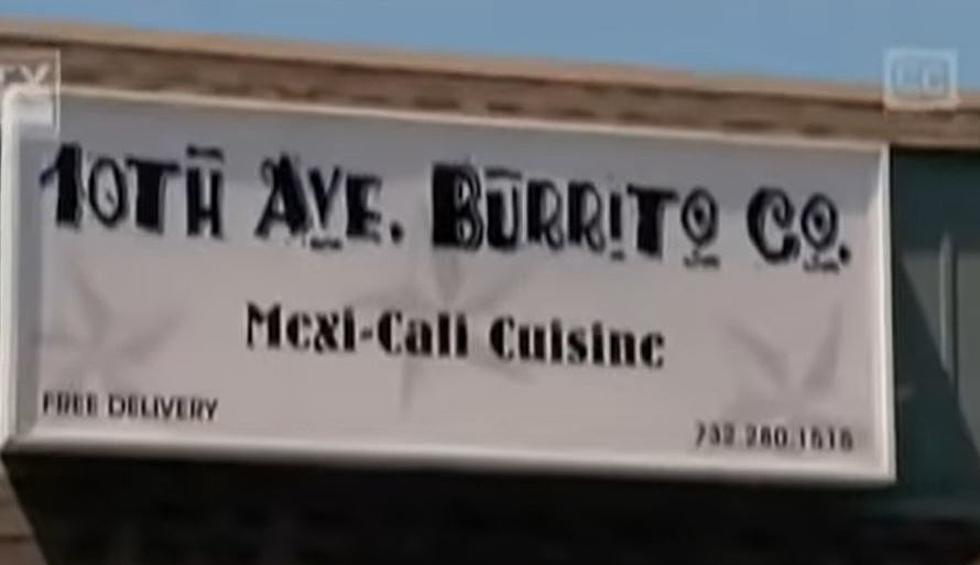 My Favorite Burrito Joint At The Jersey Shore Went National
via YouTube
When you think of food at the Jersey Shore, you think of seafood first and foremost.  Then you add comfort foods to the list like pizza, hotdogs, sausage peppers and onions, cheeseburgers, and fries.  Now let's add deserts like ice cream, funnel cake, and Italian ice.
What if I said burritos?
Listen to Rich DeSisto weekdays from 3 p.m. - 7 p.m. on 105.7 The Hawk and download our free 105.7 The Hawk app.
Yeah, it's true.  Burritos are very popular at the Jersey Shore.  Just ask Paul Altero and Bill Hart, co-founders of Bubbakoo's Burritos, and my friend Brian Katz founder of 10th Ave Burrito.
In 2008, Bubbakoo's Burritos first opened its doors in Point Pleasant, New Jersey.  Over the next 10 years, the idea and the restaurant expanded to numerous locations at the Jersey Shore, including their new location 175 Kinderkamack Rd. in Park Ridge.  In total there are 35 Bubbakoo's locations in the Garden State and 55 nationwide.
When it comes to going national, 10th Ave Burrito has them beat.  In 2010, the popular local hot spot was featured on Diners, Drive-ins, and Dives.
You see, back in 2010 my friend, founder, and chef Brian Katz had just moved back to his home state of New Jersey after living in California.  It was out west where Brian's culinary skills were harnessed as he was introduced to real ingredients and real flavors of Mexican cuisine.  He knew he could succeed in this specialty back home due to the alternative offerings from the fast-food chains New Jersey was forced feeding the community.
After much searching for the right location, he found it 5 miles from his Belmar NJ apartment.  A vacant 400 sq foot restaurant on 10th Ave, just waiting for his skills.  As the business outgrew that location 10th Ave Burrito's address moved to a 1200 sq foot location on 8th Ave. where he could now offer waitress service.
Fast forward a few years later, and he and his partner Kerry relocated on the corner of the existing building.  The current location gives the restaurant more visibility located on the corner.  Plus, he was able to add a liquor license.
But it was the original 8th Ave location that things really began to take off.
As the business grew, word got out to a new and upcoming cable TV show that highlighted unique restaurants around the country.  Producers of Diners, Drive-Ins, and Dives reached out to Brian and made their way to Belmar NJ to feature 10th Ave Burrito on their national platform.
How did they contact you?
"It was 11 years ago this summer, that they reached out to me.  I thought it was a buddy pranking me.  Apparently, they received tons of emails about the restaurant."
Take us through the filming process
"The first day of filing it's just me and the crew.  The film me preparing the food.  Then the next day Guy Fieri comes out and they film the finished product.  A lot of great editing."
How was Guy Fieri?  Is he as nice of a person as he seems?
"Guy couldn't have been any more hospital and nice to me and everyone.  The show didn't have the big exposure yet but it was big, and he was about to become a break-out star."  Belmar is a one-horse town, the number of people who heard about it and showed up was remarkable.  He was so gracious and signed every autograph and took pictures. Just super humble and gracious.  Remember this was in the heat of the summer, he could have decided not to."
Brian also said the infamous red Camaro convertible was there too.
How about any advice from one chef to another?
Brian said Guy did not offer any cooking advice but invaluable advice that was life-changing. He offered 2 things
"He said, as soon as this "airs" you're going to get busy.  You can take it as a quick hit or invest in it. "Invest money into the business now.  If you need anything to invest in it now, new equipment or new furniture do it now, before it gets crazy busy, once the show airs its gonna get crazy busy and the first impression is everything.  If everything is up to par and they're happy, they're gonna come back and come back again."
Guy, was spot on.  Brian says after the show things got crazy…
"Things took off after the show like I never dreamed would happen"
Guy's second piece of advice was more personal...
"Guy told me to work on my business and not in my business.  I had been cooking up to that point and Guy was like trust your guys, let them cook get out on the floor and be a host and be the eyes and ears outside of the kitchen."
Boy was he right.  Brian gives credit for his success to his staff.
"I have a great staff.  We've had our ups and downs but I truly believe I have the best staff in any restaurant. These guys and girls make it happen.  They are very loyal.  They've been with me for 12 years."
As things took off after the show, 10th Ave Burrito outgrew the original 8th Ave location.  In 2012, they were able to move to that third location.  In addition to the liquor license, the new spot also afforded them a patio and outside bar.
The new footprint served them very well during covid.  "It was a lifesaver".
I can attest to the current location is a plus.  It also lends the opportunity for setting up a stage and showcasing live music.
Something I recently attended.  Thanks, Brian!
So Many Amazing New Jersey Restaurant Were Featured on Diners, Drive-Ins and Dives