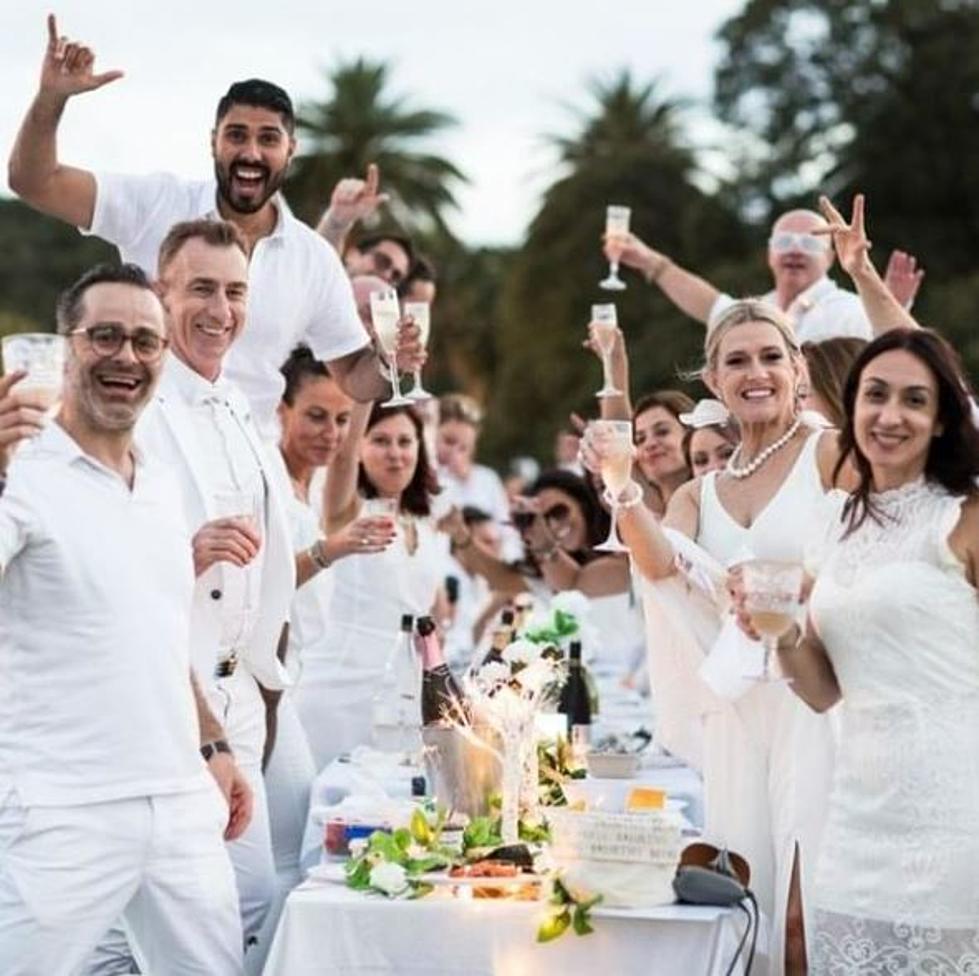 Attend Exclusive All-White Posh Picnic With Gourmet Food In Atlantic City, NJ
Diner Le Blanc's Instagram
How would you like to attend an event so exclusive that the location hasn't even been revealed to the public yet?
I hope you have white in your wardrobe because you will need it.
Thanks to NJ.com, I stumbled upon an elegant event coming to New Jersey for the very first time!
It is called Le Dîner en Blanc.
The premise is simple: attend an elegant dinner in white to meet new people.
But obviously, there is way more to it than that.
The event's website can describe it better than I can:
"Thousands of people, dressed all in white, and conducting themselves with the greatest decorum, elegance, and etiquette, all meet for a mass 'chic picnic' in a public space."

 

"Guests are brought together from diverse backgrounds....and engage one another, knowing that they are taking part in a truly magical event. There are no disruptions: no car traffic, no pedestrian traffic—only amazed and astonished looks from passersby observing the scene before them."
You will basically be attending a posh picnic dressed in all white and encouraged to interact with the people sitting near you...whether you know them or not.
But I will say, this event has some pretty strict rules to follow if you want to attend. (More on this in a second...)
These get togethers are hosted all over the world -- you can see photos taken during Le Diner en Blanc events in Paris and Seattle below!
Well great news: this upcoming June, Le Diner en Blanc will be hosted in Atlantic City!
But here's the catch -- no one knows where in Atlantic City this event will be held until right before the big dinner in white is set to happen.
THAT is how exclusive it is.
Plus, getting an invite itself is tricky.
There are three phases of registration:
Phase 1: Members from the previous year and friends of the organization and leaders
Phase 2: Friends "sponsored" by Phase 1 members
Phase 3: People who signed up to the waiting list
I have already signed up for this year's waiting list and if you want to follow suit, CLICK HERE.
Now for the rules:
This event will be held rain or shine.
Tickets to the event are not refundable or transferable.
You must be dressed to the nine and in all white. NOT off-white, ivory or eggshell. Yes, this is actually listed on the event's website.
You must bring your own table, chairs and picnic basket. The table must be a square, folding-table ranging between 27 to 32 inches long with two white chairs. The table must be small because thousands usually attend and space is limited.
You must also bring a picnic basket filled with a gourmet meal for two.
If you don't want to prepare your own meal, there are catered meal packages available for purchase. These meals must be ordered at least three weeks before the event. Alcohol purchases can be done 2 to 3 days before the event through the event's wine supplier.
And speaking of alcohol.....Drink responsibly! You are only allowed to bring champagne or wine. Hard liquor, beer or other forms of alcohol are not allowed. (Fine with me...bubbly it is...)
No one is to enter or exit the event alone. You arrive with your Volunteer Leader and follow their instructions.
What is a Volunteer Leader?
According to Dinerenblanc.com, these leaders are the "face of the event." Their, "primary task is to help answer [their] guest's questions before the event, to lead them in during the event, to interact with at least 30 guests and overall, just help to ensure that the event runs smoothly."
The website all promises: "It's not all work and you do get to enjoy the night just like everyone else."
Clean up and take all of your garbage with you after the event.
It is a lot to keep in mind but these rules exist for a reason. The goal is to have thousands dine side by side and I am so here for it.
So what are you going to wear!?!?
If anyone has any strings to pull to get an invite, can you let me know?
Also, if you could email me at Nicole.Murray@townsquaremedia.com if I missed anything on this event that people need to know.
This is the perfect event to keep this in mind: Pinky out!
While we wait for more details on Atlantic City's Le Diner en Blanc, check out another Jersey Shore attraction that few know about.
Well...at least until know they do....
Everything Bell Works In Holmdel Has To Offer
I did not even know this existed and they have EVERYTHING! Italian, Mexican, coffee, a bar, plastic surgeon, dentist, clothing stores, a library and even an escape room!
The Top Brunch Joints At The Jersey Shore!
They may not have bottomless...but their food is top notc