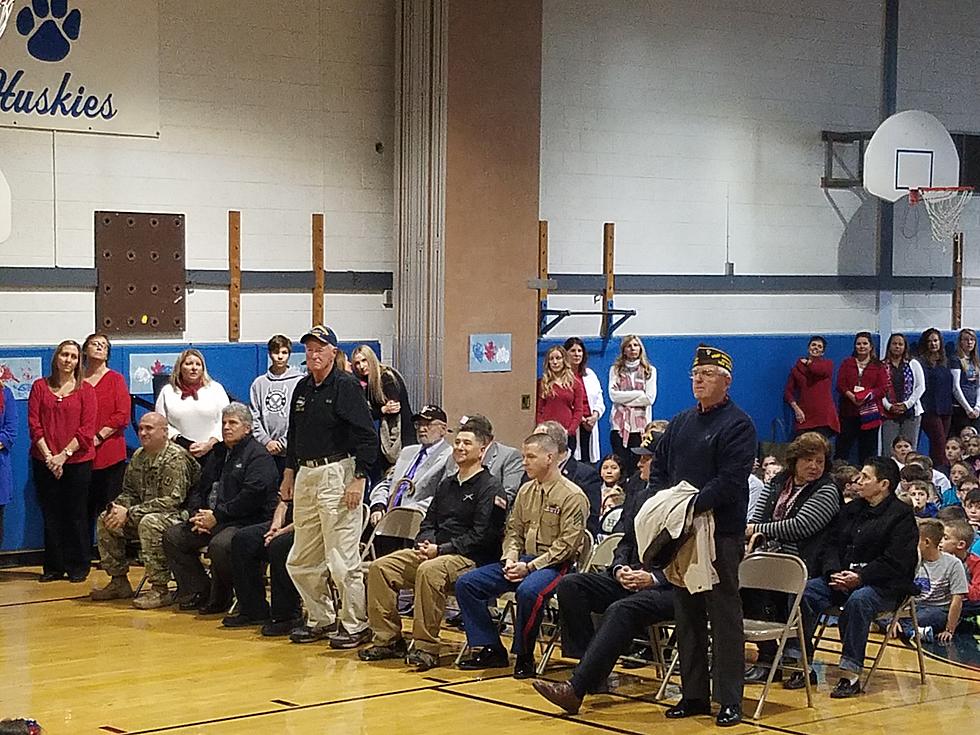 Jersey Shore Senators introduce series of bills to expand services to military personnel and veterans
Hooper Avenue Elementary Students perform a thank you ceremony for military veterans. (Vin Ebenau, Townsquare Media)
In an effort to expand services and provide additional resources for military personnel and veterans, two New Jersey State Senators have teamed up to introduce a package of bi-partisan bills.
One of the bills being rolled out by Cape May and Atlantic County Senator Mike Testa (R-1) and Monmouth County Senator Vin Gopal, S-3574, applies to housing.
The Senators said this legislation would supplement New Jersey's First-Time Homebuyer Mortgage Program and the Down Payment Assistance Program by "providing additional home ownership assistance for certain military service members."
It would instruct and allow the New Jersey Housing and Mortgage Finance Agency to "award an additional $5,000 to eligible service members or surviving spouses for down payment and closing cost assistance on primary residences."
In order to qualify for this program, military service members and veterans have to have served in active duty following 9/11 or during Operation Desert Shield/Desert Storm of the Persian Gulf Conflict and were discharged under honorable conditions.
Another bill in this package would help veterans start up their own business.
Under S-3571, the Economic Development Authority would have to "establish a dedicated program and grant funding to help approved veterans purchase a franchise."
Senators Gopal and Testa said that under bill, S-3569, "military heroes who earned a Medal of Honor or Purple Heart are venerated. Public institutions of higher education would be required to waive tuition and fees for these dignified medal recipients who are seeking to attend undergraduate classes."
Here are the other three bills in the package:
S-3573 – Increases the annual payment made by the State to a veteran with certain specified service-connected injuries and the surviving spouse of that veteran from $750 to $3,000 annually.
S-3575 – Establishes the New Jersey Military Family Relief Fund, providing for a designation on the State gross income tax return to permit taxpayers to make voluntary contributions to a fund supporting military families.
S-3576 – Establishes the New Jersey Veteran Grant Program in Higher Education Student Assistance Authority to assist veterans in achieving their higher education goals.
"The legislation in this bundle will provide assistance to New Jersey veterans in a myriad of categories, including educational opportunities, incentives for buying homes and settling in our state, and help with purchasing and starting  a business," Senator Testa said in a statement. "These benefits are hard-earned and well-deserved for those who put their lives on the line to serve the United States. The goal is to help make New Jersey the best place to live for veterans, and to thank them for their commitment and sacrifices. As New Jerseyans, we live in a great state with so much to offer, and we are residents of the greatest nation on the globe. We owe all of it and more to the brave men and women who put their lives on hold and volunteer in our Armed Forces. These bipartisan bills acknowledge our appreciation of the special individuals who answer the call to serve."
"This bipartisan bill package is meant to do what is right for the heroes that have served our country," Senator Gopal said in a statement. "Our veterans deserve to have opportunities available to them whether that be for furthering their education, investing in property in our state, or working towards starting up their own business. We thank the men, women and families of those served for the sacrifices they have endured to keep us all safe, and these pieces of legislation will help veterans achieve their goals."
You can follow Vin Ebenau on Twitter and Instagram and email news tips to vin.ebenau@townsquaremedia.com.
12 Times Being High Cost NJ Residents & Towns
Ten times drunk driving changed New Jersey Lives Forever
10 Ocean, Monmouth School Districts losing multi-millions from S2 School Funding Formula
Have You Seen Them? Ocean County's Most Wanted
Have You Seen Them? Monmouth County's Most Wanted
Strange NJ Laws You've Never Heard Of
Marijuana legal in NJ: How do the laws work?
Answers to common questions about legalized recreational marijuana in New Jersey and rules about underage use of weed.
NEXT: INSIDE JOE PESCI'S HILARIOUSLY OVER-THE-TOP LAVALLETTE MANSION
LOOK: GO INSIDE JON BON JOVI'S $20 MILLION MIDDLETOWN MANSION
Go Inside Mike 'The Situation's' NJ Mansion
TAKE A TOUR OF JON BON JOVI'S NEW $43 MILLION PALM BEACH MANSION
Jersey Shore Nor'easter 2021 Listener Pictures
LOOK INSIDE: The Most Expensive House in Rumson
This is the most expensive house for sale in Rumson, NJ in 2021
Peek Inside Snooki's New Toms River Waterfront Home
LOOK: See the iconic cars that debuted the year you were born
NEXT: The 100 Best Places to Live on the East Coast
KEEP READING: Here are the best places to retire in America