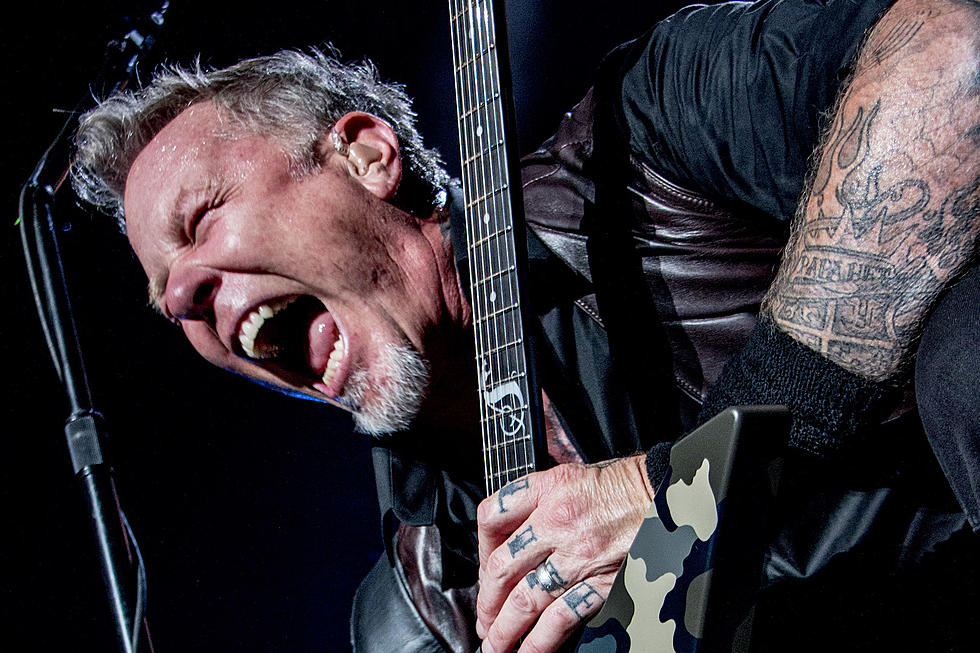 Watch James Hetfield Totally Rock Out to Slayer While Driving
Jeff Yeager/Metallica/Getty Images
The open road, blue skies and Slayer — the only thing that could make that better is watching a certain metal icon's exuberance while listening to the metal gods while driving down the highway. Thankfully, James Hetfield has obliged.
There's a certain joy derived from seeing that Papa Het still loves his metal after all these years, doing what so many of us have done and putting the pedal to the metal while rocking out to Slayer. As he drums away on the steering wheel and flashes the metal horns, Hetfield's latest Instagram video simply states, "SLAYING makes me smile!"
This isn't the first times we've caught a bit of Hetfield's driving soundtrack, as the musician also posted footage earlier this year of himself hitting the open road with a bit of Motorhead cranked. Metallica have shown their love for Lemmy and their fellow musical peers, even playing as a Motorhead cover band for Lemmy's 50th birthday years ago.
The choice of Slayer's "Angel of Death" for his driving soundtrack is a nice nod to his metal brothers, who are currently on their farewell tour. The two bands famously made up half of "The Big 4," and many have wondered if there might be more "Big 4" shows before Slayer calls it a career. If noting else, we at least know that Hetfield has them on his mind as he rocks down the highway.
Slayer's final world tour is currently making its way through Europe, hitting the Resurrection Fest in Spain on July 4. See all their dates here. Meanwhile, Metallica are also making their way through Europe, but will return stateside this fall. Get ticketing information here.