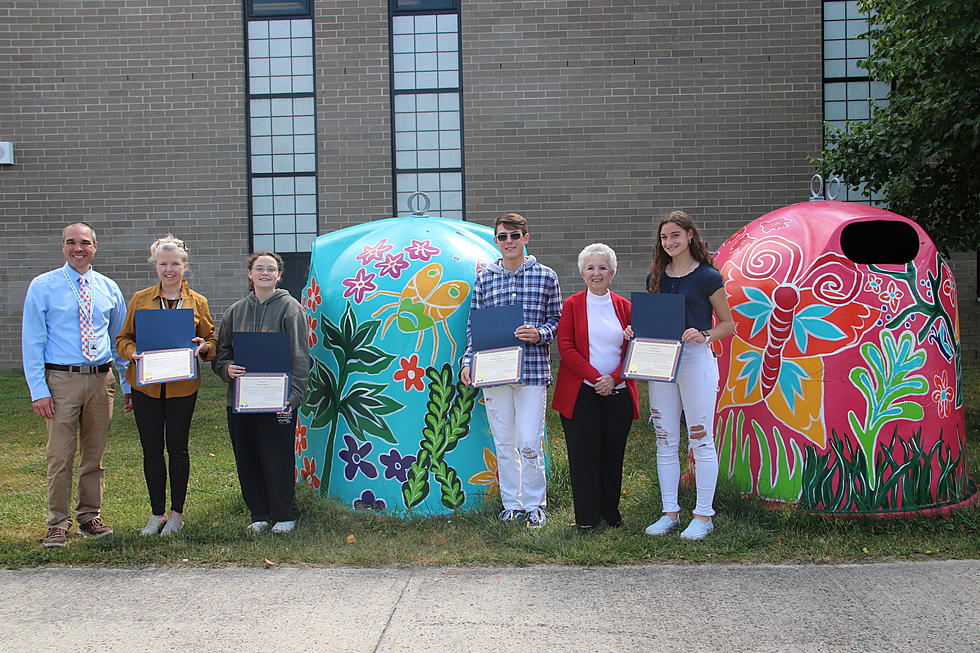 Talented Brick Memorial High School art students create new recycling image in Ocean County, NJ
(Photo Courtesy: Ocean County Government)
🔵 Brick Memorial High School art students complete amazing project
🔵 The students painted and created designs on recycling containers
🔵 The newly looked recycling containers will have two locations in Brick Township
---
Wow!
There is a group of amazingly talented Brick Memorial High School art students who are sharing their gifts with the community and changing the face of recycling in Ocean County.
The amazing display of talent and creativity was announced by the Ocean County Commissioners on Thursday as these students turned an ordinary recycling igloo into a masterpiece.
Judy Harzer, who is the BMHS Mural and Arts Club Advisor, helped facilitate the direction of the art with blues, pinks, and purples as the prime colors with the igloo's touched with flowers, birds, butterflies, and other nature imagery.
They put the name of their school on there too.
"The talent that is on display here is just remarkable," Ocean County Commissioner Barbara Jo Crea said in a written statement. "I want to extend the appreciation of the entire Ocean County Board of Commissioners to the students in the art club at Brick Memorial High School for not only their participation in the igloo art project but the effort they put into it resulting in this beautiful art work."
The newly looked igloos will be located at Brick Beach No. 1 and No. 3 at the Edwin Forsythe Refuge and also at Traders Cove Marina.
Harzer and the 13 Brick Memorial High School students were given certificates of recognition from the Ocean County Board of Commissioners for their hard work.
"It is so important that we involve our young residents in the programs and services we provide here at the County," Ocean County Commissioner Director Joe Vicari said in a written statement. "Residents and visitors will certainly be drawn to these colorful containers helping with our recycling efforts. We thank them for their participation in this art project."
The Most Savory Barbecue Spots In New Jersey
The Must Go To Jersey Shore Spots For A Great Burger
The Creme de la Creme of Jersey Shore Ice Cream Shops
The Must Go To Bars At The Jersey Shore
The Best Cheesesteak Spots In New Jersey
Best Seafood Restaurants at the Jersey Shore