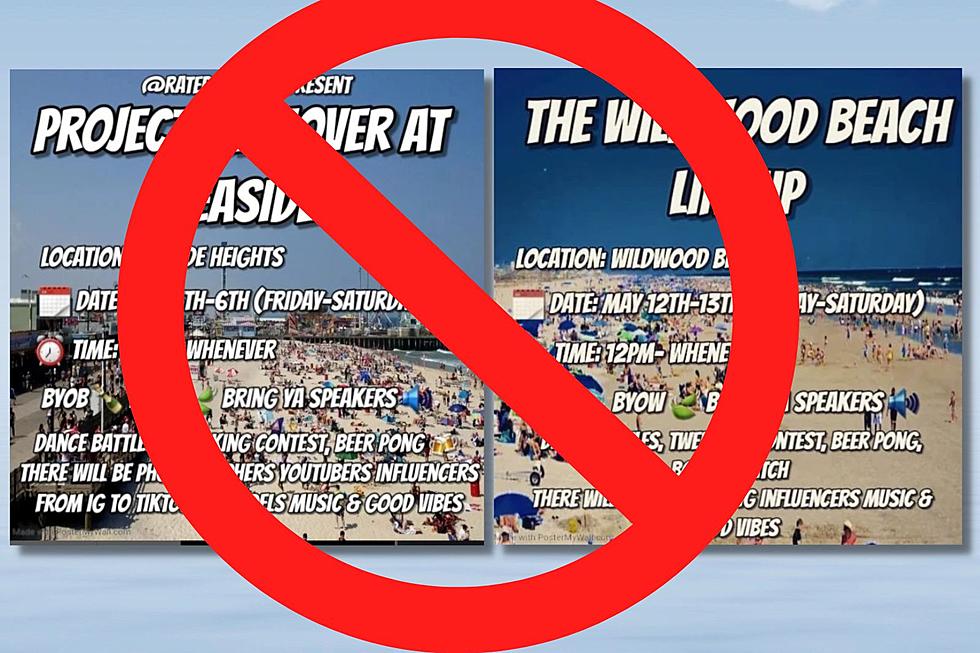 Organizer cancels 'bring your own weed' NJ beach parties after legal threat
Instagram invites to pop up parties in the Wildwoods and Seaside Heights (RatedRParties via Instagram)
🔴 Pop-up parties in the Wildwoods & Seaside Heights were canceled after threats of legal action
🔴 Cape May Country Prosecutor Jeffrey Sutherland is "pleased"
🔴 The party organizer told Instagram followers to stay away
---
Posts on the Instagram account of the promoter of pop-up parties in the Wildwoods and Seaside Heights appear to have heeded the warnings about legal action and removed them from their lineup of events.
Cape May County Jeffrey H. Sutherland on Friday said the towns that make up the Wildwoods — Wildwood, Wildwood Crest and North Wildwood — used legal channels to contact the organizers, RatedRParties and notify them that if the party that was being promoted for May 12 and 13 proceeded, police would stop it. RatedRParties would also face legal action.
The message was apparently received.
On Saturday morning, the Wildwoods party post on RatedRParties Instagram had "canceled" written across the front before being removed. A message said that the organizers had been contacted by the Wildwoods and urged people not to show up.
"Wildwood ain't playing this year, all I'm asking is that ya don't cause chaos like fr anything that happens will be myself and my teams responsibility," Jerseys Virtual Parties wrote on a separate Instagram account.
Sutherland is "pleased" that the event was canceled, spokeswoman Cheryl Spaulding told New Jersey 101.5.
Legal threat cancels Seaside Heights party
A pop-up party planned for Seaside Heights by the same group was also canceled, according to Mayor Tony Vaz. The mayor said the threat of an injunction was enough to get the party canceled. Vaz wants more tools than just an injunction to stop future pop-ups.
"As a mayor of a seashore community with thousands and thousands of people either living here or visiting us, this has got to stop. There's got to be some action taken through legislation or through the criminal justice system to prosecute these people that are starting these events. There's no good reason for this," Vaz told New Jersey 101.5.
The mayor is also concerned about the increasing amount of violence he sees happening around the country.
"I look at what's going on in the country and I see destruction for no reason. Stores are being ransacked. People are being shot. There's gotta be a stop to this. We've got to enact laws that prosecute people that are going to cause harm to innocent people."
Slap on the wrist
Sen. Vin Gopal introduced legislation after a pop-up party in Long Brach in 2022 attracted an estimated crowd of 5,000. His bill would increase penalties for those who are violent, increase fines for anyone who threatens violence on a social media platform, make the organizer (or parents) responsible for the cost of destruction of public property and fund mobile surveillance towers for local police.
The bill awaits action by the Senate Judiciary Committee.
Gopal has also secured several million dollars for Long Branch police, which was the target of many of these parties last summer.
Dan Alexander is a reporter for New Jersey 101.5. You can reach him at dan.alexander@townsquaremedia.com
Click here to contact an editor about feedback or a correction for this story.
ACTION! This historic building in Holmdel, NJ, used to film popular TV special
It's open to the public year-round, even when film crews are in town.
The 30 best rated schools in New Jersey
Here are the top 30 schools statewide, based on their 2021-2022 New Jersey School Performance Reports — involving scores for language arts, math and attendance.
LOOK: 25 must-visit hidden gems from across the US
From secret gardens to underground caves,
Stacker
compiled a list of 25 must-visit hidden gems from across the United States using travel guides, news articles, and company websites.