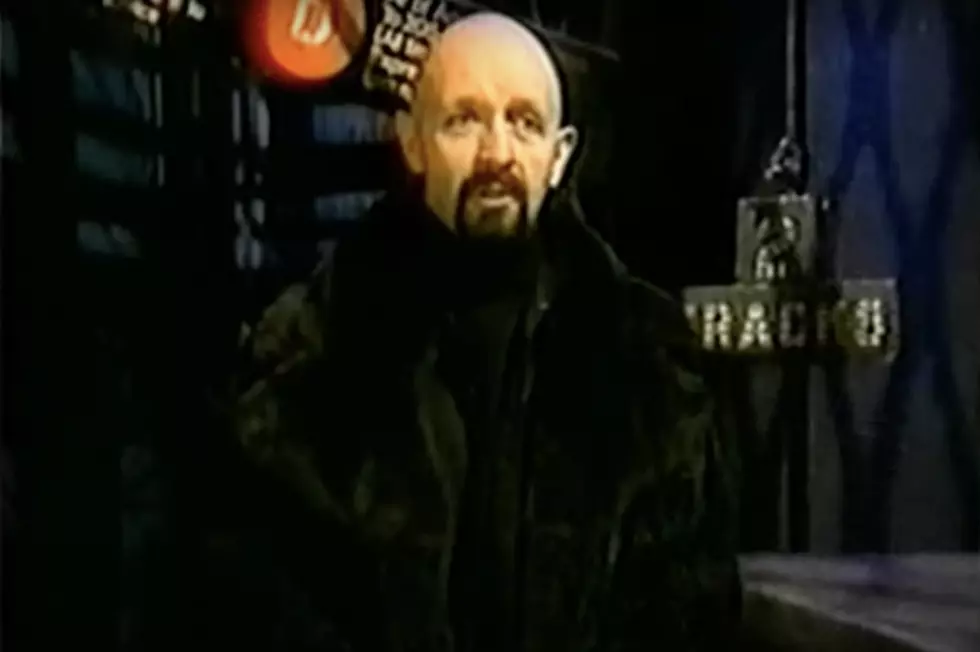 25 Years Ago: Rob Halford Shocks Himself by Coming Out on MTV
YouTube
Nobody expected Rob Halford to come out as gay when he sat down for a fateful MTV interview on Feb. 4, 1998 — least of all the Metal God himself.
Six years removed from Judas Priest, Halford had stopped by the station to promote Voyeurs, the upcoming debut album from 2wo, his new industrial metal project featuring guitarist John 5 (who still went by John Lowery at the time). The singer had ditched his signature studded leather attire for a more goth and glam aesthetic, sporting mascara, painted nails and a black fur coat as he sat down to chat.
The conversation invariably turned toward Halford's sexuality, murmurs of which had persisted for years. "I can't even remember the interviewer's name, but he asked me the kind of question I'd got so used to fielding over the last few years," the singer wrote in his 2020 memoir Confess. "It was all about the rumors and the speculation about my sexuality, and whether I would like to set the record straight, blah blah blah."
While the singer had anticipated these questions, he hadn't planned to respond so candidly.
"I think that most people know that I've been a gay man all of my life," Halford said almost unconsciously, as the studio went silent and the crew listened in disbelief. "It's only been in recent times that it's an issue that I feel comfortable to address. An issue that has been with me ever since recognizing my own sexuality, something that I've been comfortable with forever. Something that I feel has a moment, and this is the moment to discuss it."
Watch Rob Halford Come Out on MTV 
Halford had kept his sexuality a secret for decades, for fear that going public with it would jeopardize Judas Priest's success. But he'd been dropping hints about it in his lyrics for years. He vented his anguish about being in the closet on Sin After Sin's "Raw Deal," an imaginary (perhaps aspirational) song about cruising gay bars on Fire Island ("All eyes hit me as I walked into the bar / The steely leather guys were fooling with the denim dudes / A coupla colts playing rough stuff / New York, Fire Island"). Seven years later, the Defenders of the Faith track "Jawbreaker" left little to the imagination with lyrics like "Deadly as the viper / Peering from its coil / The poison there is coming to the boil."
Still, Halford had always come short of revealing his sexuality, leaving just enough room in his lyrics for plausible deniability. "I was constantly held back. I allowed myself to be intimidated," he told MTV while encouraging Priest fans to do some crate-digging. "If you want to go through your Priest collection, you'll be surprised to see how many innuendos, how many metaphors I used, some obvious and some not so obvious."
Acknowledging that "a lot of homophobia still exists in the music world," Halford insisted that anybody who couldn't accept his sexuality ought to do some critical self-examination. "If we have a problem with it, I think we should seek help and find out why we do have a problem with it," he said. "Because if you have a problem with gay and lesbian people, maybe you have a problem on a racist level, maybe you have a problem on a religious level. I think that every individual should seek out their own humanitarian qualities and just be who they want to be and leave it alone."
Following his bombshell interview, Halford received a deluge of letters from fans who said his coming out gave them hope and helped them reckon with their sexuality. He later did an interview with The Advocate, the groundbreaking LGBTQ+ magazine that had captivated him decades earlier. "Had I considered coming out five years ago, it would have been very difficult," he said. "But right now, I'm experiencing the same emotions that my friends have told me they felt when they came out: this great clarity and this great peace."
Despite this newfound peace in his personal life, Halford still needed to get his career back on track. He folded 2wo shortly after the release of Voyeurs and got back in touch with his classic metal roots on 2000's Resurrection, released under his new eponymous band name, Halford. The album earned rave reviews and laid the groundwork for Halford's triumphant 2003 reunion with Judas Priest.
Judas Priest Lineup Changes: A Complete Guide
A chronicle of the changes Judas Priest has undergone during their reign as one of metal's most influential and enduring bands.