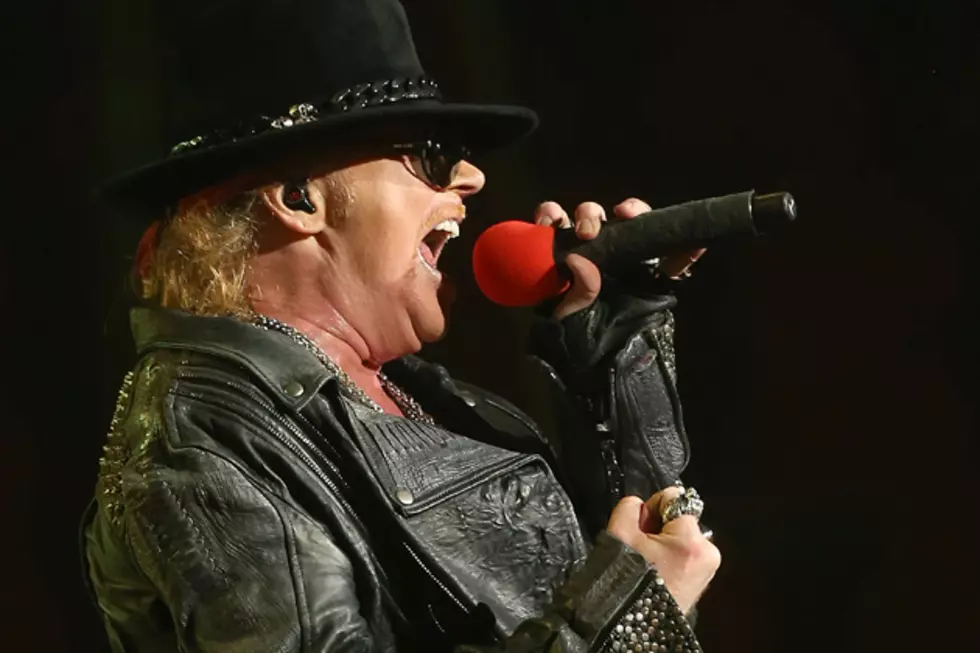 Guns N' Roses Bring the Classics to Brooklyn
Mark Metcalfe, Getty Images
After all, the show was announced with just a few days notice and fans were already gearing up for the band's headlining gig at New York City's Governor's Ball Music Festival on June 8. Even with a big festival show on the horizon, it didn't take long for 600 fans to pack Brooklyn Bowl -- a bar-turned-bowling alley -- for a sold-out rock and roll show.
Opening with 'You're Crazy' from the band's debut album, 'Appetite for Destruction,' Axl Rose and company set the stage for a night full of classic tunes. As guitarist DJ Ashba played the iconic opening to 'Welcome to the Jungle,' the packed house got just a little crazier as fans were jumping up and down and singing along with Axl. Perfect renditions of other tracks like 'Estranged' and 'Sweet Child O' Mine' made for a night packed full of fan favorites.
Throughout the evening, Axl sounded spot-on, doing justice to all Guns N' Roses songs, new and old. It was somewhat surprising he sounded so good because he admitted to the audience that he was suffering from "truckstop revenge," an illness he acquired on the trip from Buffalo, N.Y. to Brooklyn. Every once in awhile he would duck behind stage for what we can only assume were vomit sessions, but he'd be back in no time rocking with his comrades. He was very honest with the crowd, claiming his lack of energy was due to him being sick, but likely there were no fans in the house who thought the performance was anything but on-point.
While there will always be critics out there who claim the current line-up is not the "real" Guns N' Roses, Axl has surrounded himself with highly talented musicians, all of whom have killer stage presences and an obvious admiration for their fearless leader. It's also apparent that Axl is quite pleased with the band he's assembled. He never hesitated to let the musicians have the spotlight, whether it was a guitar solo or a full-blown jam session; he even gave a slot on the set list to bassist Tommy Stinson, who sang a fun, punk-fueled tune called 'Motivation.'
With one of the most recognizable voices in the history of rock and roll, Axl and his crew of A-list musicians put on a fun, intimate show in Brooklyn at a unique venue (did we mention it's a freaking bowling alley?). Check out the set list below to reconstruct the experience!
Guns N' Roses Set List – Brooklyn Bowl, Brooklyn, N.Y. – June 6, 2013
'You're Crazy'
'Welcome to the Jungle'
'It's So Easy'
'Mr. Brownstone'
'Civil War'
'Better'
'Estranged'
'Used to Love Her'
'Rocket Queen'
Jam Session (Richard Fortus Solo)
'Live and Let Die'
'This I Love'
'Motivation' (Bassist Tommy Stinson on lead vocals)
'Sweet Child O' Mine'
'Mi Amor' (DJ Ashba Jam Session)
'Knockin' on Heaven's Door'
'Nightrain'
'The Seeker'
Jam Session
'Paradise City'