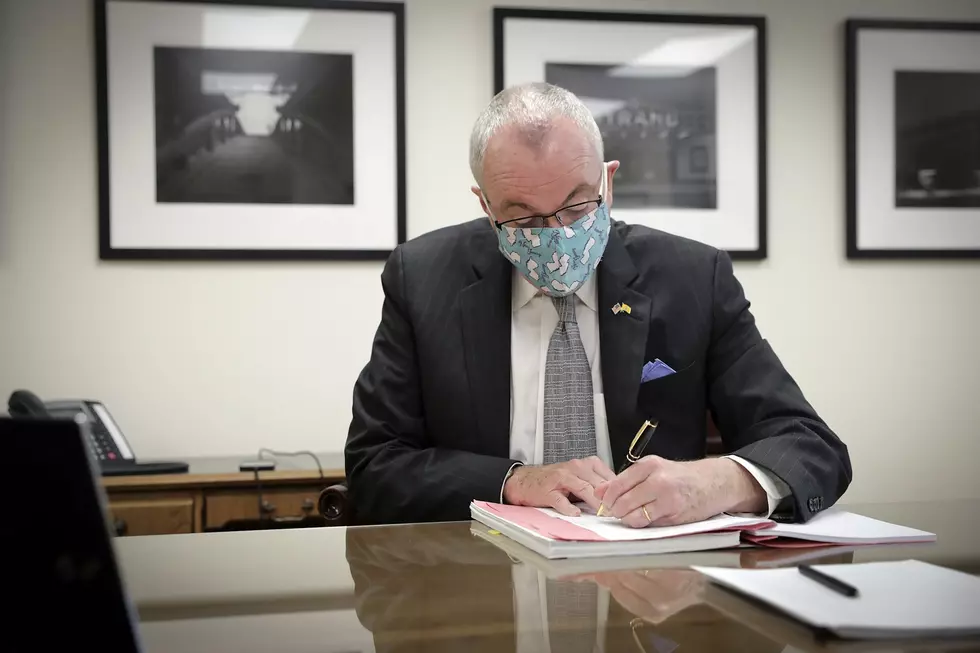 Governor Murphy reverses course, now supports letting parents know about child's first marijuana/alcohol offense
Gov. Phil Murphy signs legislation (Edwin J. Torres/New Jersey Governor's Office via AP)
There has been a lot of pushback by parents, police and a share of legislators and lawmakers against certain portions of the new Marijuana law signed by Governor Phil Murphy last month and it appears, at least one portion of the new law, could be reversed after all.
Two weeks ago, Assemblyman Jon Bramnick (R) who is also the Assembly Minority Leader introduced legislation urging Governor Murphy to repeal the part of the Marijuana law that prohibits communication between police and parents on a juveniles first marijuana or alcohol offense.
"Handcuffing law enforcement from notifying parents if they find a child using drugs or alcohol is irresponsible and dangerous," Bramnick (R-Union) said in a statement. "Parents should know if their children break the law. Leaving parents out of the equation has nothing to do with social justice."
On Monday, Governor Murphy said he now supports Bramnick's legislation to let parents know if their son or daughter gets into trouble for underage drinking and smoking of marijuana, as reported by News 12 New Jersey.
"I personally think that's a step in the right direction. We will see where that goes…As a conceptional matter, I'll put it that way, I support that direction," Murphy said.
However, it won't be right away, Murphy indicated that the bill introduced by Bramnick would have to go through the legislature and then to his desk.
Assemblyman Bramnick is happy Murphy supports the measure, but doesn't understand why this provision was in the law in the first place.
Monmouth County State Senator Declan O'Scanlon, who was one of the legislators pushing back on Murphy's signing of the Marijuana law, supports the decision to remove the parental restriction but explains that the Governor and legislature also need to take out the other glaring restriction.
Senator O'Scanlon and Morris County State Senator Tony Bucco teamed up last week on a bill that would decriminalize police officers under this new Marijuana law.
The way things currently stand is that police can face 3rd degree criminal charges for depravation of civil rights if they initiate that type of investigation or detain a minor on that offense, under the new guidelines.
Senator O'Scanlon and Bucco's legislation would restore liability protections for police during a marijuana-related interaction with anyone under 18-years old and another piece of legislation to repeal a new law prohibiting law enforcement from notifying parents if their child is caught possessing alcohol or marijuana.
"The new marijuana law that was recently passed is one of the most unworkable and counter-productive pieces of legislation that I have ever seen," O'Scanlon said in a statement. "It is unworkable in its current form, a threat to the public safety, and exposes law enforcement to frivolous criminal liability. The police are going to be punished for doing their jobs. This is an attack on law enforcement that places the police in a position if they make even the slightest mistake when dealing with under-age possession charges that they are a third degree felon."
Both Senators say they want to overturn the anti-police component of New Jersey's marijuana legalization and repeal an aspect that robs parents of some of their influence.
For now, they feel it's one step forward allowing parents to be notified when their child is in trouble for marijuana or alcohol use.
"Police shouldn't be prohibited from telling parents that their child was caught engaging in illegal or dangerous activity with drugs or alcohol," Bucco (R-25) said in a Monday statement. "Thankfully, it appears that both Republicans and Democrats in both houses of the Legislature want to fix this outrageous provision of our law. Governor Murphy apparently is supportive of this fix as well. Given that broad support, there's no reason to delay action on moving this important legislation forward."
Dan Alexander contributed to this report.
You can follow Vin Ebenau on Twitter and Instagram and email news tips to vin.ebenau@townsquaremedia.com.
Have You Seen Them? Ocean County's Most Wanted
Have You Seen Them? Monmouth County's Most Wanted
Marijuana legal in NJ: How do the laws work?
Answers to common questions about legalized recreational marijuana in New Jersey and rules about underage use of weed.
NEXT: INSIDE JOE PESCI'S HILARIOUSLY OVER-THE-TOP LAVALLETTE MANSION
LOOK: GO INSIDE JON BON JOVI'S $20 MILLION MIDDLETOWN MANSION
Go Inside Mike 'The Situation's' NJ Mansion
TAKE A TOUR OF JON BON JOVI'S NEW $43 MILLION PALM BEACH MANSION
Jersey Shore Nor'easter 2021 Listener Pictures
9 REASONS NOT TO LIVE AT THE JERSEY SHORE
Peek Inside Snooki's New Toms River Waterfront Home
LOOK: See the iconic cars that debuted the year you were born
NEXT: The 100 Best Places to Live on the East Coast
KEEP READING: Here are the best places to retire in America