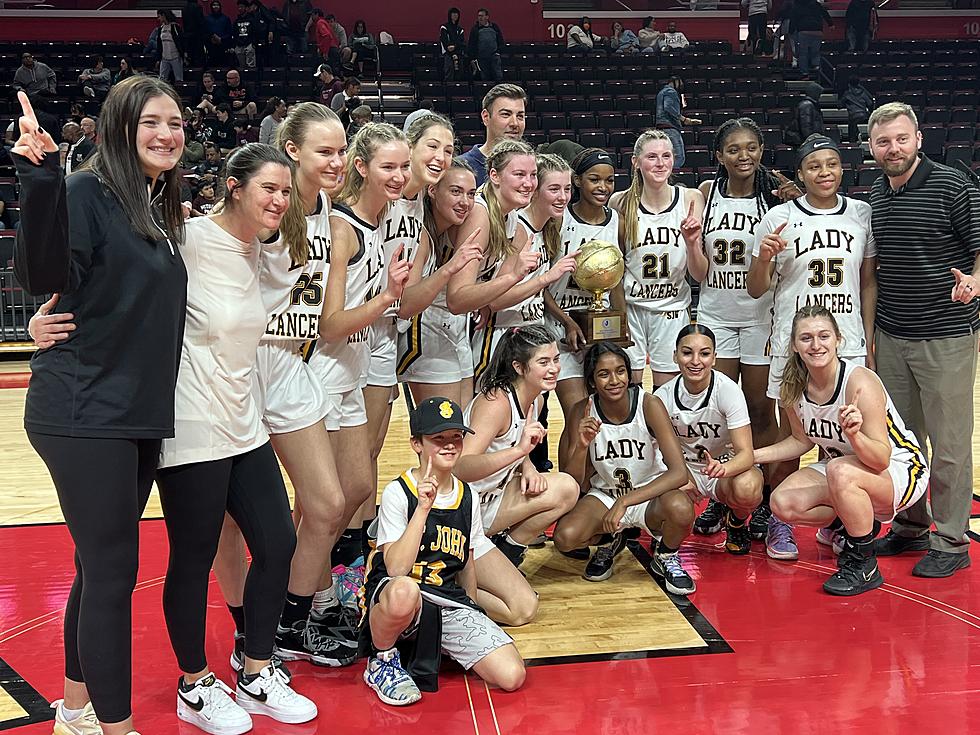 Girls Basketball – The Best Ever: St. John Vianney Completes Historically Dominant Season With Tournament of Champions Crown
St. John Vianney celebrates winning the 2022 Tournament of Champions. (Photo by Matt Manley)
PISCATAWAY -- Dawn Karpell has as much authority and credibility as anyone when it comes to St. John Vianney girls basketball. Not only did she just complete her 16th season as the head coach of the program, but she also starred for the Lancers in the middle of one of the greatest runs in the history of high school girls basketball in New Jersey.
She has seen, played on, and coached most of the best Lancers teams of the last three decades, so she knows exactly where her 2021-22 team ranks among all the No. 1 teams in New Jersey that St. John Vianney has produced.
She just didn't want to say it until the season was over.
On Sunday, St. John Vianney finished off its most dominant season ever with a 72-52 win over Rutgers Prep, clinching the program's record eight straight NJSIAA Tournament of Champions title and first since 2016.
"Based on numbers and everything, this is the most dominant team we have ever had in SJV's history," Karpell said. "I have talked to former coaches and coaches that coached us and against us in the 90's and they have pretty much all said this is the best Vianney team they have ever seen.
"Not just to win the championship, but to win it in the fashion they won it and the dominant way they carried themselves throughout the regular season and the state tournament – I have never had a group that has ever been this focused, night in and night out, to do what they do."
Senior Madison St. Rose capped her brilliant high school career with 21 points, five assists and five steals to lead the way for St. John Vianney, which started the game on an 8-0 run and, as was often the case this season, never trailed.
"This run has been absolutely fantastic," St. Rose said. "Since my freshman year, I have just learned an grown and I think that goes for all the seniors. Our leadership really helped guide our team to be the group of girls we are today."
Junior Zoe Brooks pitched in 14 points, junior Janie Bachmann put up nine points, five rebounds and two blocks and sophomore Julia Karpell came off the bench to produce 11 points in nine minutes on 4-for-4 shooting.
"We have Division I players up and down our roster," Karpell said. "We will probably have 10 at the end of the day. For kids like that to be considered role players and to sacrifice throughout the season for the greater good – in these times, that's not normal. Most people are so social-media hungry, that it's just not going to happen."
St. John Vianney led by as many as 15 points in the first half before the Argonauts sliced their deficit to 34-30 late in the second quarter. St. John Vianney led 40-34 early in the third quarter and methodically built the lead back up to 56-41 by the end of the third, which ended with a putback at the buzzer by senior Ashley O'Connor.
"Our third quarter is always great and I think it's just because we have a chance to communicate in the locker room and talk about the things we need to work on," O'Connor said.
The lead ballooned to 20 for the first time during the fourth quarter and grew as high as 23 -- one final rout for the Lancers in a season full of them -- particularly against New Jersey competition. St. John Vianney has now defeated 64 straight opponents from within the state and this season, no team from New Jersey came within 16 points of the Lancers and only two (Manasquan and Paul VI) lost to Vianney by fewer than 20 points.
One of those lopsided wins during the regular season came against Rutgers Prep, which St. John Vianney handled, 87-48. Despite Rutgers Prep playing its best basketball heading in and relishing the chance to face the Lancers again, Karpell was confident the result would be similar.
"At the end of the day, we were just that much better," Karpell said. "If we just did what we needed to do, it we rebounded and played defense, we would win. We are grounded in defense and as long as we did that, we would be able to take care of the offensive end."
"We played them early in the season and we knew we had to wipe that out of our minds because they have a great group of senior girls as well," O'Connor said. "They want to compete and win just as badly as we do. We had to stay focused throughout practice this week and carry it into the game."
While it has been six years since St. John Vianney won the Tournament of Champions, this is the third straight year in which the Lancers will finish No. 1 in New Jersey. With no Tournament of Champions in either season, however, the Lancers did not get a chance to cement their status as No. 1 as seven teams in the program's history have been able to do.
"Those COVID years really did hurt us," St. Rose said. "All we could think is 'What if we had a full season? What is we had an opportunity to play in a TOC last year or the year before?' We'll never get those answers and there is always going to be a little bit of emptiness that we could have achieved more and after the two COVID years, we came out and said, 'Okay, we got our season taken away but we're not going to let anyone end our season this year.'"
With one last chance for the senior leaders -- St. Rose, O'Connor and starting center Megan Cahalan (four points on Sunday) -- to add to St. John Vianney's record number of Tournament of Champions trophies, this year's Lancers team showed no letup in chasing down its final goal and in the process, became one of the state's more memorable teams.
With St. John Vianney's extensive program history, the best Lancers team inherently has as case to go down as the greatest team the state has ever seen as well. St. Rose has been the engine powering the SJV train since she arrived as a freshman and particularly since her sophomore season, when she led the Lancers to a Shore Conference Tournament championship and the No. 1 ranking in the state before the season was shutdown during the second week of March.
"When they were sophomores, they got cut short," Karpell said. "I feel bad for (2021 graduates) Katie Hill and Emma Bruen for missing out on this last year, because we had a great team last year. Zoe Brooks joined the ranks this year, but when this group was sophomores and freshmen, I knew the talent we had and what was possible.
"Then COVID hit, but I think it uniquely brought them together because we had to go to the bubble. They became so connected that nobody was going to get in the way this year. When we were shut down, they were all playing with just each other and I think that really gave them a chance to build something together."
St. Rose was named the 2022 Gatorade Player of the Year, finished with more than 1,700 points and will head to Princeton University next season as the top player on the Shore Conference's most dominant team of all time.
"Maddy is just a special player," Karpell said. "She has a gift. It's just an innate ability of timeliness and skill and character that just makes her the total package. For her to have that last, shining moment by playing a great game, did you ever doubt it? Maddy showed up and that's her career. We knew she was going to be there, that's just her."
"I never really thought about (legacy). I just played basketball. I just really enjoy playing the sport and playing on a team. I was just trying to leave the best legacy I could. I want little kids to be able to look up to me and think, '"I want to be like her.'"
Losing a chance to win two Tournament of Champions titles in each of past two years to the COVID-19 will always be a missed chance for St. John Vianney, which despite its success in the T of C, has never won consecutive championships. The Lancers, though, can take comfort in knowing that, unless the NJSIAA changes its mind in the years to come, St. John Vianney will be the last team to ever win the Tournament of Champions and its eight titles will stand as the most ever by a girls team in the 33-year history of the T of C -- which will be discontinued beyond this season.
"I watched the first Vianney TOC team as a middle-schooler and we have a poem that talks about that," Karpell said. "You set an example for small girls watching and they grow up wanting to wear the uniform and to come to fruition and see it through is so special. To go out this way and dominate it the way we did, it shows how dominant of a program we have been for the last 30 years."