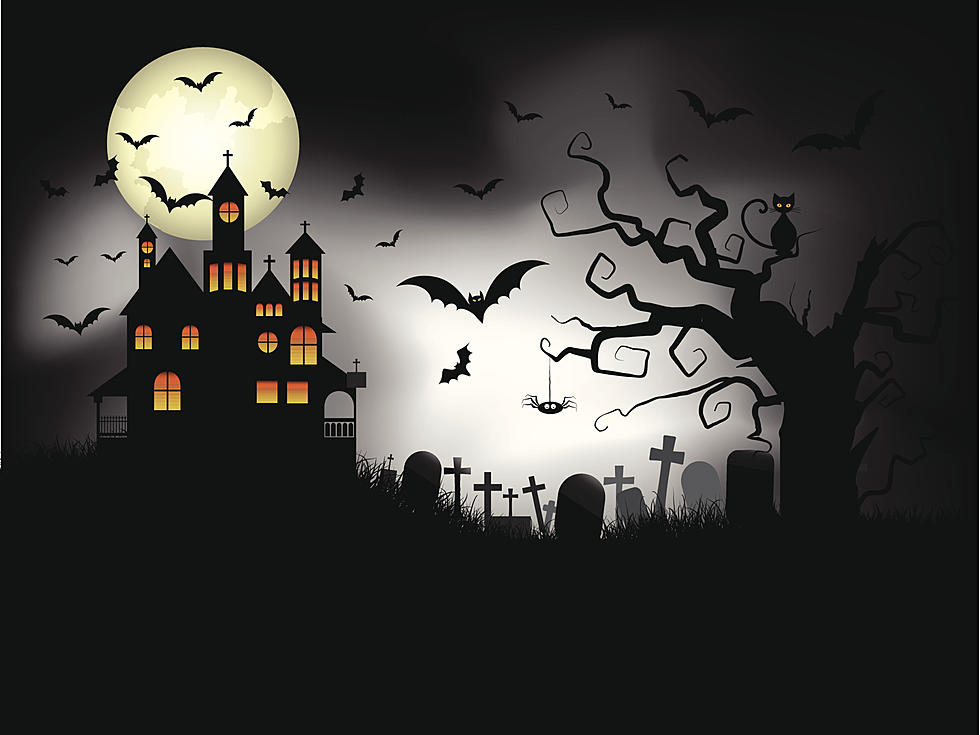 FreeForm TV Kicks Off "31 Days of Halloween" Tonight
Kirsty Pargeter/ThinkStock
FreeForm TV is celebrating Halloween nice and early, and all month long starting tonight with their "31 Days of Halloween".
Every night FreeForm TV will feature a classic Halloween movie. Some movies are family-friendly. Some are scarier than others.
Tonight, FreeForm TV gets things started with the 1993 film "Hocus Pocus".
Throughout the month FreeForm will be showing "Scream", "Beetlejuice", "Ghostbusters", and so much more.  Check out the complete schedule
Thursday, Oct. 1
3p/2c -  Tim Burton's Corpse Bride
5p/4c - Casper (1995)
7p/6c - Hotel Transylvania
9p/8c - Hocus Pocus
Friday, Oct. 2
11a/10c - The Goonies
1:30p/12:30c - Tim Burton's Corpse Bride
3:05p/2:05c - Casper (1995)
5:10p/4:10c - Hotel Transylvania
7:15p/6:15c - Tim Burton's The Nightmare Before Christmas
8:55p/7:55c - Beetlejuice
12-2a / 11-1c - The Simpsons: Treehouse of Horro-thon
Saturday, Oct. 3
7a/6c - Monsters vs Aliens: Mutant Pumpkins
7:30a/6:30c - The Goonies
10a/9c - Ghostbusters (1984)
12:30p/11:30c - Ghostbusters II
3:05p/2:05c - Beetlejuice
5:10p/4:10c - Hocus Pocus
7:20p/6:20c - The Addams Family (1991)
9:25p/8:25c - Addams Family Values
11:30p/10:30c - The Craft
Sunday, Oct. 4
7a/6c - Ghostbusters (1984)
9:30a/8:30c - Ghostbusters II
12p/11c - Willy Wonka & the Chocolate Factory
2:05p/1:05c - Decorating Disney: Halloween Magic
3:05p/2:05c - Casper (1995)
5:10p/4:10c - The Addams Family (1991)
7:15p/6:15c - Addams Family Values
9:20p/8:20c - Hocus Pocus
11:30p/10:30c - Sleepy Hollow (1999)
Monday, Oct. 5
11:30a/10:30c - Casper (1995)
1:30p/12:30c - Sleepy Hollow (1999)
4p/3c - Ghostbusters (1984)
6:30p/5:30c - Ghostbusters II
9p/8c - Beetlejuice
12a/11c - Boxtrolls
Tuesday, Oct. 6
11a/10c - Charlie and the Chocolate Factory
1:30p/12:30c - Ghostbusters (1984)
4p/3c - Ghostbusters II
6:30p/5:30c - Beetlejuice
8:30p/7:30c - Hotel Transylvania
12a/11c - Tim Burton's Corpse Bride
Wednesday, Oct. 7
11a/10c - Decorating Disney: Halloween Magic
12p/11c -  Tim Burton's Corpse Bride
2p/1c - Matilda
4p/3c - Hotel Transylvania
6p-11p / 5-10c - The Simpsons: Treehouse of Horro-thon
12a/11c -  Jumanji (1995)
Thursday, Oct. 8
12p/11c - Matilda
2p/1c - Jumanji (1995)
4:30p/3:30c - Goosebumps (2015)
7p/6c - The Addams Family (1991)
9p/8c - Addams Family Values
12a/11c - Warm Bodies
Friday, Oct. 9
11:30a/10:30c - The Mummy (1999)
2:20p/1:20c - Goosebumps (2015)
4:45p/3:45c - The Addams Family (1991)
6:50p/5:50c - Addams Family Values
8:55p/7:55c - Hocus Pocus
12-2a / 11-1c - The Simpsons: Treehouse of Horror-thon
Saturday, Oct. 10
7a/6c - The Mummy (1999)
10a/9c - The Mummy Returns
1:05-3:35p / 12:05-2:35c - The Simpsons: Treehouse of Horror-thon
3:35p/2:35c - Casper (1995)
5:40p/4:40c - Hotel Transylvania
7:45p/6:45c - Freeform Premiere Hotel Transylvania 2
9:50p/8:50c - Freeform Premiere Hotel Transylvania 3: Summer Vacation
12a/11c - Tim Burton's Corpse Bride
Sunday, Oct. 11
7a/6c - The Mummy Returns
10:05a/9:05c - Casper (1995)
12:10p/11:10c - Tim Burton's Corpse Bride
1:50p/12:50c - Tim Burton's The Nightmare Before Christmas
3:30p/2:30c - Hotel Transylvania
5:35p/4:35c - Hotel Transylvania 2
7:40p/6:40c - Hotel Transylvania 3: Summer Vacation
9:50p/8:50c - Twitches
11:55p/10:55c - Twitches Too
Monday, Oct. 12
7a/6c - Freeform Premiere The Mummy: Tomb of the Dragon Emperor
12:30p/11:30c - Halloweentown
2:30p/1:30c - Halloweentown II: Kalabar's Revenge
4:30p/3:30c - Scared Shrekless
5p/4c - Shrek
7p/6c - The Addams Family (1991)
9p/8c - Addams Family Values
12a/11c - Freeform Premiere The Scorpion King
Tuesday, Oct. 13
11a/10c - The Goonies
1:35p/12:35c - Scared Shrekless
2:05p/1:05c - Shrek
4:10p/3:10c - The Addams Family (1991)
6:15p/5:15c - Addams Family Values
8:20p/7:20c - Hocus Pocus
12a/11c - Casper (1995)
Wednesday, Oct. 14
1p/12c - Casper (1995)
3-9p / 2-8c - The Simpsons: Treehouse of Horror-thon
9p/8c - Beetlejuice
12a/11c - Boxtrolls
Thursday, Oct. 15
7a/6c - Scream 3
11a/10c - Jumanji (1995)
1:30p/12:30c - Beetlejuice
3:30p/2:30c - Scream
6p/5c - Scream 2
8:30p/7:30c - The Craft
12a/11c - Jumanji (1995)
Friday, Oct. 16
11:30a/10:30c - The Craft
2p/1c - Matilda
4p/3c - Tim Burton's Corpse Bride
6p/5c - Disney and Pixar's Toy Story of TERROR!
6:30p/5:30c - Disney and Pixar's Monsters, Inc.
8:30p/7:30c - Disney and Pixar's Monsters University
12a/11c - Disney and Pixar's Toy Story of TERROR!
12:30-2a / 11:30-1c - The Simpsons: Treehouse of Horror-thon
Saturday, Oct. 17
7a/6c - Tim Burton's Corpse Bride
8:55a/7:55c - Matilda
10:55a/9:55c - Tim Burton's The Nightmare Before Christmas
12:35p/11:35c - Ghostbusters (1984)
3:05p/2:05c - Ghostbusters II
5:40p/4:40c - Beetlejuice
7:45p/6:45c - Hocus Pocus
9:55p/8:55c - Halloweentown
12a/11c - Halloweentown II: Kalabar's Revenge
Sunday, Oct. 18
7a/6c - Willy Wonka & the Chocolate Factory
9:30-11a / 8:30-10c - The Simpsons: Treehouse of Horror-thon
11a/10c - Twitches
1:05p/12:05c - Twitches Too
3:05p/2:05c - Beetlejuice
5:10p/4:10c - Hocus Pocus
7:20p/6:20c - The Addams Family (1991)
9:25p/8:25c - Addams Family Values
11:30p/10:30c - Gremlins
Monday, Oct. 19
11a/10c - Matilda
1p/12c - Gremlins
3:30p/2:30c - Casper (1995)
5:30p/4:30c - The Addams Family (1991)
7:30p/6:30c - Addams Family Values
9:30p/8:30c - Tim Burton's The Nightmare Before Christmas
12a/11c -  Matilda
Tuesday, Oct. 20
11a/10c -  Willy Wonka & the Chocolate Factory
1p/12c - Casper (1995)
3p/2c - Sleepy Hollow (1999)
5:30p/4:30c - Ghostbusters (1984)
8p/7c - Ghostbusters II
12a/11c - Willy Wonka & the Chocolate Factory
Wednesday, Oct. 21
11a/10c - Sleepy Hollow (1999)
1:30p/12:30c - Ghostbusters (1984)
4p/3c - Ghostbusters II
6:30-11p / 5:30-10c - The Simpsons: Treehouse of Horror-thon
12-2a / 11-1c - The Simpsons: Treehouse of Horror-thon
Thursday, Oct. 22
11a/10c -  Tim Burton's Corpse Bride
12:35p/11:35c - Jumanji (1995)
2:35p/1:35c - The Mummy (1999)
5:45p/4:45c - The Mummy Returns
8:55p/7:55c - Hocus Pocus
12a/11c - Tim Burton's Corpse Bride
Friday, Oct. 23
11a/10c - Jumanji (1995)
1:30p/12:30c - Scream
4p/3c - Scream 2
6:30p/5:30c - Beetlejuice
8:30p/7:30c - Sleepy Hollow (1999)
12-2a / 11-1c - The Simpsons: Treehouse of Horror-thon
Saturday, Oct. 24
7a/6c - Decorating Disney: Halloween Magic
8a/7c - Halloweentown
10:05a/9:05c - Halloweentown II: Kalabar's Revenge
12:05p/11:05c - Beetlejuice
2:10p/1:10c - Sleepy Hollow (1999)
4:40p/3:40c - Hocus Pocus
6:50p/5:50c - The Addams Family (1991)
8:55p/7:55c - Addams Family Values
11p/10c - Freeform Premiere Ghostbusters (2016)
Sunday, Oct. 25
7a/6c - Tim Burton's Corpse Bride
9a/8c - Ghostbusters (1984)
11:30a/10:30c - The Craft
2p/1c - The Addams Family (1991)
4:05p/3:05c - Addams Family Values
6:10p/5:10c - Ghostbusters (2016)
9:20p/8:20c - Hocus Pocus
11:30p/10:30c - The Craft
Monday, Oct. 26
11a/10c - Tim Burton's Corpse Bride
1p/12c - Casper (1995)
3p/2c - Twitches
5p/4c - Twitches Too
7p/6c - Hotel Transylvania 2
9p/8c - Hotel Transylvania 3: Summer Vacation
12-2a / 11-1c - The Simpsons: Treehouse of Horror-thon
Tuesday, Oct. 27
11a/10c - Casper (1995)
1p/12c - Scared Shrekless
1:30p/12:30c - Jumanji (1995)
4p/3c - Hotel Transylvania 2
6p/5c - Hotel Transylvania 3: Summer Vacation
8p/7c - Hocus Pocus
12-2a / 11-1c - The Simpsons: Treehouse of Horror-thon
Wednesday, Oct. 28
12p/11c - Jumanji (1995)
2:30p/1:30c - Tim Burton's Corpse Bride
4:30p/3:30c - Matilda
6:30p/5:30c - Disney and Pixar's Monsters, Inc.
8:30p/7:30c - Disney and Pixar's Monsters University
12-2a / 11-1c - The Simpsons: Treehouse of Horror-thon
Thursday, Oct. 29
12p/11c - Ghostbusters (1984)
2:30p/1:30c - Ghostbusters II
5p/4c - Tim Burton's The Nightmare Before Christmas
6:30p/5:30c - Sleepy Hollow (1999)
9p/8c - Beetlejuice
12-2a / 11-1c - The Simpsons: Treehouse of Horror-thon
Friday, Oct. 30
11a/10c - Decorating Disney: Halloween Magic
12:05p/11:05c - Sleepy Hollow (1999)
2:35p/1:35c - Beetlejuice
4:40p/3:40c - Hocus Pocus
6:50p/5:50c - The Addams Family (1991)
8:55p/7:55c - Addams Family Values
12-2a / 11-1c - The Simpsons: Treehouse of Horror-thon
Saturday, Oct. 31
7a/6c - Twitches
9a/8c - Twitches Too
11a/10c -  Halloweentown
1p/12c - Halloweentown II: Kalabar's Revenge
3p/2c - Hocus Pocus
5:10p/4:10c - The Addams Family (1991)
7:15p/6:15c - Addams Family Values
9:20p/8:20c - Hocus Pocus
11:30p/10:30c - Ghostbusters (1984)
Enter your number to get our free mobile app
The Best NJ References On 'The Simpsons'