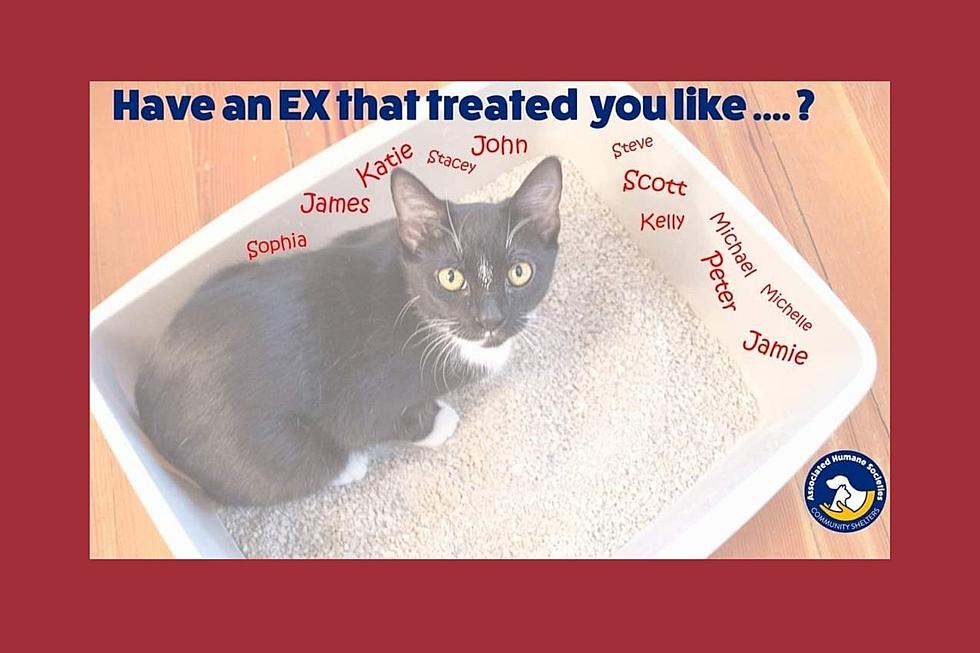 Did Your Ex Treat You Like Crap? This Is How You Get Revenge In New Jersey
Photo credit: Associated Humane Societies
This is perfect to show how much your ex means to you.
Associated Humane Societies just launched a fundraiser that is kind of brilliant.  If you donate $10 online to help save the animals of Associated Humane Societies, they'll write your ex's name in a litter box and let their kitties loose to show how they feel about your awful ex.   I told you this was crap-tastic!
Maybe you're more of a dog person? Well just donate $25 dollars online and send in a photo of your ex.  They will gladly let one of their dogs tear it to shreds while they film the fun.  Ahhhh now that's therapeutic!
Anyone that wants to submit their ex can click on this link and select either the litter box option or the picture option request.
Here is how it will work.  They will write all of the names in litter boxes on Valentine's Day.  They will take photos of the action and post them on their socials for you to like and share.
If you're selecting the photo option, send the pic to info@ahsppz.org.  They will be sure to get it on video and share it on their social media as well. I should also mention, nothing cures a broken heart like the new love of your life…a sweet rescue fur baby!
Which kind of car did your ex drive? It turns out that the car you drive tells us about your personality. Let's see if this rings true!
WHAT'S YOUR CAR PERSONALITY?
We all make snap judgements whether we want to admit it or not...well, it turns out that you guys are willing to share exactly what you think (Jersey shocker). I asked you what your perceptions are of New Jersey drivers behind certain vehicles and you had a lot to say...
These are the smartest dog breeds...
RANKED: Here Are the 63 Smartest Dog Breeds
Does your loyal pup's breed make the list? Read on to see if you'll be bragging to the neighbors about your dog's intellectual prowess the next time you take your fur baby out for a walk. Don't worry: Even if your dog's breed doesn't land on the list, that doesn't mean he's not a good boy--some traits simply can't be measured.
Tour Teresa Giudice's Million Dollar Montville Home